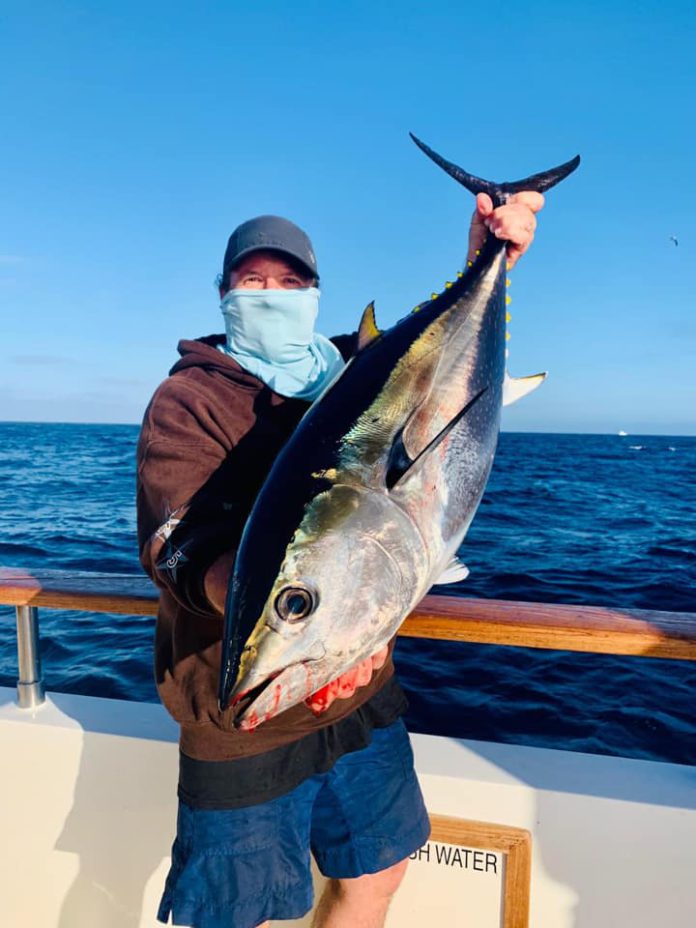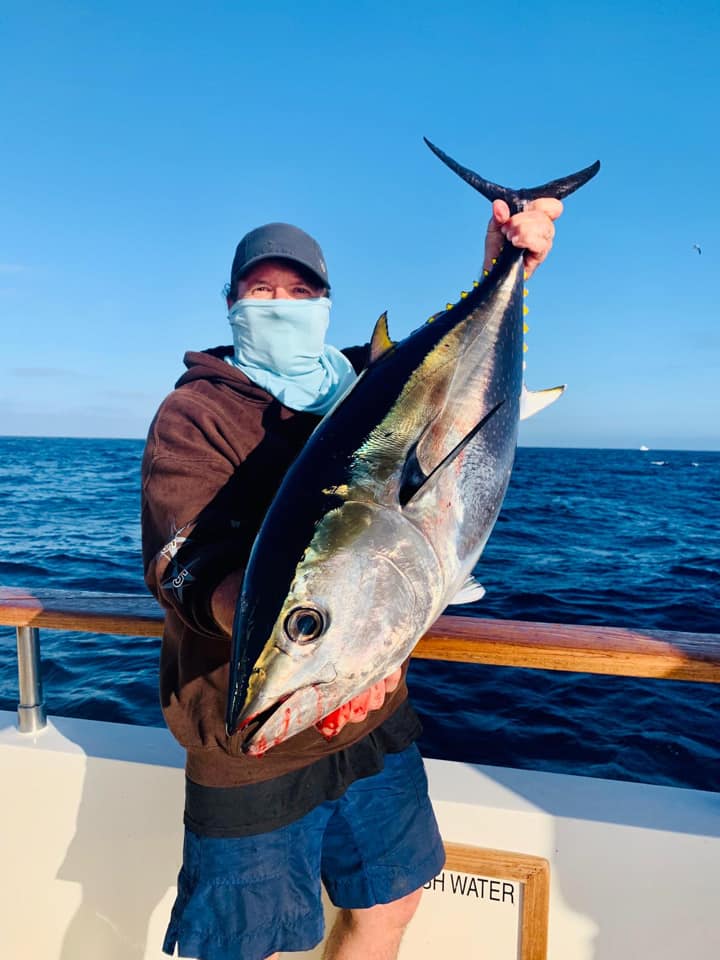 Capt. Rick Scott takes a run far up into U.S. waters, between the islands in fact, and finds biting fish!
BY MERIT McCREA
SAN DIEGO — The week started out strong with some solid scores, but the bite faded to mostly show and little go, prompting the fleet to explore far and wide. By Saturday a concentration found action on the outer banks, yellowtail and some bluefin.
Then on day 2 of a 2-day Capt. Rick Scott was far from the usual San Diego fleet stomping grounds when he found biters and decked 40 bluefin in the 30-pound class.
It was back on Tuesday when the Legend rolled into the H&M Landing docks with limits of blufin, 60 for 30 anglers, and 9 yellowfin. The New Lo-An was back with 24 bluefin including 4 over 100 pounds and 1 over 250.
From there the bite tapered throughout the week, and by Friday and Saturday there were several boats that turned in single digit offshore scores. The word was it was all show and no go.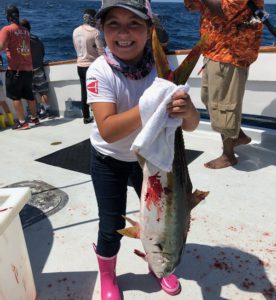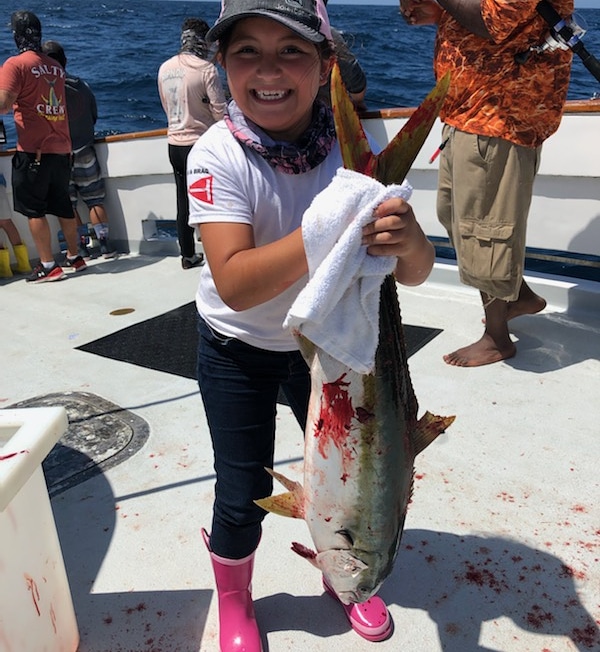 Calm weather over the weekend saw several boats out on the Cortes, successfully tackling a combination of tuna and yellowtail.
Heather Ferrari at H&M Landing said, "Things slowed down. Current is moving, water hasn't turned, the fish just aren't biting. Our fleet is covering huge areas, and nothing is turning up. It's a lesson in patience, we are resilient. When the bite turns back on we'll be there!"
But after her report had come in the word came out late Sunday, Capt. Rick Scott had taken a run far up into U.S. waters, between the islands in fact, and found biting fish! His anglers' catch worked out to 41 bluefin for the day, and just like that, at press time the bite was back on, with favorable weather forecasts looking forward.
In fact, one of the overnight boats from Long Beach Sportfishing, the Eldorado, loaded down with limits of bottom fish took a swing through zone and put four bluefin tuna on deck after they'd already turned in their catch report.
The Old Glory and several others tapped into the yellowtail bite at San Clemente Island and it was just getting going on the 25-pound class fish when the Navy kicked them out for the day due to scheduled ops.
There was good sign of bluefin off the island and Capt. Kley and crew coached one of several hooked to the boat. They ended up with a variety of fish in the hatch including 11 yellows, that bluefin, 15 bonito, a couple of calico, a halibut and releasing a black seabass.
As for the local bass bite that had started so strong weeks back only for cold coastal waters to come knock it down, that came back into the picture this week. The recent 1/2-day scores once again boasted big catches of big calicos.
Wednesday afternoon's 1/2-day aboard the Premier posted 63 keeper calico. Their twilight the evening prior posted 41, along with a mixture of other biters.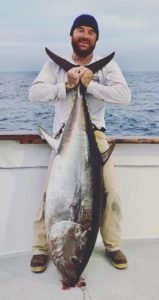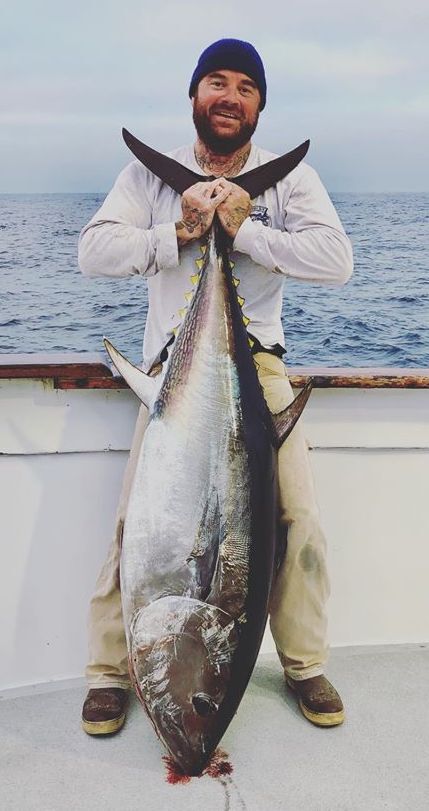 At Point Loma Sportfishing, just prior to the offshore slowdown, the Mission Belle on a full-day bagged 55 yellowtail, 27 yellowfin and 5 bluefin for 24 fishers. Their 1/2-day boat Daily Double took aboard 72 keeper calico for 22 anglers Friday afternoon.
The Intrepid, on a 3 dayer over the weekend posted a pick on the quality bluefin tuna and yellowtail while fishing out on the Cortes.
From Fisheman's Landing the Pacific Queen returned from a 3.5-day effort with 27 bluefin including 6 between 140 and 205 pounds, 26 yellowfin and 76 yellowtail from 15 to 30 pounds, for 22 anglers.
They posted, "Boats are recommending 25-pound outfits for the yellowfin and yellowtail, 40- to 60-pound outfits for mid-size bluefin tuna… 80 to 100-pound outfits for the bigger size bluefin. Hook size, they are recommending number 1 to 2/0 size circle hooks. They are catching the bluefin on fly-line rigs, sinker-rigs, and Flat-Fall jigs."
Again, the word was bring it all, all the way to the big stuff folks used to think of only in terms of long-range trips. Two-speed reels for 40 and up were pretty much the rule.
At Seaforth Sportfishing one of the last big scores to come in prior to the slowdown in offshore waters was the Endeavor's 2-day back Wednesday with 50 bluefin and 46 yellowfin, but it was a charter for Capt. Greg Obymako's birthday and doubtless packed with crew-caliber fishing talent.
Out on a 1.5-day the Tribute took 29 folks to catch limits of bluefin, 58, plus 8 yellowtail and a yellowfin too.
Saturday afternoon aboard the New Seaforth 36, 1/2-day anglers caught 247 calico, releasing 150 or so and sacking 97 keepers. The local bass bite was definitely back.
Up in Oceanside the Oceanside 95 started the week wrapping up a 2 dayer out to the outer banks with 28 anglers landing 46 mossback yellowtail along with a variety of abundant outer banks bottom biters. Inside the bank they put on 18 bluefin tuna, including fish to 75 pounds.
At the Oceanside SEA Center the Pronto demonstrated strength of the catch and release bass bite Sunday when just 8 anglers landed 137 calico, finding 12 keepers and adding a pair of bonito on a 1/2-day.
The 3/4-day trips offered an option to run farther for rockfish in deeper water, and that they did.
Anglers aboard the Blue Horizon bagged limits of rockfish before trying for some surface stuff. The shallow waters produced plenty of biters and among them 16 bass kept and 8 bonito caught. The keeper ratio on the calico was about 1 in 4.