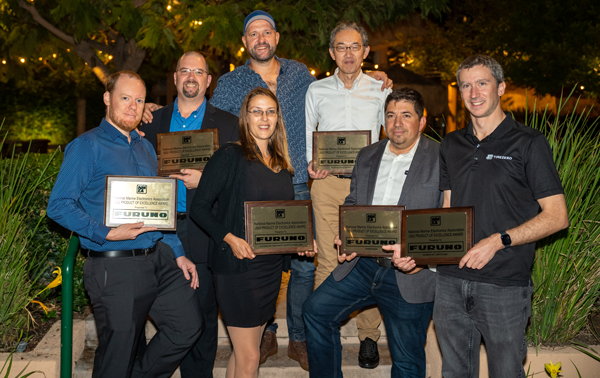 Anaheim, CA – Furuno was the proud recipient of five "Product Of Excellence" accolades at the 2022 NMEA Awards ceremony, bringing their total up to an astounding 247 NMEA (National Marine Electronics Association) award victories since 1971.
Each year, NMEA members vote for the products they feel are most deserving of these prestigious awards. Membership in the NMEA is reserved for dealers, distributors, industry experts, and NMEA-approved technicians. The memberships' continuing votes of confidence for Furuno products are a testament to their reputation for excellence and reliability among marine professionals and boaters worldwide.
Furuno's ground-breaking DFF3D Multibeam Sonar continues to wow the sportfishing community, winning the highly-coveted Product of Excellence award for Fish Finder five years in a row. The DFF3D takes fish finding to new depths and angles, with a 120-degree view from port to starboard. With PBG functionality, boaters can create their own shaded relief bathymetric charts wherever they travel.
In the Radar category, Furuno's DRS4DNXT took home the top honor for the fifth consecutive year. The DRS4DNXT is a Solid-State Doppler Radar in a compact 24″ radome, featuring innovative Furuno technologies such as Target Analyzer™, Fast Target Tracking, and RezBoost Beam Sharpening.
The SCX20 Satellite Compass was again recognized as top dog in the category for best NMEA2000 Sensor, the third consecutive win for this marvelous unit. Its unique four-antenna design makes this Satellite Compass capable of calculating precise heading, pitch, roll, and heave information, even when line of sight is limited to only a single satellite.
Furuno's FAR2228NXTBB Radar continued its three-year winning streak by bringing home the award in the Commercial category. This 600-Watt Solid-State IMO Radar is the culmination of Furuno's decades of innovation, showcasing Furuno features such as Automatic Clutter Elimination (ACE), Fast Target Tracking, and a familiar but fresh user interface.
In the Marine Specialty category, Furuno's CSH8LMK2 Full-Circle Scanning Sonar again took the top honors, the second consecutive win for this favorite among sport fishermen. The mid-frequency Sonar detects fish schools and individual fish, displaying their distribution as well as the seabed conditions in 16 colors, 360 degrees around the vessel.
TZ Professional from Furuno's partner company Nobeltec brought home the top mark in the Marine Software category for its unrivaled combination of outstanding safety and performance features. TZ Professional is compatible with the best of Furuno's award-winning sensors, making it a favorite of not only NMEA members but of professional mariners around the world.
For more information on these award-winning Furuno models and their entire line of quality marine electronics, see your Furuno dealer, or visit them at www.FurunoUSA.com