BY DYLAN DEPRES
Catalina Island, located 25-30 miles from the OC/LA coastline, offers a great "hit or miss," fishery where at times it is very generous and other times it can be quite tough. The high-ticket targets typically sought-after are white seabass, yellowtail and halibut with other critters like calico bass, barracuda and bonito on tap to provide action and secure some fillets for the table. Vessels Gail Force and Triton spend most of their fishing year at this island offering both fishing trips and lobster trips and they have it dialed in!
Capt. Jared Mallott and crew took our WON Charter group out for a great day of great fishing on July 20, capturing a monster yellowtail and tons of action on keeper critters for our 21 folks. Upon our arrival at the island, we were greeted with crystal clear blue water with lots of life visible above the kelp line. Calico bass, perch and baitfish waved their hello as we cruised in to start our day on the front-side of the island.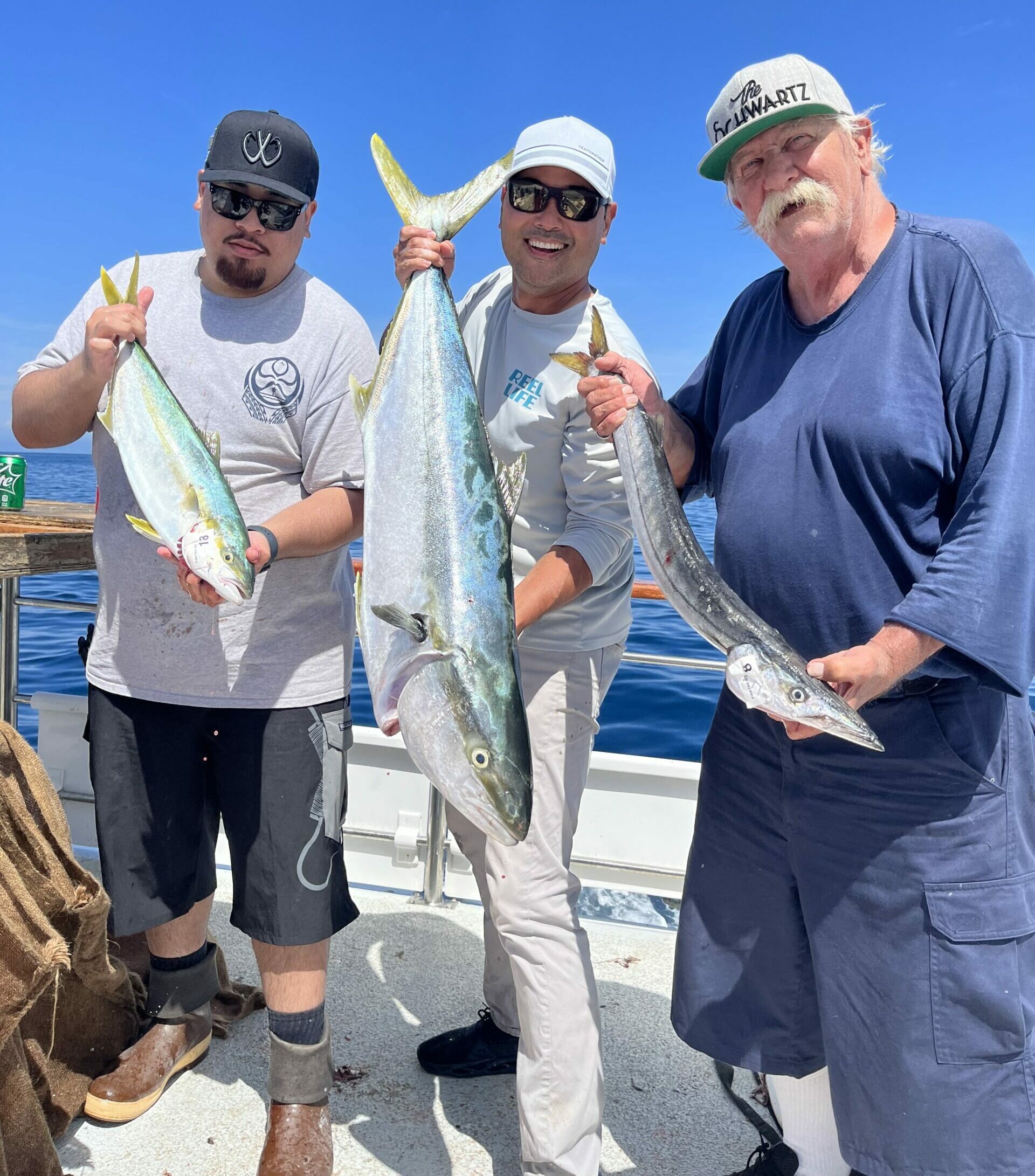 Chris Tauffaao, Randy Choi and Paul Kachirski show off the top 3 heaviest catches of the day aboard the Gail Force on the July 20th, 2022 charter. Photo by Dylan Depres.
In the bait tank for our angling pleasure, we had a 50/50 mix of 5-7" sardines and beautiful 4-5" hook-bait sized anchovy. Capt. Jared suggested to have two rigs on the ready – a straight flyline rig with 15-20 pound test and a size #2 hook for an anchovy and a flyline rig with 25 pound test and a #1/0 – 2/0 hook for the sardine. During our morning window we had flowing current to add to our already good water conditions.
Morning stops showed a great sign of life. Calico bass flipped around in the chum circle as Capt. Jared positioned the boat and quickly, monster yellowtail began to show themselves. Anglers in the stern began picking away at calico bass, amounting to 20+ keepers in no more than a half hour and  a handful of yellowtail from 30-40 pound+ erupted on chummed baits around the boat.
Inevitably, one of the brute yellowtail bit a hooked bait and angler Randy Choi was tight with a fish on his rented 25 pound spinning setup. Capt. Jared stuck with Choi and helped him navigate the battle with the biggest fish of his life, the spinning reel handle busting off in the process. Choi boated his 30 pound + yellowtail and was elated and cheers came from around the boat. Jackpot was all but secured and the steady pick on solid calico bass and a few barracuda continued.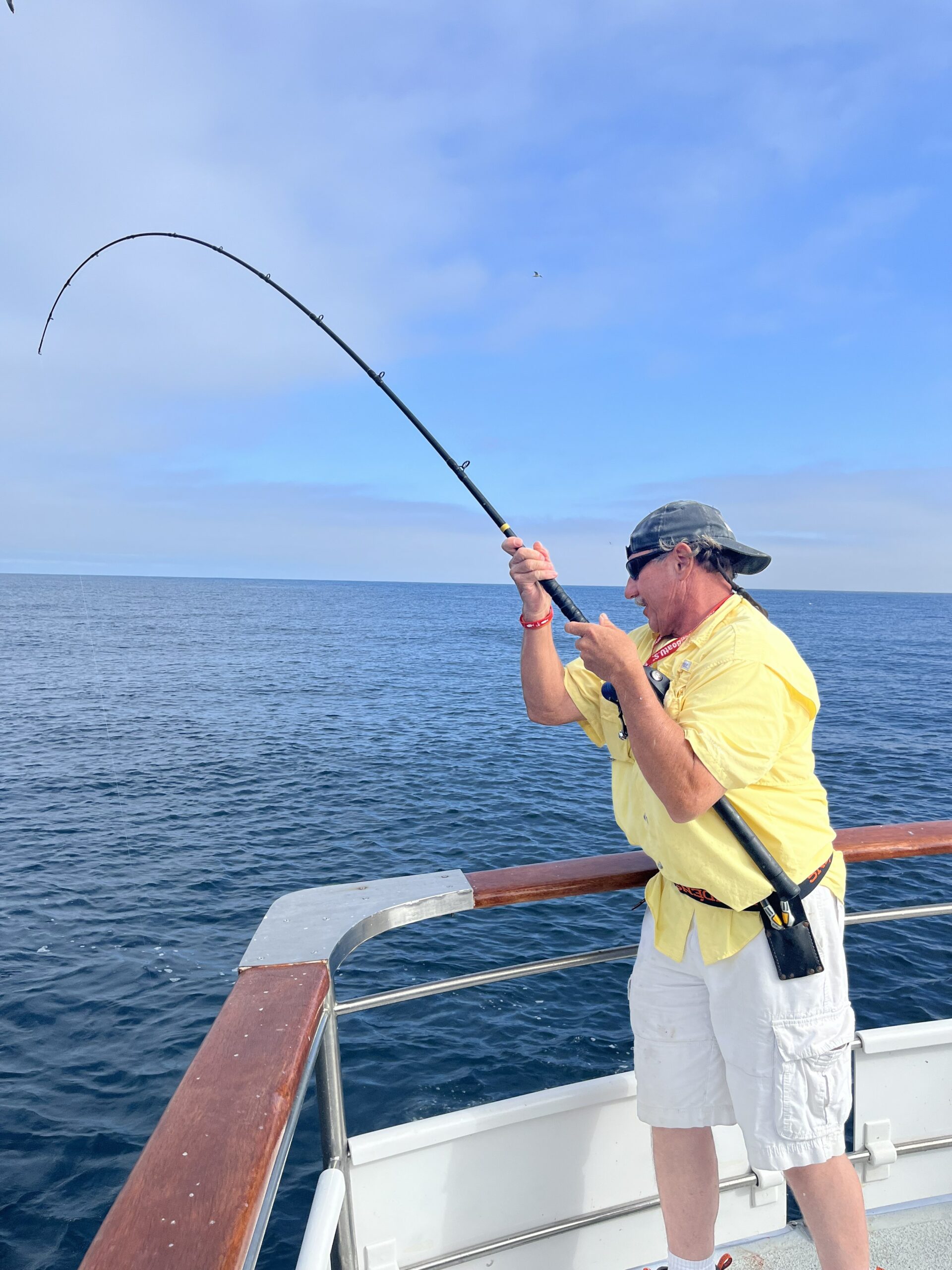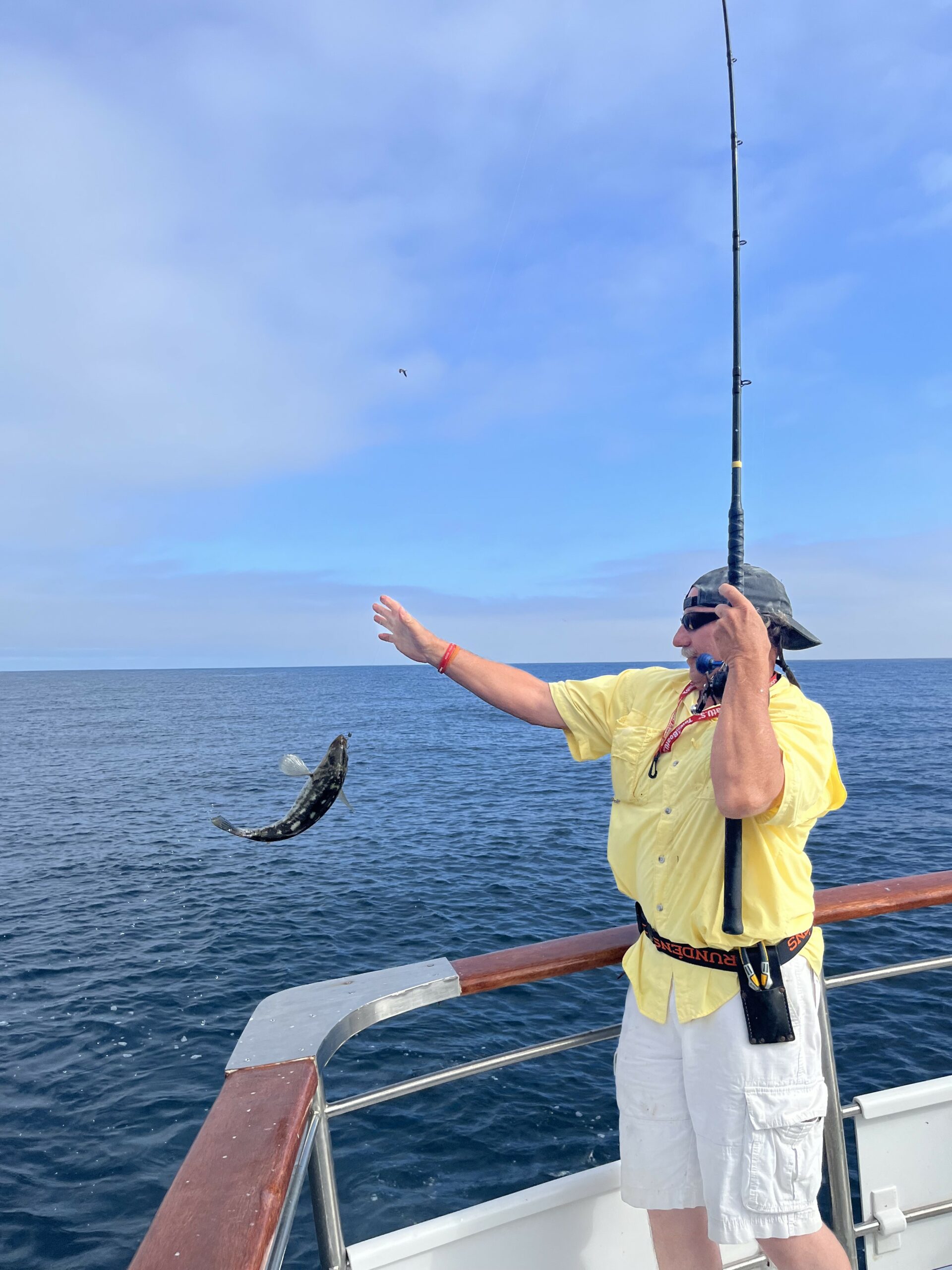 Everybody aboard was catching fish and we pressed on with the calico bass/yellowtail program from a morning up through midday. A few yellows showed themselves, but not enough to stick around. Down the island aways, there was more signal of bonito and multi-species bags called to Capt. Jared. We were going to make a move.
Our first stop in the bonito zone yielded a second yellowtail for our group caught by angler Chris Tauffaao, a more modest 7 pound model. Picky bonito boiled on the outside of the boat. A collar-hooked fly-lined anchovy was the ticket to hook the tiger tunas, as once a live bait made it 50-ft outside the boat it was eagerly chomped by calico or bonito. We'd see no more yellowtail for the day, but some twenty-odd bonito joined the party.
Time at the rail paid off for anglers who were in it to win it, with some great bags stacked with near-limits of calico, a barracuda and a bonito or two being the norm. Summertime Catalina fishing at its finest – a shot at trophy fish and plenty of action to fill the time in-between.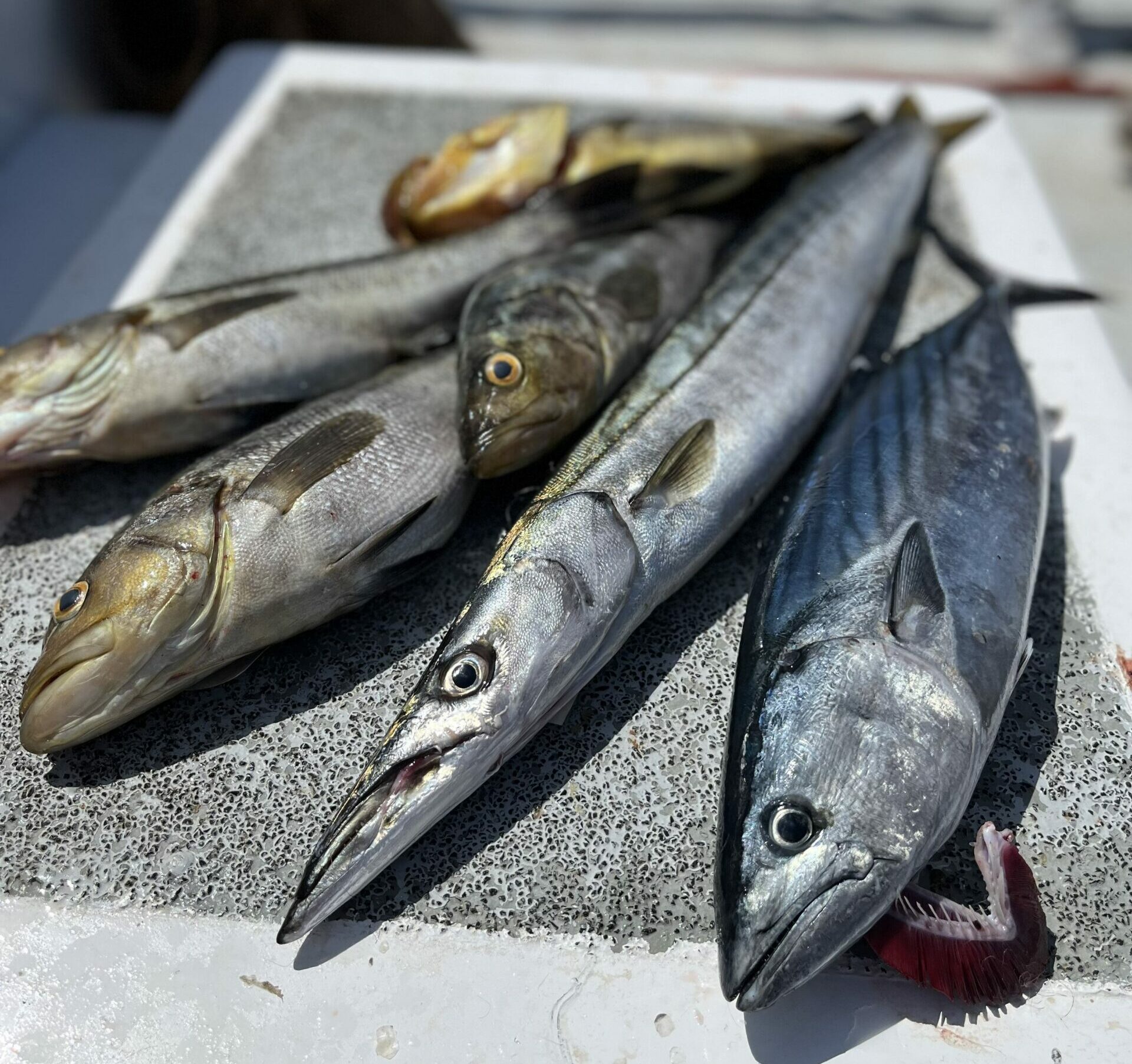 THE THREE Bs: Bass, Barracuda, and Bonito on display aboard the Gail Force's July 19, 2022 charter. Photo by Dylan Depres.