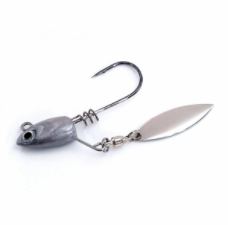 Tacoma, Washington – Proving that bigger isn't always better, Gamakatsu has launched a mini version of their popular Under Spin Head when a little finesse is in order.
The Under Spin Head Mini features Gamakatsu's premium size 1 Finesse Heavy Cover 60-degree hook, the wide gap design means you can still rig bulkier plastics and have plenty of bite. Ideal for smaller finesse presentations, the head profile is streamlined to glide through cover. Gamakatsu's Spring Lock holds swim baits and other plastics gently but firmly, keeping the presentation straight on the hook.
Attention-getting, recessed lifelike eyes provide a focal point for predators. The small chrome willow blade is attached to a quality ball-bearing swivel so it spins freely, even with slow retrieves to simulate baitfish and create a subtle trigger.
Under Spin Head Mini Features:
Premium Gamakatsu ball bearing swivel allows blade to rotate at slow retrieve speeds
Lifelike head design and eyes
Premium nickel size 3 willow leaf blade
Spring lock holds plastics secure
Sizes: 1 (1/8, 3/16, 1/4, 3/8 ounce)
Color: Plain Lead
Qty/Pkg: 1