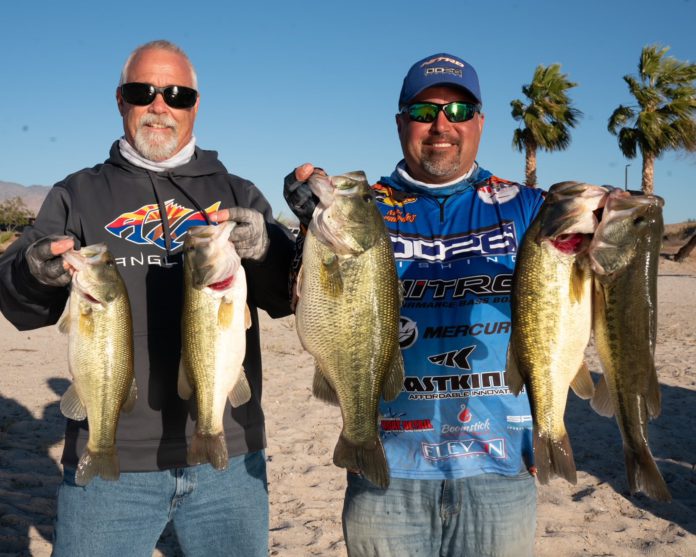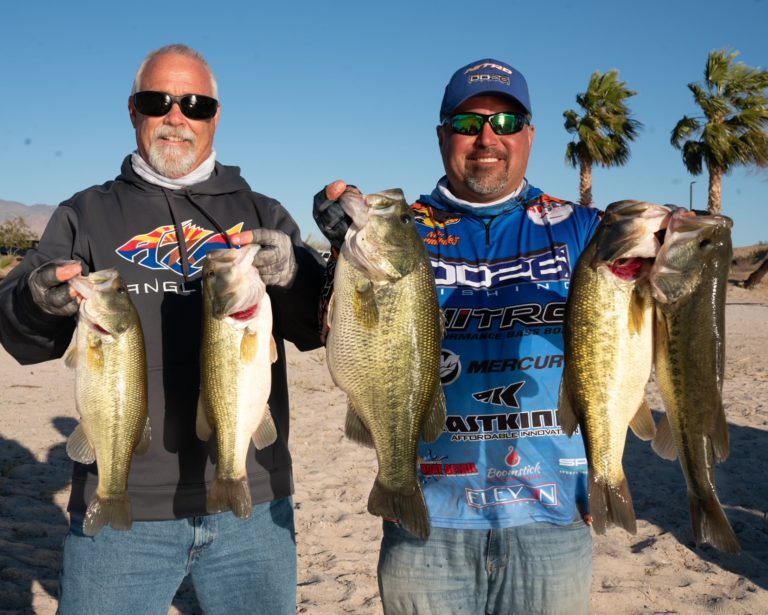 by Jody Only
Lake Havasu City, Ariz.  – The temperature in the days leading up to the 2022 WON Bass Arizona Open on Lake Havasu, has been in the low to mid-70s and for the most part winds have been mild at less than 12 mph; however, that changed for today, the first day of the three-day, shared-weight competition.
The 121-boat field of pro anglers and their AAA partners were met with winds that rose from 12 to 24-mph. The lake fished stingy in its condition and only 30 boats brought in a full five-fish limit. That's not to say some didn't have Havasu dialed in. Both the first and second place Day One teams broke the 20-pound mark.
Arizona pro Max Hernandez, of Queen City and AAA Gary Volpe, of Payson ended in top-spot with 20.53. Hernandez sacked up the biggest bass of the day with a 7.47. He reported duplicating his pattern that earned an 8th place finish in last year's Arizona Open.
"Pretty much what I figured out in practice is working; but I had to make a couple of adjustments," shared Hernandez. "The wind was a factor first thing in the morning and hindered me in the afternoon."
Although many teams struggled to fill out their limit, Hernandez reported culling five times and catching no shorts.
The pairing of pro angler Joe Uribe, Jr., from Surprise, Ariz. and AAA Tony Witt of Orange, Calif. ended Day One in the runner-up spot with 20.24. Déjà vu' for Uribe Jr., as after the trio of competition days in the 2021 Arizona Open, he ended in the spot directly behind Hernandez, as well, taking 9th in final standings, after leading the first day.
Uribe reported he had no practice and relied on previous experience for his game plan. His bite held all day.
"We probably caught 12 keepers; it was really productive," he said. "We moved around and caught all of our fish in five to 10-feet of water."
Pro Bill Brown, of Grand Junction, Colo., and AAA Craig McCoy, a Lake Havasu City local brought a 19.28-pound limit to the scales to finish the day in third place.
They were followed by California anglers, pro Kevin Wiggins of Winterhaven and AAA Joel Chin, of Rosemead, taking fourth with 18.90-pounds. Chin landed the biggest AAA bass of the day at 5.18.
Rounding out the top-five was pro Micah Jones of Kingman, Ariz. and his AAA partner David Mehrhoff from Las Vegas, Nev. with 17.79-pounds.
Day One Big Bass Pro Payouts
$800 7.47 Max Hernandez
$400 6.58 Brian Nollar
$400 5.84 Bill Brown
Day One Big Bass AAA Payouts
$400 5.18 Joel Chin
$200 4.95 Craig McCoy
$200 4.80 Christopher Dixon
Complete final standings can be found at http://www.wonbass.com.
The second day of the 2022 WON Bass Arizona Open has been cancelled, with the forecast looking good to continue on Friday. On the third day the winners will be crowned. The 4th annual event will be paying out over $150,000, including a brand-new Bass Cat SABRE FTD powered by a Mercury Pro 150 worth $42,000.