BY MIKE STEVENS
SAN CLEMENTE – Tackle storage solutions are kind of like fishing line in that in the overall scheme of things it's a miniscule investment, but thinking quality doesn't matter could spell disaster. A poorly-designed utility box might not make an angler lose a fish of a lifetime, but it can result an equally painful headache when  shortcomings manifest themselves in the form of hundreds of hooks in a dozen sizes scattered all over the deck or 50 tiny trout lures buried in some high grass. The Gamakatsu G3200 G-Box addresses tackle-tray annoyances known by anglers all over the globe.
Made in Japan and part of Gamakatsu's diverse and well-thought-out G-Box series, the G3200 is ideally-suited for terminal tackle and small lures, and at 8.1 x 5.7 x 1.6 inches, it's bigger than pocket size but small enough to be stowed wherever it's handy.
Sporting a latch almost as wide as the entire lid, it's easily opened with one hand, and its Micro-Rib System and Micro Adjustable Dividers make the box infinitely customizable. The days of having to "burn" an oversized section and waste space for something as small as swivels, split shots or Carolina Keepers are over.
Since all anglers have used similar utility trays in one form or another, they're all familiar with the annoyance brought on by small tackle items migrating from one section to the next. Gamakatsu made a point to eliminate the issue throughout its G-Box Series, and as an added perk, rounded corners on the boxes make them easy to retrieve from tackle bags or boat compartments.
In what might be its most important feature, these boxes don't pop open when dropped. As a world-renowned tackle organizer who has nightmares about the box  fumbles and tackle-explosions  mentioned above, I personally gave the Gamakatsu G-Box a highly-technical and scientific cartwheel test on the floor of WON headquarters, and it passed with flying colors.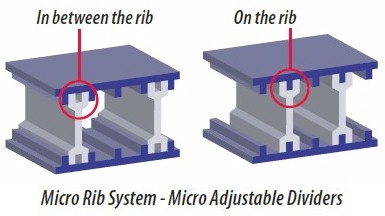 These next-level storage solutions are available at retailers and online, or you can pick one up for free by jumping on any number of trips on the Western Outdoor News Charter Schedule. Sponsor giveaways have always played a big role on WON trips, and we are proud to be able to hand one of these boxes to each passenger hopping aboard – along with other freebies – over the course of the 2021 season.
For more information on all of Gamakatsu's products, visit Gamakatsu.com.