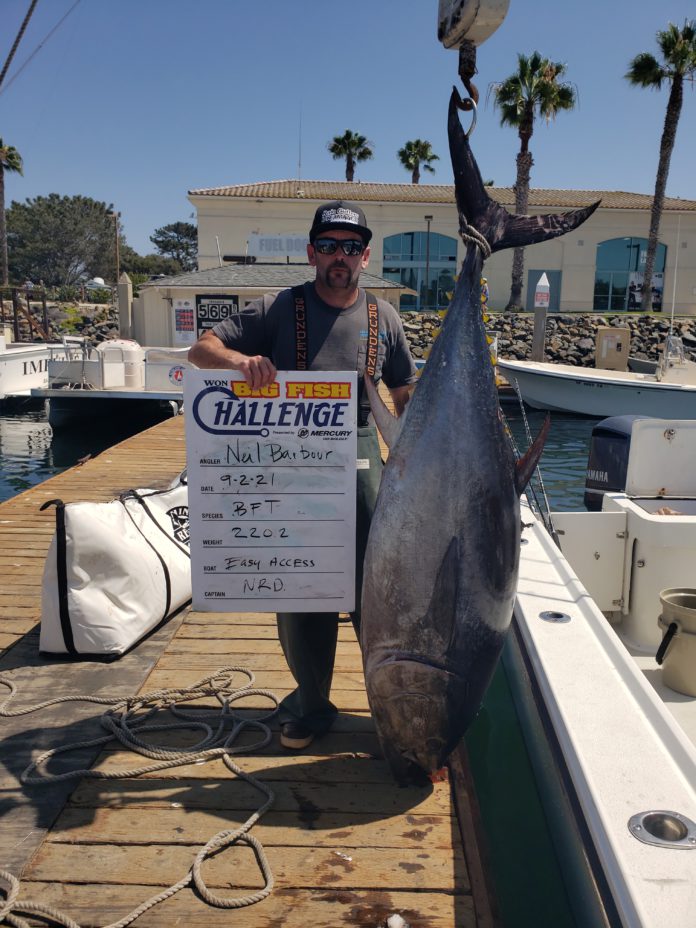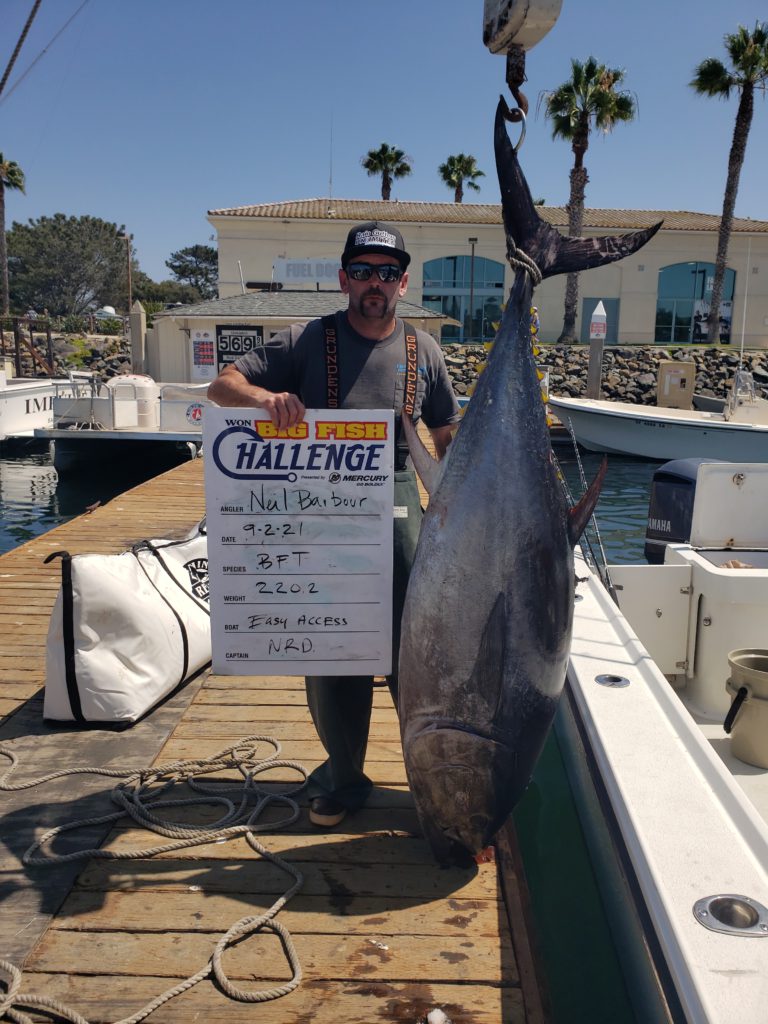 BY MIKE STEVENS
SAN CLEMENTE – Another WON Big Fish Challenge (BFC) presented by Mercury is in the books as of midnight Thursday, and the grand prize winners for each of the six species categories will soon be picking up their incredible prize packages. This year's winner's circle had multiple former grand prize winners, some new faces and another single winner of two categories as in, he takes home two grand prize packages.
San Diego private boater Neil Barbour won the tuna category with a 220.2-pound bluefin he caught in Week 9 from his boat, Easy Access. The winner in that department for all but one BFC (and the one was a technicality), WON staffers were beginning to think this might be the year he was dethroned until he came in with that fish almost at the buzzer.
Barbour also won the halibut category with a 42.8-pound flatty he bagged from his boat in Week 6 which was quite a departure for an angler who is almost always hunting for big tuna.
Former BFC grand prize winner Scott Sawa of Los Angeles caught a 44.54-pound white seabass from his kayak in Week 1, and he went wire-to-wire with that fish with only a couple BFC biscuits getting anywhere close.
Another winning fish that came in late was the 42.1-pound yellowtail brought to one of the official BFC weigh stations by private boater Montre Somsukcharean in Week 9. Big yellows we were turned in soon after the BFC kicked off 10 weeks ago, and there wasn't a whole lot of jockeying for position for that species category, but that tanker mossback was too big to run down that late in the event.
The relatively-new bonito/barracuda category (it replaced dorado a few years ago to open things up for half-day anglers) got off to a slow start and was still vacant after over a month of fishing. A respectable bonito and a barracuda held the top spot briefly, but a solid 9-pound bonito caught by Valerie Handzus in Week 6 locked up the top spot for the final four weeks of the BFC and earned her a grand prize.
The lingcod category might have been the most interesting one in the 2021 BFC. It was also vacant for a long time before the floodgates opened at which point the overall ling leader changed hands in three consecutive weeks. White seabass winner Scott Sawa was in the mix and threatening to claim a pair of grand prize packages himself, but the winner was ultimately Danny Salvay who wound up on top after weighing in an 18.4-pound lingcod in Week 9 aboard the private vessel, Profishent.
The each of the six grand prize packages consists of:
$500 cash from title sponsor, Mercury
Costa sunglasses ($300)
Global Fish Mount of the winning fish ($750)
Penn Fathom reel ($250)
Penn Carnage II rod ($200)
FURUNO 1871F Touchscreen ($1,000)
Western Outdoor News subscription ($40)
Charkbait gift card ($50)
Terrafin subscription ($100)
976-Bite membership ($150)
Gamakatsu hooks ($100)
HI-SEAS fluorocarbon ($190)
HUK Performance Fishing apparel gift card ($250)
Berkley ProSpec Braid ($150)
Amadeo Bachar print ($340)
Engel 850-quart cooler ($295)
All that stuff brings the total retail value of each grand prize package to $4,814.
The WON Big Fish Challenge goes on for 10 weeks in the heart of summer, and anglers fishing from private boats, kayaks and party boats fish whenever they want for the biggest fish in six species categories. The biggest fish in each at the end of the event earns a grand prize, but the biggest each week is good for weekly prize packages. At $40 to enter, it puts saltwater anglers of all kinds on a level playing field for huge prizes.
See photos of all the winning fish HERE.