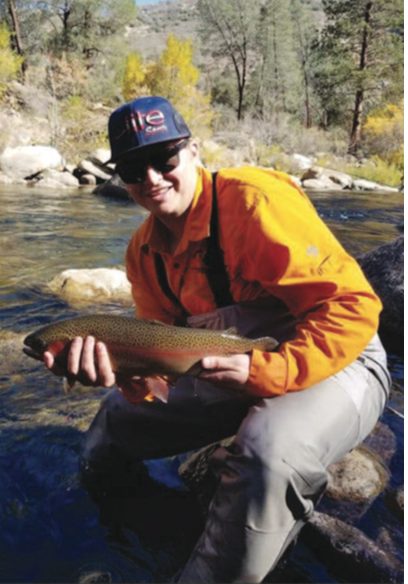 BY MIKE STEVENS
KERNVILLE – Air, water, anglers and trout are all cold in the Upper Kern River, but winter fishing for both wild and stocked trout has been de- cent,and the trophy-fish lamp was lit at least once in recent days. With multiple storm systems in the rear-view mirror, and regular stocking paired with wild rainbows well-suited to chilly water temps are making for a nice mix of biters in the Kern's 20 Mile Section.
The weather has stabilized, and we are seeing steady action midday fishing with attractor nymphs and some of the standard winners, too," said guide Rob Buhler of Kern River Fly Fishing in Kernville. "Fly selection is pretty much the same, and we are catching recently stocked fish mixed with more wild and holdover trout than were catching in January."
According to staffers at the shop, nymphing with small bugs has been the ticket, and hatches of Blue Wing Olives have been consistent. They also recommended upping tippet size and swinging streamers in the deeper pools if the bite is slow.
The most impressive recent catch on the Kern was a flawless 21-inch wild rainbow caught by Randal Garrett who was drifting a hand-tied Pheasant Tail near Johnsondale Bridge. When chatting with WON, the relatively tight-lipped Garrett said, "and that wasn't the only 21-inch-plus caught."
The Department of Fish and Wildlife has been stocking the upper Kern River onan almost-weekly basis, and while those hatchery fish are a lot more sluggish than their wild cousins upriver in the cold water, spin fishers are able to put together the occasional limit or at least put a couple on the stringer casting spinners or split-shotting trout worms or crickets right there through Kernville as well as some of the other easy-access spots upstream.
Flows on the Upper Kern at Kernville have been moderately fluctuating between 225 and 325 cfs making for manageable fishing and safe wading.