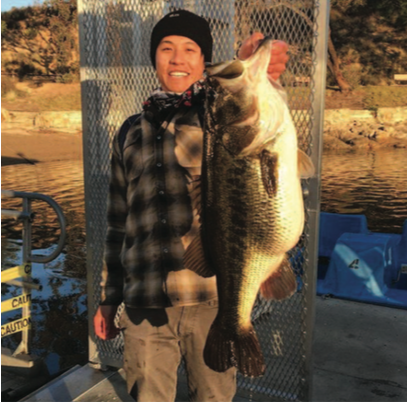 BY MIKE STEVENS
POWAY – Another double-digit largemouth was caught at Lake Poway, and this one will sit atop the totem pole and give other trophy bass anglers something to shoot for.
Nicky Vu was throwing a plastic trout-imitating swimbait from the Lake Poway's North Shore when he connected on an absolute tanker bass that would tip the scale at 12 pounds, 8 ounces and stand as the new lake-record largemouth. An accomplished fresh and saltwater angler, Vu was unable to be reached for comment.
Recently on the Western Outdoor News podcast, an esteemed WON editor who will go nameless predicted Poway would emerge as one of the top big-swimbait bass lakes in San Diego County if not all of Southern California. This due to the fact Poway is no longer stocking Nebraska Tailwalkers, and the Idaho-sourced trout being delivered instead include a lot more of the 10- to 14-inch "pan-sized" trout that are both easier for a big bass to choke down and for an angler to imitate. Several double-digit bucketmouths have been caught at Poway Lake this winter, and there's still all of spring ahead of us. While nearby lakes like Dixon and Wohlford stock bigger trout including gobs of 3-plus pounders, hurling a 3-pound swimbait to "match the hatch" isn't exactly practical.
Speaking of trout, another 1,500 pounds were slated to arrive on Feb. 25 and put a charge into a bite that has been pretty consistent all season. According to rangers, minijigs in natural colors or yellow/orange have been the most productive lures this season. They also said the offseason catfish bite remains solid with mackerel or nightcrawlers filling stringers for anglers working the shorelines around Jump Off Point, Boulder Bay or the Log Boom.