BY STEVE PHELPS
Landing Manager, Long Beach Sportfishing
LONG BEACH — The spring winds are finally subsiding, and it is time to get ready for a very hopeful 2021 summer fishing season out of Long Beach Sportfishing and beyond. Calico bass are starting to show, a few schools of barracuda are popping up in front, and the yellowtail are starting to bite at the Island. The return of anchovies available in the bait receivers has helped tremendously, as the fish react to "'chovy chum" a lot better than straight sardines. Bottom fishing remains very good going into the summer, and it is always a great fall back when the surface fish just do not want to cooperate. The question arises before every trip, especially with newer anglers: "What gear should I have to be ready for my trip?"
As we know, fishing and conditions are always changing and gear recommendations need to shift with those conditions. It is best to call the landing prior to your trip to find out the latest. They will be able to tell you what the boats are using, and any specific recommendations from the captains to help land that trophy fish. Having basic set-ups and tackle will improve your results for the day. There is a lot of equipment available for trying to catch fish, and here is some help in choosing what gear to bring on the boat. We will start with rod recommendations, then move on to tackle recommendations.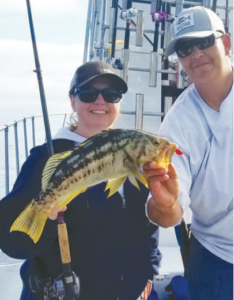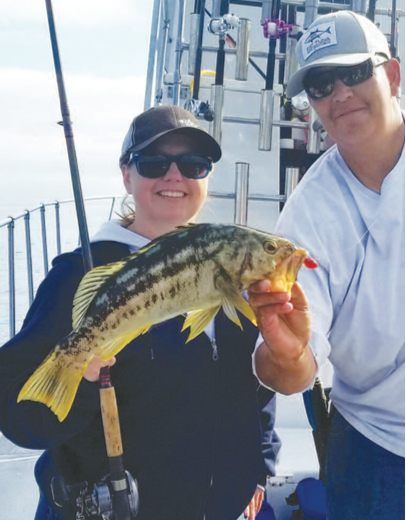 Let's start with the mythical, "all-around rod," of which some people may have a different opinion. At Long Beach Sportfishing, our rental rods are the Okuma Axeon Pro rated for 20- to 40-pound fishing line. This will generally get you through the day. However, fish come in all sizes, and this rod could be too heavy in a calico bite or too light for a yellowtail fight. We recommend the consideration of taking three rods on your trip which should cover you for anything that you might encounter locally or at Catalina Island. First, bring a light rated rod, preferably at 12- to 15-pound, for fishing calico and sand bass, using your favorite plastic lure or for fly-lining a smaller sardine or anchovy. Second, bring a 15- or 20-pound rod that can be used for fishing medium to larger gamefish with larger plastics or baits, as well as being heavy enough to fish a dropper loop. This rod will be great on those line-shy, school-sized yellowtail or larger bonito. Finally, bring a "jig stick," with a 25- to 30- pound line rating, which will be useful throwing the iron for yellowtail, barracuda, and even calico bass. You can fish the larger baits like mackerel or big sardines for yellowtail and big calico bass. This rod can also double as a bottom fishing rod if the need arises.
Reel selection needs to match your rods. For your lighter rod or "bass rod," a 300-size reel is recommended, such as the Okuma Komodo KDS-364 P or the Daiwa Lexa 300 HD. Load either one of those with 30-pound braid with at least 50 yards of 12-pound monofilament or fluorocarbon topshot. For your "mid-range" 15- to 25-pound rod, if you like the "baitcast" style reel, get a Lexa 400 HD or the Okuma Komodo KDS-463 P. Load those with 300 yards of 50-pound braid and put on 50 yards of topshot. If you prefer a conventional-style reel, a Shimano Trinidad 14a is recommended. Finally, for the "jig stick," — your 25- to 30-pound rod, place an Okuma Cortez CZ-12 CSa or a Shimano Trinidad 16a loaded with 50- to 65-pound braid, and leave enough room for 100 yards of 25- to 30-pound mono/fluoro for casting distance. Each angler will determine their topshot length according to personal preference or experience.
Rods and reels are only half of the equipment needed to land the fish you are looking for. The terminal tackle in your box is just as important. Let us begin with hooks for local and island fishing from Long Beach Sportfishing. Hook sizes ranging from #6 up to 3/0 are used for both local and Catalina Island fishing, but if you cannot carry a plethora of hooks, #2 and #2/0 hooks should cover you for the day's fishing. As far as sinkers, carry a handful of 1⁄4- and 1⁄2-ounce sliding eggs, as well as some 4- to 8- ounce torpedo sinkers.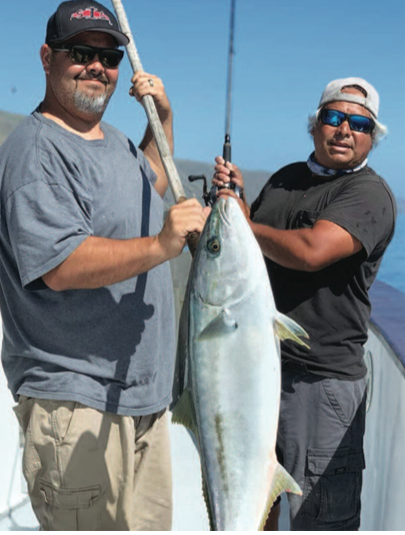 Most anglers will use live bait with a hook and sinker. With fishing experience, artificial baits such as plastics lures and jigs make fishing more enjoyable, and open up more opportunities for you to land fish. A majority of today's plastic lures, or swimbaits, will work just fine for calico bass and sand bass.
With the swimbait, a matching leadhead is used that has a corresponding size and shape to the swimbait. A few of the favorite swimbaits/plastic lures at Long Beach Sportfishing are the 3- to 5-inch AA/Optimum single tail with a 1⁄4- to 3⁄4-ounce tri-head, the old school "Wham-style" single tail swimbaits with a 1⁄4- to 1⁄2- ounce "Cotee-style" yellow lead-head, or a 1⁄4-ounce to 5/8-ounce Hookup Bait. As far as jigs go, it is good to have a few surface irons as well as a couple yo-yo- style jigs in your box. For surface fishing, our go-to jig is either a Tady C or Tady 45 in mint or mint/white colors. But what's more important than color is the way the jig swims. A great swimming jig will catch fish whether it be yellowtail, barracuda, calico bass, bonito, and even tuna.
For yo-yo fishing we usually go with a Tady4/0, the Salas 6x Junior or 6x, with blue/white, mint/mint white or scrambled egg being the top three producing colors. Generally, when fishing the yo-yo jig, drop the jig down very deep, put the reel in gear, and start winding as fast as you can through the water column. When bit on the jig, do NOT set the hook. Instead, keep turning the handle until the fish makes his first initial run, keeping a bend in the rod, and hold on. The reasoning is that a fish will generally grab a fleeing bait on its side, and if the fish does this to your jig, it is best to just keep winding steady and not set the hook — the jig will slide through the fish's mouth, to the hooks, resulting in a hook-set. If you set the hook when bit, you will more than likely just pull the jig out of the fish's mouth.
Fishing line on your reels is very important. Whether it is braid, fluorocarbon or monofilament, make sure it is fresh for your trip. Loading reels with braid provides options to use different topshot sizes depending on the bite. Monofilament and co-polymer line provide a less expensive option to topshot your setup. Fluorocarbon is always great to have for those days when the fish are very line-shy, having very low to no visibility to the fish, and it also adds extra abrasion resistance with additional strength. A pair of cutters, or "dikes," are needed to have for cutting line, as well as a pair of needle nose pliers to help remove a hook or jig from your fish. A few other recommended items are sunglasses, sunblock and a hat for those hot, sunny days on the ocean.
In closing, remember to always listen to the crew, as they are out there every day and know what is going on and what has — and hasn't — been working. Don't "expect" to catch fish, as every day is different, just enjoy being out on the water away from all the stresses and worry that you left on land. Finally, make sure to tip your crew, regardless of how fishing was that day — they work hard every day to make sure you have the best trip possible.