Fun family fishing event returns Oct. 1-2, with loads of terrific prizes and a new twist in Suzuki's 'Spin to Win' wheel
BY BLAKE WARREN
BIG BEAR LAKE – What better way to kick off the fall season than by heading up to a beautiful alpine lake and fishing with friends and family for a shot at an array of great prizes? Well, you'll certainly have that chance with the 17th annual WON Big Bear Lake Troutfest making its anticipated return, Oct. 1-2. As usual, there will be a heavy stocking ahead of the event to ensure plenty of rainbow targets are swimming around the lake, and the bevvy of awesome prizes up for grabs is sure to make for plenty of winners when the dust settles.
And this year, there's a new twist to the event that will be sending a handful of lucky Troutfest anglers with some cold, hard cash. That's right, event title sponsor Suzuki Marine is bringing a new element to the prize-laden derby with its "Spin to Win" wheel, in which randomly selected Troutfest participants will have their number called for a shot to spin for cash. Suzuki Marine is putting up $3,000 cash for the promotion, where there will be specific dollar denominations listed on the wheel — simply spin the wheel and whatever number it lands on, that's the dollar amount of cash you'll be taking home, up until the entire $3,000 is dished out to lucky Troutfest anglers. Also on the wheel will be a Suzuki 4hp outboard up for grabs, valued at over $1,200.
Suzuki's Spin to Win at Sunday's awards ceremony is of course a big cherry on top of all the terrific prizes to be doled out to the top five finishers in each of the event's four divisions along with the high-end goodies going out to anglers at the annual raffle.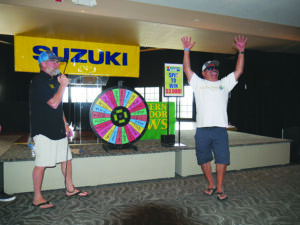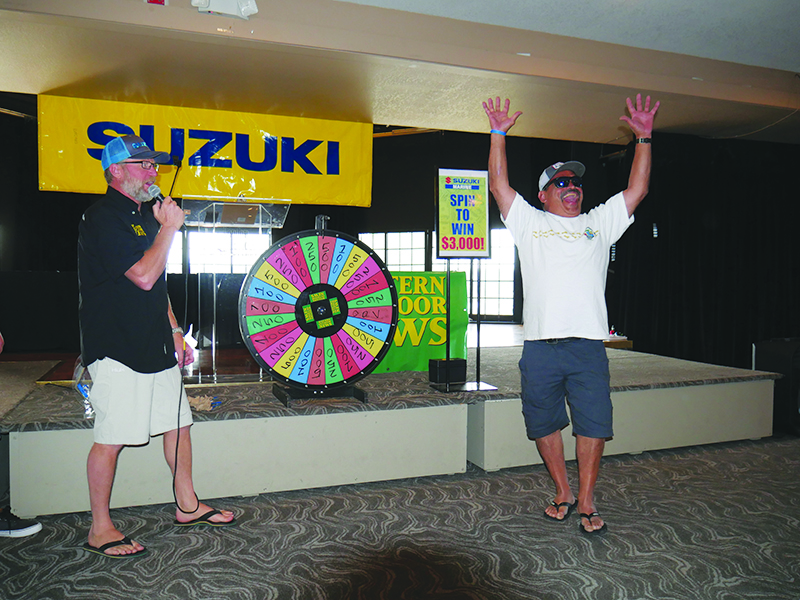 The Troutfest format is a simple one: anglers compete in one of four divisions — Adult Male, Adult Female, Junior Male and Junior Female — for trophies and prizes for the top five heaviest total weights of trout caught over two days in each division. Each angler can weigh up to 5 trout per day. For this year's event, anglers can also weigh 1 carp per day for a shot at taking home an additional $50 in Suzuki cash going to the angler who ends up with the heaviest carp in each division.
Amongst the prize pool for the winners in each division will be a variety of product to be doled out, including Fenwick rod and Pfleuger reel combos, Costa sunglasses, high-end Daiwa Procyon reels, Panther Martin lure packs, Frabill Square Floating Nets, Plano tackle solutions and more. There will also be 20 Blind Bogey cash awards going out to anglers who come closest to 20 randomly pre-selected weights without going over, along with raffle items such as top-shelf Daiwa Backpacks and Procyon reels, Daiwa Crossfire combos, more shades from Costa, an additional pair of Panther Martin lure packs, Igloo Coolers and a pair of 2-night stays with courtesy motor boat rentals at Lake Cuyamaca in San Diego County near the quaint town of Julian.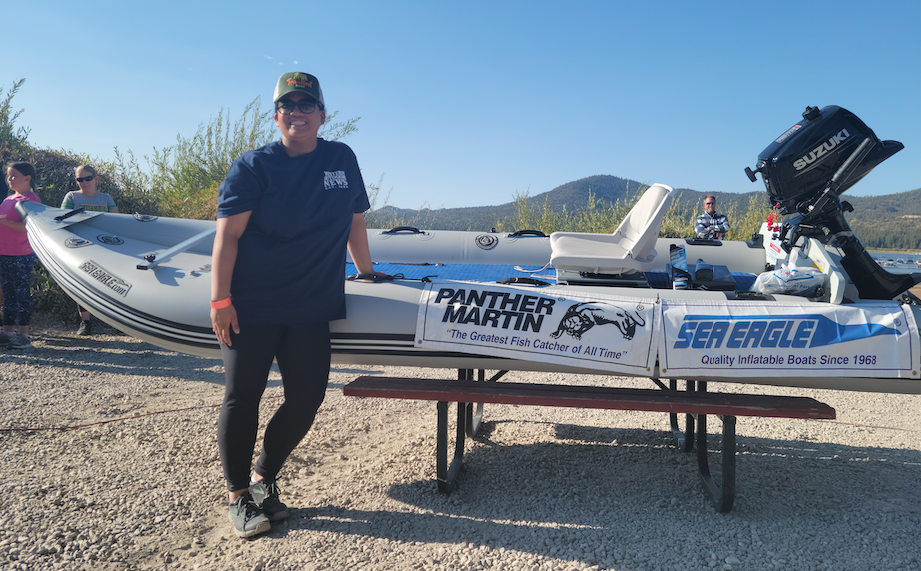 Along with all that goodness, the overall biggest trout caught at this October's event will translate into a brand new Sea Eagle 437ps Paddleski inflatable fishing platform armed with a 6hp Suzuki motor, plus an extremely lifelike replica of the winning fish courtesy of Global Fish Mounts, a total value of around $3,500. The Paddleski is a highly portable fishing platform that can get anglers into the tight spots where big fish lurk, and comes with an EZ-Cart that makes getting it down to the water's edge a breeze. A perfect option for avid trout anglers.
Before Troutfest even gets started in earnest, participants will already be winners, as loaded goodie bags will be handed out to each angler at event registration from 4 to 8 p.m. on Friday, Sept. 30 at the Big Bear Municipal Water District parking lot. Inside each bag will be an official Troutfest hat, Berkley Power Jigs and a jar of PowerBait, a spool of Berkley Trilene in 4-pound test, a Thomas Buoyant spoon and a Rooster Tail spinner.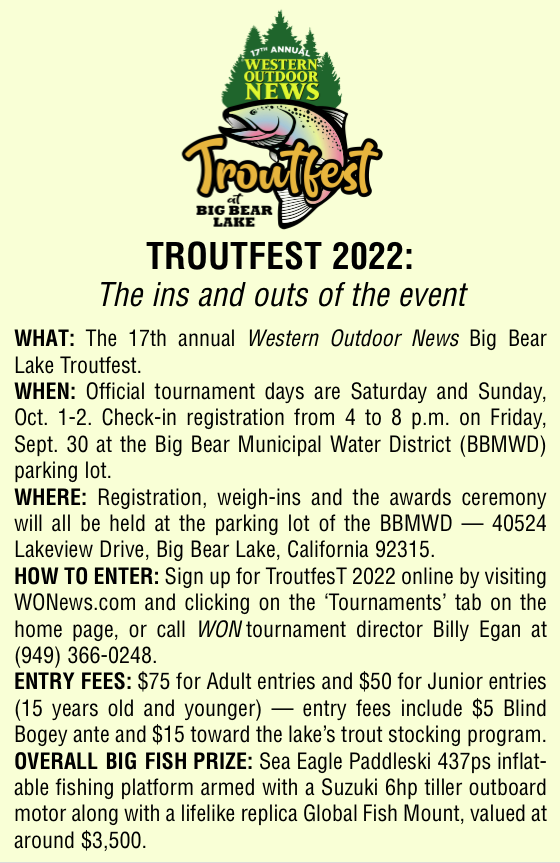 Entry fees for Troutfest are just $75 for adults and $50 for juniors (14 years old and younger) and $5 from each entry goes into the Blind Bogey pot, with another $15 from each entry going to trout stocking at Big Bear. Locking up your spot for Troutfest 2022 couldn't be easier. Simply visit WONews.com and click on the 'Tournaments' tab on the home page, or call WON tournament director Billy Egan at (949) 366-0248.
As far as the fishing goes, it's been a solid year up at "The Blue Jewel" thus far, and it most always picks up even more once autumn arrives. Come derby time, it will be lines in the water starting at 7 a.m. on both days of the event, with weigh-in times at Big Bear Marina set for noon to 4 p.m. on Saturday and 11 a.m. to 2 p.m. on Sunday. That will preceed the awards ceremony which will be held at approximately 3:30 p.m. on Sunday to conclude the weekend festivities.
You can't win unless you're in, so don't miss out and be sure to secure your spot for Troutfest 2022 early. Registration is currently underway. Each and every early October, it never fails to be a great time had by all with no shortage of winners heading home with new gear and prizes once the dust settles.
See you at the lake the first weekend of October!