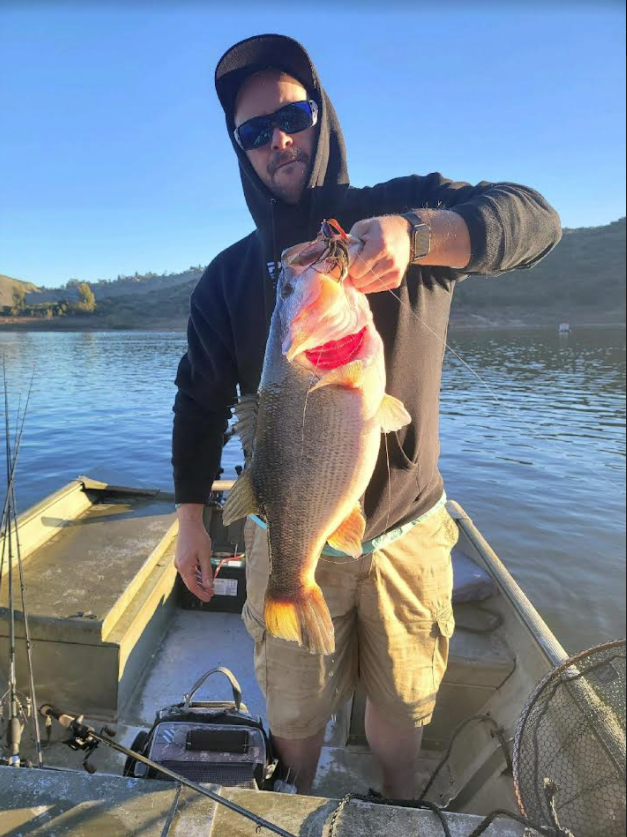 BY MIKE STEVENS
ESCONDIDO – After a sluggish opening week on the bass side of things, a well-timed winter warm snap turned things right around at Lake Hodges. Now, the hope is this week's chilly spell won't set back all that progress. On the flip side, crappie were red hot right out of the gates, and that not only remains the case but it should only get better as the arrival of spring inches closer.
"We got a late start on the day, but that didn't make a difference," said Dylan Pahler who was fishing with his dad, Ryan. "Bottom baits were key this week, and the high temperatures made a difference. Opening week (the water) was about 55, 56, and this second week it was 57.5 to 58.5, and that really moved the fish shallow and got them biting. Rocky areas were the spots holding fish throwing bottom baits toward the shore and dragging them into deeper water."
He went on to tell Western Outdoor News there was no doubt about it when they got bit, and they ended up with a 17-pound bag highlighted by a 6-pound kicker spanning three hours of fishing.
WON field reporter Brady Garrett and "Mexico" Joe Meyers were back at it (they intend to get on Hodges every weekend) and working out of a rental boat, and they more than made up for their slow opening week this time around. Meyers would up bagging a 9.81-pound bucketmouth on his homemade E&S Jigs, which was also what connected him to the duo's only two biters in Week 1 of the season. Garrett took the silver with a respectable 6-pound, 4-ounce largie on a jig.
"Huge heads on both, and they hammered those jigs," said Garrett. "I had three other short strikes."
Rounding out WON's stable of über-regular Hodges sources was Clem Miner of Escondido who found more opening-week-type fishing with just one crankbait eater out of the Narrows, but he too felt things trending in the right direction over the weekend.
"By Saturday, things changed," said Miner. "I'm sure it was due ot the great hot weather warming up the lake, and most of the lake is 60-plus now. We headed past the Narrows to the warmer water and managed to get six in the boat. The best was a 3-10 on a small swimbait, and the rest came on the usual stuff: Texas-rigged worm, Neko rig and a wacky-rigged thin Senko, but nothing on the drop-shot."
In reporting to WON, Miner also mentioned on behalf of most of the Lake Hodges faithful the disappointment in a propsed user fee increase for fishing and other water sports. He said some anglers are already voicing their opinion to local officials, in part because there are no fees being dropped on the general public who are also using the facilities, just fisherman. WON will be monitoring the matter and gathering more information.
The crappie bite was still steady following an opening week that saw over a dozen slabs over 3 pounds caught and a bunch over 2.