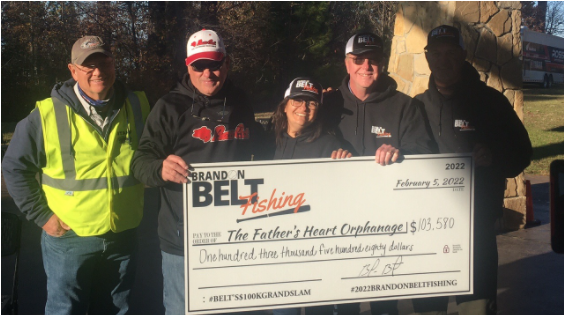 SAM RAYBURN RESERVOIR, TX  – Over the weekend, Bass Cat donated a boat for a fishing tournament to raise money for an orphanage in Brazil.
The first annual Brandon Belt 100K Grand Slam tournament was hosted by Brandon Belt Fishing (BBF) with East Texas Fishers of Men. The tournament was formed to help raise funding and awareness for The Fathers Heart, an orphanage located in Amazonas, Brazil that provides endangered children with refuge and a new hope for their futures.
Bass Cat was able to provide a brand new, fully loaded, 2022 Eyra boat and trailer as the grand prize for fundraising with a value of $78,000. The tournament brought participants from all over the country to compete at Texas' very own Sam Rayburn Reservoir, and was able to raise a total of $103,580 for the Fathers Heart through event registrations, raffle, the gift shop, and donations. The generous funding for the orphanage will help provide food to 93 children for a whole year.
President of BBF, Brandon Belt, stated, "This past weekend was an unbelievable experience. We were blessed to pay out over $400,000 to the anglers and even more blessed to raise over $100,000 for an amazing charity. I just want to thank everyone who made it happen from volunteers to sponsors to the anglers. I can't wait to do this again."
President of Bass Cat and Yar-Craft Boats, Rick Pierce stated, "This was a very well-run event thanks to Dick Polk, Al Odom and the East Texas Fishers of Men. Everyone came together for The Father's Heart charity."
Pierce continued, "Brandon has a tremendous amount of personal support in the Lufkin area and it was great to see East Texas help. He is a solid person, and this speaks well of his character. Everyone had a great time. Competitors placed at the tournament but the real winners were the kids at The Father's Heart orphanage with a new-found hope."
About Bass Cat: Bass Cat, owned by Correct Craft, manufactures the industry's premier bass fishing boats from its headquarters in Mountain Home, Arkansas. Family operated since its founding in 1971, Bass Cat is the longest continuously operating tournament bass boat company in the United States. For more information visit www.basscat.com.
About Correct Craft: Celebrating 97 years of excellence in the marine industry, Correct Craft is a Florida-based company with global operations. Focused on "Making Life Better," the Correct Craft family includes Nautique, Centurion, Supreme, Bass Cat, Yar-Craft, SeaArk, Parker, and Bryant boat companies, Pleasurecraft Marine Engine Group, Watershed Innovation and Aktion Parks. For more information please visit www.correctcraft.com