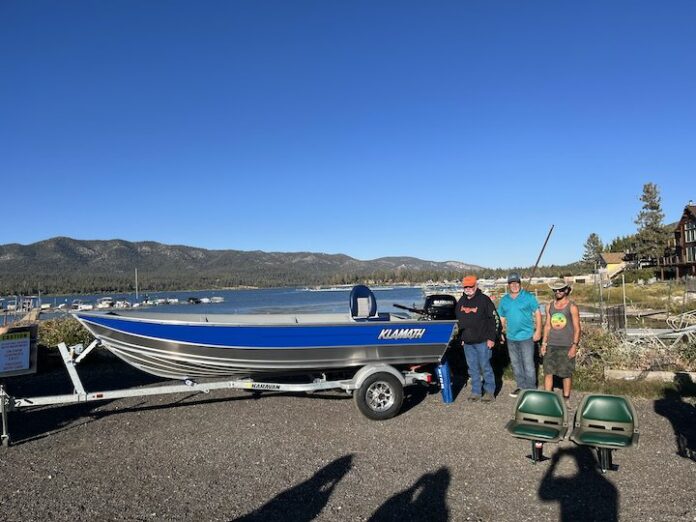 Big crowd welcome of Klamath/Suzuki Grand Raffle Prize and Suzuki Prize wheel
BY MIKE STEVENS
BIG BEAR LAKE – Another WON Big Bear Troutfest powered by Suzuki is in the books, and this one had a pair of ladies finishing first and second overall. Conditions were ideal, Big Bear Lake was stocked with an obscene amount of trout prior to the event that were willing to bite, and all participants went home with more than they brought up.
The heaviest 2-day total was two limits (10 fish) totaling 20.27 pounds, and that haul was compiled by Julliat Limon in the junior female category. She was the only one of the 498 Troutfest participants to turn double-digit stringer weights on both days. Second place went to Jacqueline Barajas (adult female) who weighed in 18.56 pounds of trout. Over 50 anglers brought over 10 pounds of trout to the scale in the 2-day derby that stands as one of WON's longest-running family events.
In the other categories, Sean Kinney won Adult Male with 18.28 pounds, and Jacqueline Barajas was the top Adult Female at 18.56. The top Junior Male was Bode Johnson with 10 fish over two days totaling 16.63 pounds, and Limon of course won top Junior Female along with being the overall winner.
The 2023 WON Big Bear Troutfest marked the return of the boat-and-motor that was awarded to the participant that simply had his number called in the Grand Prize raffle, and that lucky winner was James Toy. The Klamath 15-foot Advantage aluminum boat is powered by a 20 horsepower Suzuki outboard and carries a value north of $12,000.
The Suzuki Prize Wheel was back this year due to its popularity when it made its debut last year. This year, Troutfest anglers that had their number called in the raffle came up and spun the wheel for chunks of the $2,500 ponied up by Suzuki until it was gone.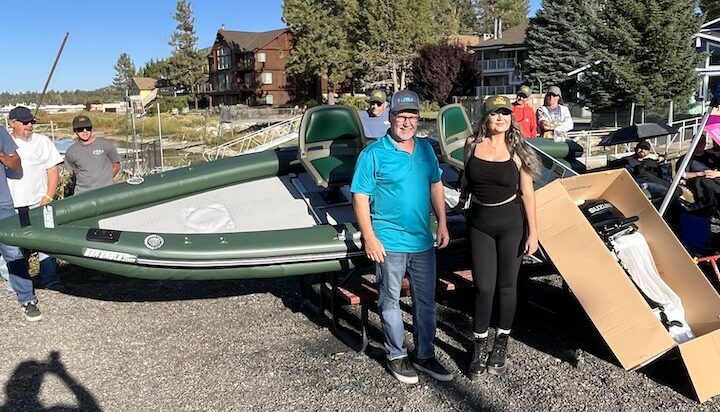 Sponsors are a huge part of all WON events, and they definitely brought the thunder for the 2023 Troutfest. In addition to those huge contributions from Klamath Boats and Suzuki Marine, Sea Eagle awarded an inflatable Fish Skiff 16 to the angler catching the biggest fish of the event. That boat also came packing a Suzuki outboard, and it was awarded to Mackenzie Bentson who landed a 3.40-pound Big Bear Lake rainbow.
Other sponsor-supplied for the raffle, goodie bags and otherwise came from Berkley, Pflueger, Fenwick, Daiwa, Costa, Yakima (Rooster Tails), Thomas Lures, The Mook Lures, Global Fish Mounts Speeding Bullet Lures and Big Bear Sporting Goods.