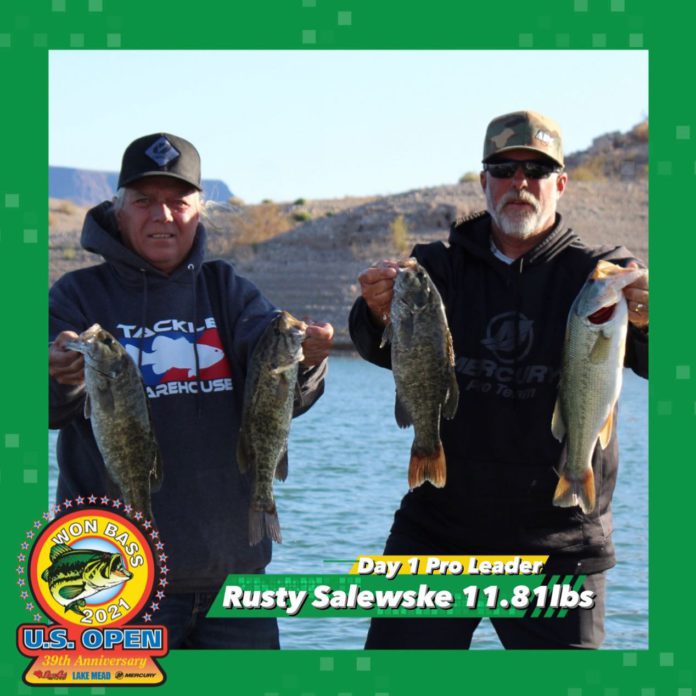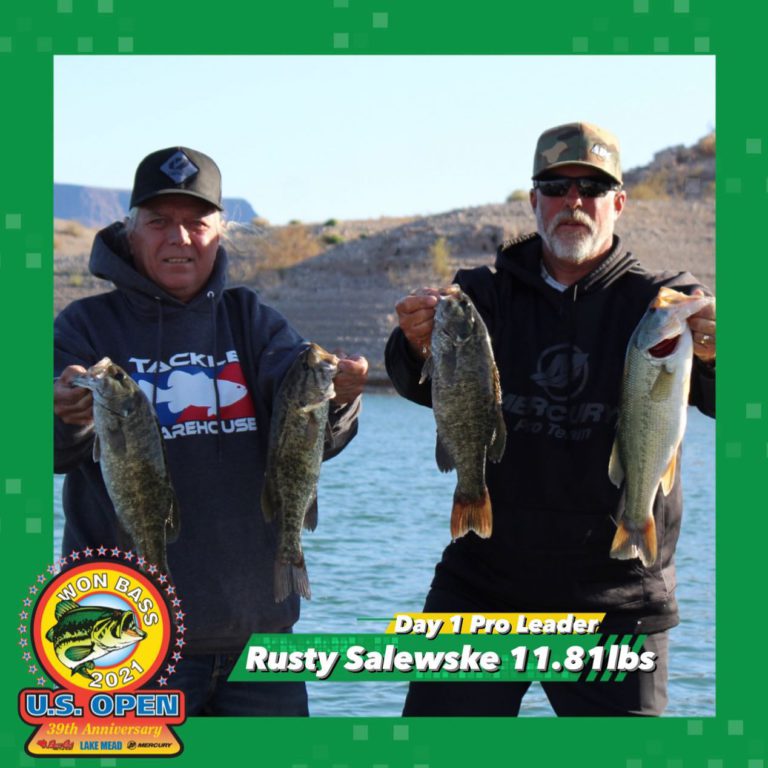 Henderson, Nev. – Following wind conditions that forced a Day One cancellation, the 39th Annual WON BASS U.S. Open launched on Lake Mead for the "Come Hell or Low Water" bass battle of 2021.
California anglers, pro Rusty Salewske, of Alpine and AAA David Shearrer, of Lake Forest were paired, climbing to the top of the leaderboard with a five-fish limit that went 11.81 pounds. Their biggest at 2.15 anchored their sack and set them nearly a pound above the nearest competitors in the 200-boat field.
"It was more than I expected — a whole lot more with the weather the way it was," said Salewske.
He reported filling the box within the first 10 minutes at his spot and culling until 8:30 a.m.
"I left my primary area early, so we will see how it goes tomorrow," he said. "Today, I was blessed, but you can go from hero to zero real fast with these fish roaming the way they are."
Making an appearance in the pro top-five is Cliff King of Ione, Calif.
King partnered with AAA Brandon Bowers, of Chandler, Ariz. for a Day One finish in 4th place with 10.50. As the reigning 2021 WON Bass California Open champion, King has the opportunity for a historic victory to be the only angler to ever claim the crown for both Opens in the same year.
"I am feeling confident," King stated. "I've got something figured out. I caught about 20 keepers, had a limit by 9 a.m. and left 'em biting."
Traveling from New Jersey, the 2003 Bassmaster Classic champion Mike Iaconelli of Pittsgrove showed out for his first official tournament on Lake Mead. Fishing with AAA Ryan Furno of Aloha, Ore., Ike and partner put together 9.50 and sit in 21st.
"It really is a dream fulfilled," said Ike. "I've wanted to fish the U.S. Open for a long time. I love the team format. I love the bonding. I had a dream triple A and had a lot of fun.
"From a fishing standpoint it was a challenge. I knew that it would be, watching it from afar all of these years. You can take yourself out the first day and I didn't; so I kept myself in it. I do need a good day tomorrow, but I feel good about it."
The scales will open on the final day of the abbreviated, two-day U.S. Open tomorrow at 3 p.m. Follow the WON BASS action at the Western Outdoor News YouTube channel or on the WON Bass Facebook page.