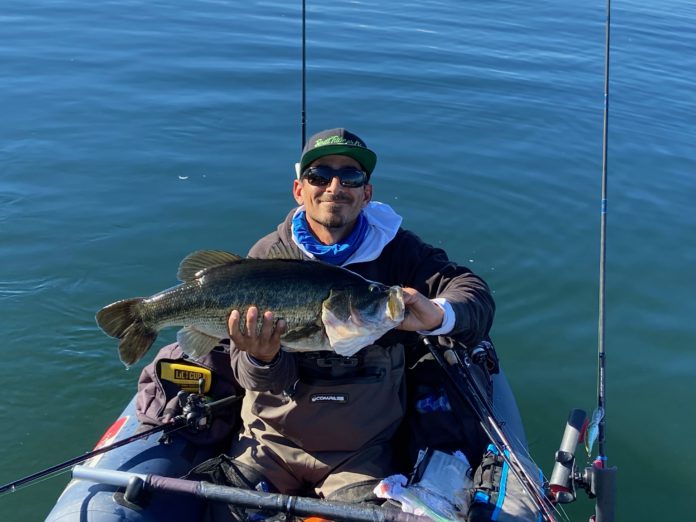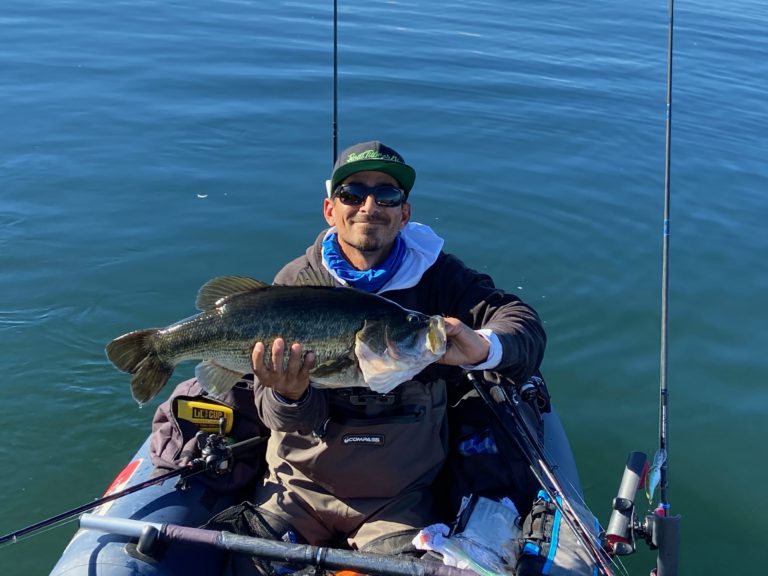 BY MIKE STEVENS
PERRIS – There have been bass biting at Perris for a month, quality models at that, but most of them are coming in on minuscule baits in excruciatingly-deep water. Well, the double-digit bell recently rang, and while that big largemouth was caught in deep water, it fell for a bigger bait that wasn't near the bottom. If that Christmas Day catch wasn't enough to put a blip on the big-fish radar, there was also a 30-plus pound striped bass bagged at Perris.
"I was advised by Matt Magnone and Anthony Driscoll of Last Chance Bait and Tackle in Hemet to get a River2Sea S-Waver 168 in the Warden Hitch color, and I was able to manipulate the rate of fall with some suspend strips, so I'm not sure where in the water column it was at, but the water was at least 50 feet deep," San Jacinto angler Kyle Nelson told Western Outdoor News. "I got blown up after a long pause following a very slow retrieve, and it was absolutely insane when it hit the bait. It never tried to breach, it just pulled hard straight down. I grabbed the fish by the bottom lip and realized how big of a fish I had, and when I lifted it out of the water, I almost had a heart attack."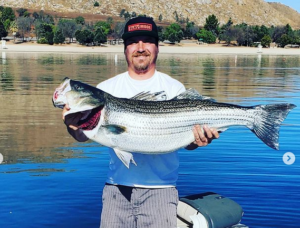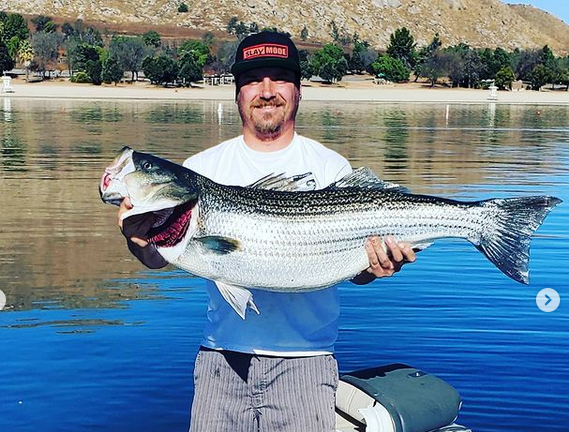 Nelson was in a float tube, and he flagged down a nearby bass boat for a hand, in part so he could get good photos. That angler turned out to be Chris Lewis who is a co-member with him in the Temecula Valley Bass Anglers (club). The duo put the fish on a quality scale and the bass registered 10.5 pounds before being successfully released.
Nelson told WON he's only been fishing since this past summer, but he's already got an impressive scorecard highlighted by largemouth of 8.6 and 7.5 pounds along with this one and a 13.5-pound striped bass. He said his entire rig was put together with the guidance of Magnone and Driscoll at Last Chance. It consisted of a 7-foot, 3-inch medium/heavy Daiwa Fuego rod matched with a Fuego reel packing a 7.3:1 gear ratio and 15-pound Seaguar Invisx fluorocarbon.
Looking at the big picture as far as largemouth go at Perris, most biters are still being found on drop-shots, ice jigs and Texas rigs fished as deep as 60 feet. There are a couple shallower fish to be caught up around stickups during the occasional unseasonably-warm afternoon, but for the most part it's go deep or go home.
Striped bass are rare catches at Lake Perris, but when they're caught they're usually tankers. That was certainly the case for Rick Oliver who bagged a 30.3-pound striper that was 47 inches long and 27 inches around. Unfortunately, that was all the info available on that catch by press day at WON, along with the photo evidence.