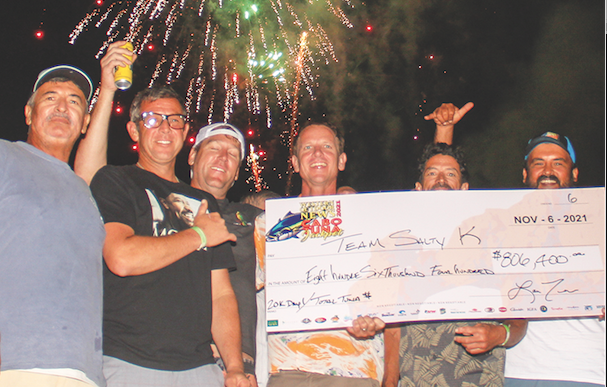 BY MIKE STEVENS
Listen to team SALTY K discuss their win on the WON Podcast:
[buzzsprout episode='9567244′ player='true']
CABO SAN LUCAS – A sprawling field of 164 boats thundered from Marina Cabo San Lucas in the 23rd running of the WON Cabo Tuna Jackpot (CTJ) to shoot it out for a record total payout of $1.47 million, a substantial record for the "richest tuna tournament in the world." When the prop wash settled at the end of the 2-day event, Team Salty K emerged as the 2021 CTJ Champions and the recipients of the bulk of that lofty payout.
Hotel Tesoro Los Cabos and the marina's waterfront once again served as tournament headquarters and the location of the CTJ weigh-in stage where Salty K brought their winning fish toward the end of the Day 2 weigh in. Salty K anglers Joseph Conrad, Antonio Colorado, Harry Okuda, Keith Hilton and their very colorful crewman "Zane" watched the scale come to rest at 230.85 pounds. The tightly packed crowd went nuts, and the fishing team consisting of a combination of Southern California, Cabo anglers and crew knew they had the tournament locked up.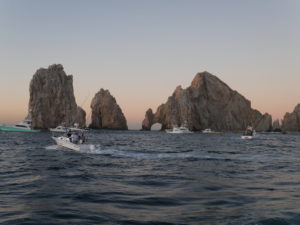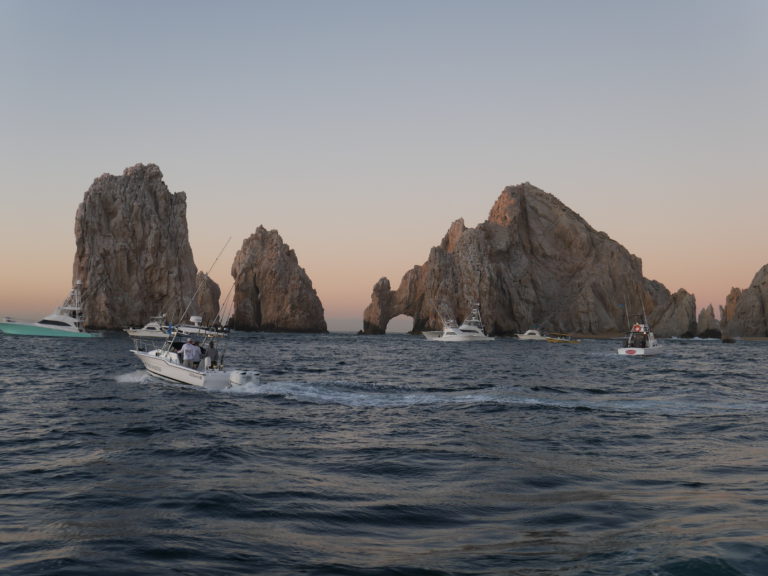 That fish was good for $68,000 for first place overall, but Salty K was also "all in" across the tuna optionals which tacked on a whopping $585,400 to their Day 2 cash haul, but it doesn't end there, as Salty K was already in the black after collecting $8,000 for the second-biggest tuna on Day 1 as well as the $20,000 (entry) optional for a $153,000 payout. The oversized check they were handed on the Awards Stage with fireworks exploding in the background was good for a total of $806,400 for anglers Joseph Conrad, Antonio Colorado, Harry Okuda, Keith Hilton and crew.
That Day 1 yellowfin weighed in by Salty K fell less than 2 pounds short of the 133.35 pounder brought in by Team Overtime who entered all optionals other than the $20k.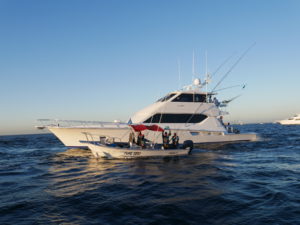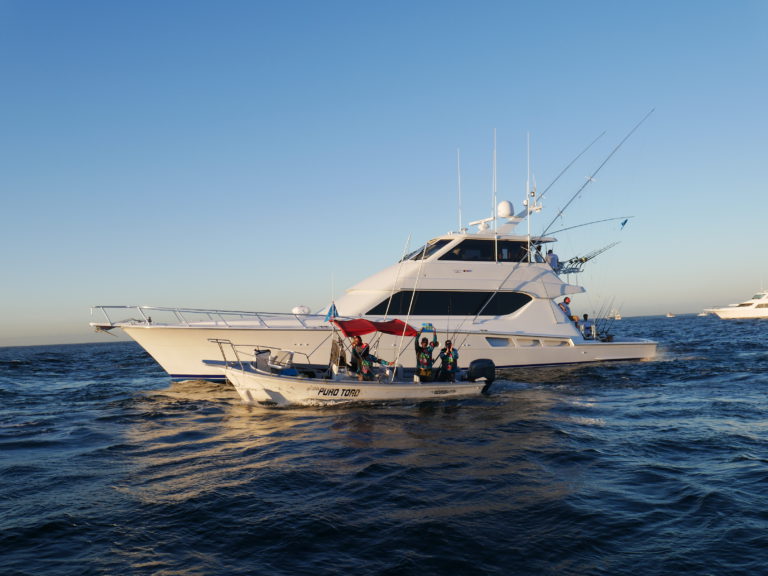 "It happened (winning fish hookup) at the perfect time to do what we did without a lot of competition," said San Diego angler Keith Hilton of Salty K. "Harry spotted the fish, and Tony hooked the Day 1 fish, and Joey hooked the Day 2 fish."
Hilton went on to tell Western Outdoor News they were live bait fishing around porpoise when they scored, and while it was their first time fishing in the CTJ, there was no shortage of experience on their boat, also named Salty K. Hilton has worked long-range and 6-pack boats, and Conrad is currently a commercial albacore fisherman with time aboard the Royal Polaris and Royal Star on his resume', just to touch on the firepower that made up that team.
"It's really cool to see the fleet going to war on tuna, " Hilton added. "I just love tuna fishing."
That big tuna of Day 1 brought to scale by Team Overtime went 133.35 pounds, and their involvement in all optionals other than the $20k allowed them to receive a $432,400 payday. Team Overtime consisted of Dan Heisler, Gilberto Winkler, Gary Wilmot and Breck Girot of Hogan's Bait and Tackle in Dana Point.
"We went out pretty far, and that fish ate a lure under a dolphin school," said Girot. "It was sporty in the morning, then it was nice but fishing was slow. I wish I could say we were doing something special, but it wasn't," he added with a laugh.
No strangers to the Cabo Tuna Jackpot, Team Overtime won $50,000 in the dorado optional back in 2019. They hung out by the weigh-in stage to watch Salty K weigh in their Day 1 fish, and they were visibly elated with hugs all around when they confirmed their fish was just a tad bigger on that day.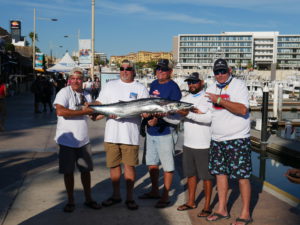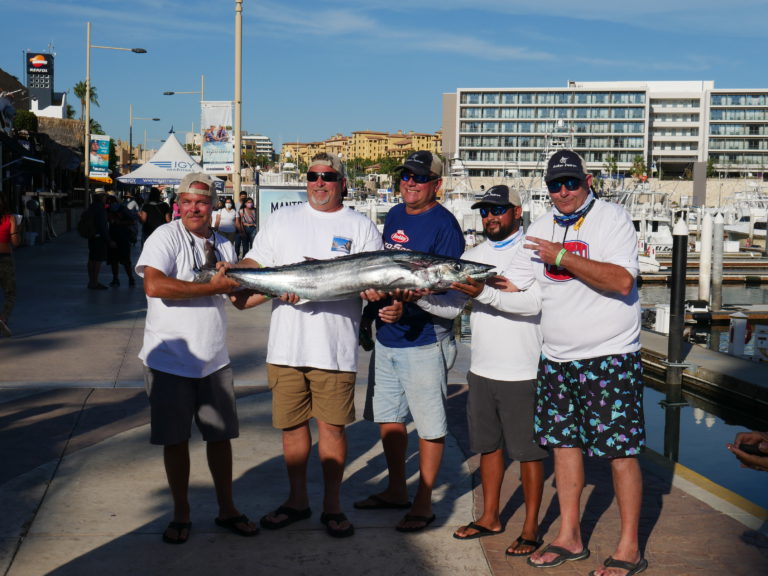 The other Day 1 winner was Team Señor Patron, who picked up $47,600 in the wahoo optional. That fish was the first brought to the scale of the whole CTJ, and at 38.8 pounds, it held off all comers for the rest of the day. Señor Patron has fished the CTJ 18 times, and this was their first time on the weigh-in stage.
The wahoo story wasn't without heartbreak, as that was actually not the biggest 'hoo caught on Day 1. Team NorCal brought a 41.9 pounder to the stage, but they did not enter the wahoo optional because they were actually targeting dorado when they connected to their big 'hoo.
Speaking of dorado, there plenty were caught and some respectable models were brought to the stage but none reached the 25-pound minimum to qualify. Team Hook'em and Book'em aboard Tiburon had the biggest dodo of the day at 18.25 pounds, and Team The Rodfather found a 17.45 pounder 55 miles offshore. The dorado optional payout up for grabs was $58,400 for each day.
Other notable catches on the first day of the CTJ a 127.8-pound yellowfin from Team Reel Quest and a 100.5 hauled aboard Picante Expresso by Team WTF. A 25.65-pound wahoo was wheeled on stage by Team Tuna Corn who said they saw "bigger ones jumping around" and also caught an 11-pound dorado.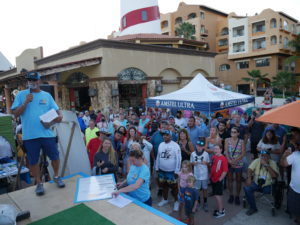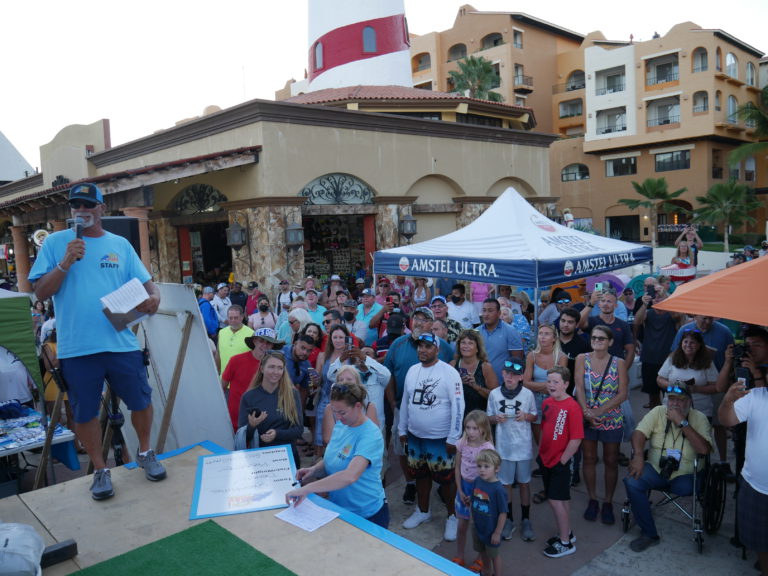 Prior to the fishing on Day 2, CTJ Tournament Director Gerry Mahieu and WON Tournament Director Billy Egan made the call to drop the minimum weight for the dorado optional to 20 pounds. With the previous day's cash rolling over to the next, the Day 2 dorado optional dinero up for grabs shot up to $116,800.
The tone as well as the high-water mark was set early on Day 2 when the first fish brought to the stage by Ken Sousa of Team Plenty of Fish aboard Salsa of Picante Charters tipped the scale at 141.15 pounds, immediately moving into the overall lead.
"We had him in the boat by noon, then trolled for dorado for an hour-and-a-half," said Souza. "You guys do a great job with this. We love the camaraderie, and it's fun for the whole family. One time we had 22 'fans' with us."
This was the fifth CTJ for the NorCal-based team, but the first for 12-year-old Joe Inman of Plenty of Fish who reeled in a pair of the six dorado the team caught on Day 1. He told WON that was his favorite part of the event (naturally), and he's ready to come back.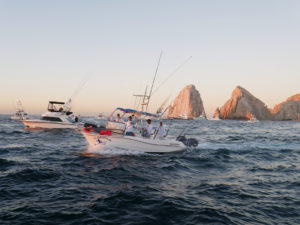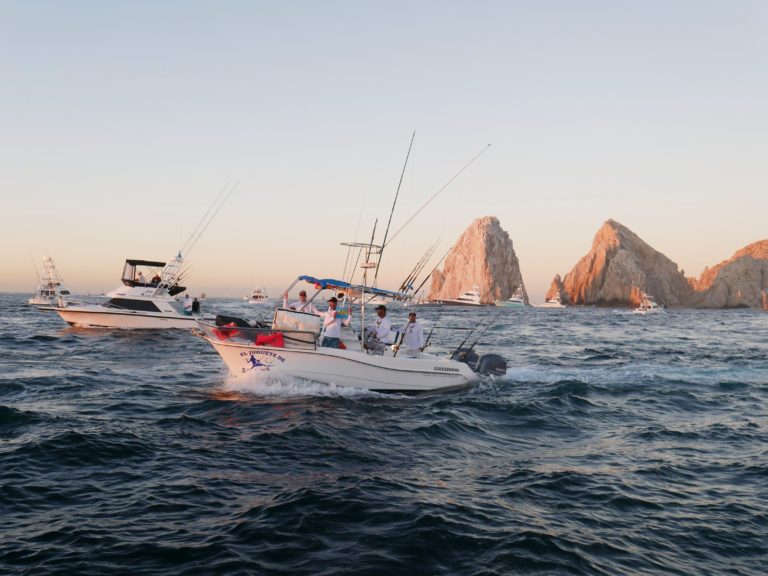 In a day that would see 10 tuna over 100 pounds hit the scale, the lead wouldn't last long for Plenty of Fish, who would watch Team Strictly Business shoot past them and into the top spot with a 167.15-pound yellowfin tuna that propelled them to the top of the overall leaderboard.
That was a troll fish caught by Rick Eldredge of Lake Stevens, Washington, and it was the fourth CTJ for the team but their first trip to the weigh-in stage. That fish was donated to an orphanage, and they also boated a 17.9-pound dorado.
Unfortunately for both of those teams, the next tuna wheeled up the dock was the 230.85 pounder that made Salty K the champions, then a 179.5 bagged by Uno Mas 2na aboard Bad Medicine snuck up into second place overall which earned them a check for $8,000. Strictly Business was bumped down to third and took home $4,000.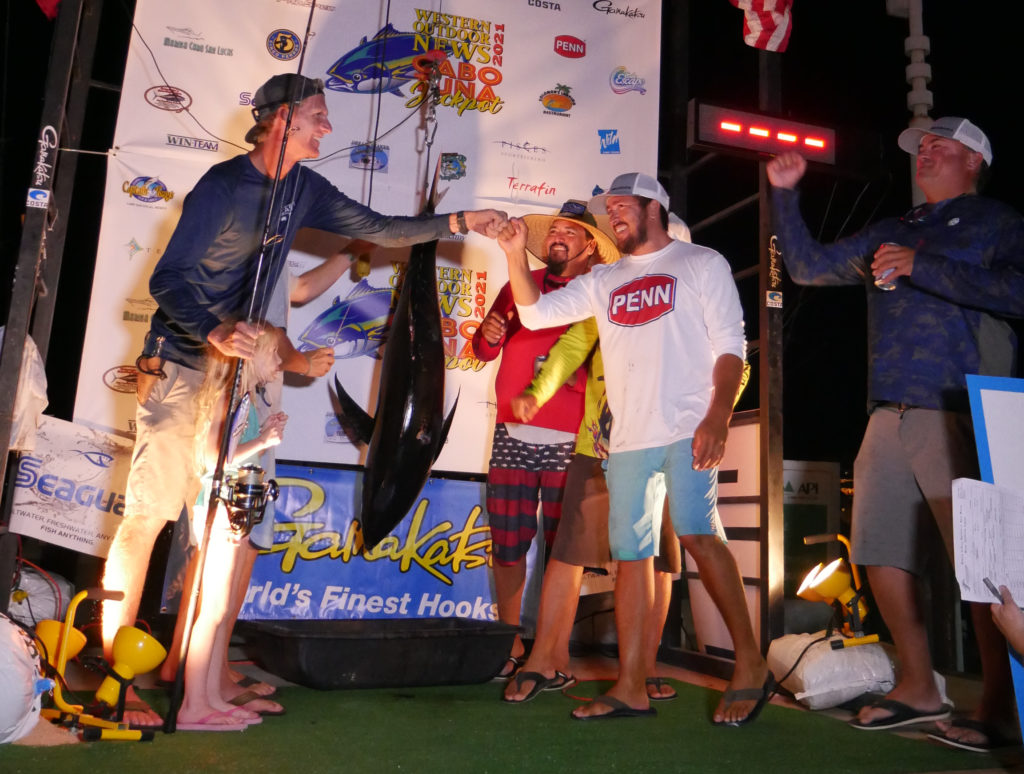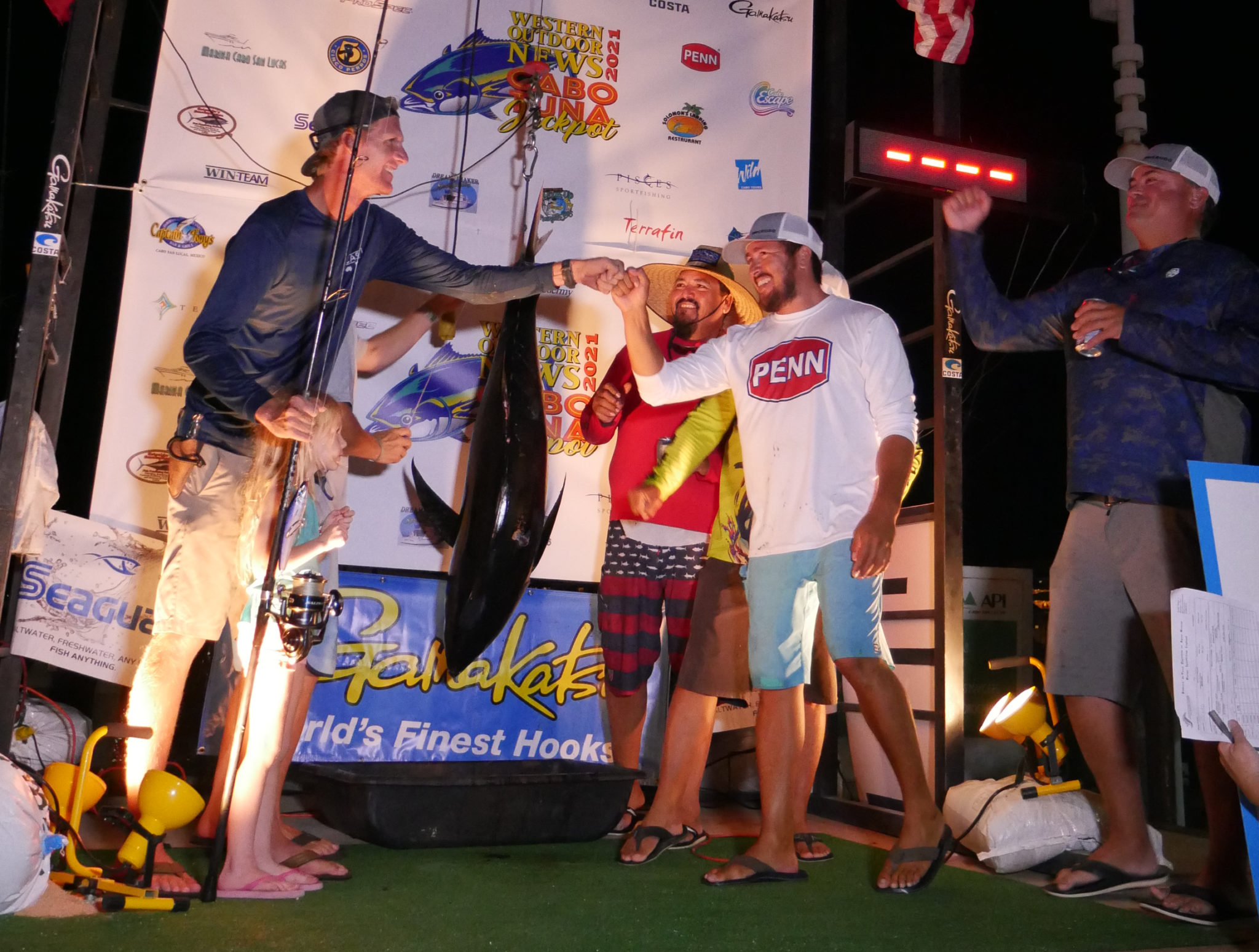 One of many cool stories of fish that didn't make the cut was that of the 109.2-pounder caught by local surf fishing guide Wesley Brough of Team Crudo. He hooked that fish on the obligatory "last cast" using an artificial lure, long rod and a spinning reel, and he closed the book on his new personal-best tuna in shockingly short order considering the gear he was using.
They Day 2 wahoo optional was a shootout in itself as teams chased the second $47,600 payout. The first one ushered across the waterfront to the stage was a very respectable 32.4 pounder bagged by Team Los Compadres. That fish was almost immediately edged out by half-a- pound by Team Yes 'Em aboard the panga, Gloria, and it would end up holding up for the rest of the day and claiming the big check. One more solid wahoo weighing 28.95 pounds was brought back to the dock on Day 2 by Team Liquid Assets aboard Bill Collector.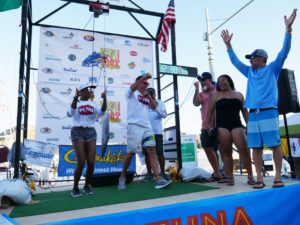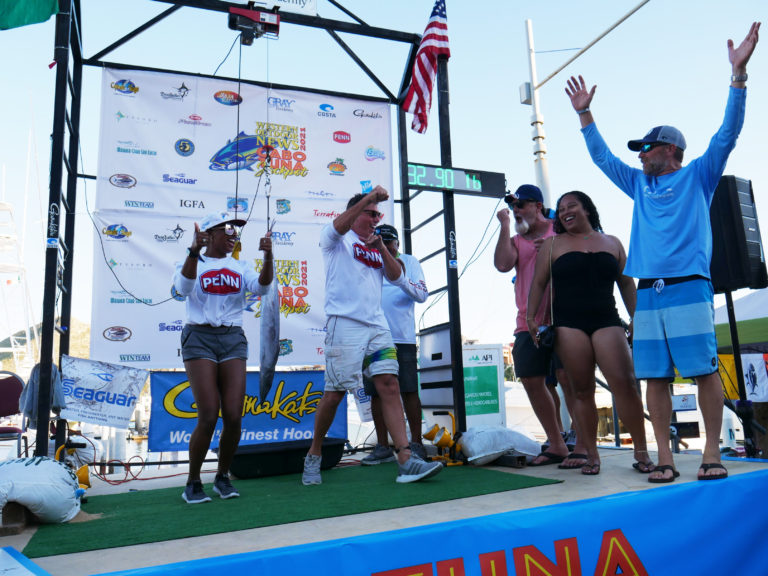 Members of Yes 'Em including Eddie Rodiack, Phoenicia Friese, Taylor Tang and Greg Welch were adamant about their support of the pangaros and the Cabo panga fleet. Rodiack was relatively tight-lipped about their winning fish, only divulging that they "trolled Rapalas from point to point," but he gave a lot of credit their pangero, Enrique. Yes 'Em is a "10- to 12-year" CTJ participant, but this was their best year so far.
As for the dorado optional, there was plenty of build and drama on Day 2 as radio chatter regularly suggested a 20-plus might be on the way in to claim the rolled over payout totaling $116,800. After a few between 12 and 17 pounds were brought in early, it seemed like each dodo that followed would be a little bigger than the last: a 17.35 pounder from Team Eriesistable, that 17.9 from Strictly Business followed by a couple just over 16 from teams Rhino Del Mar and Dispatch.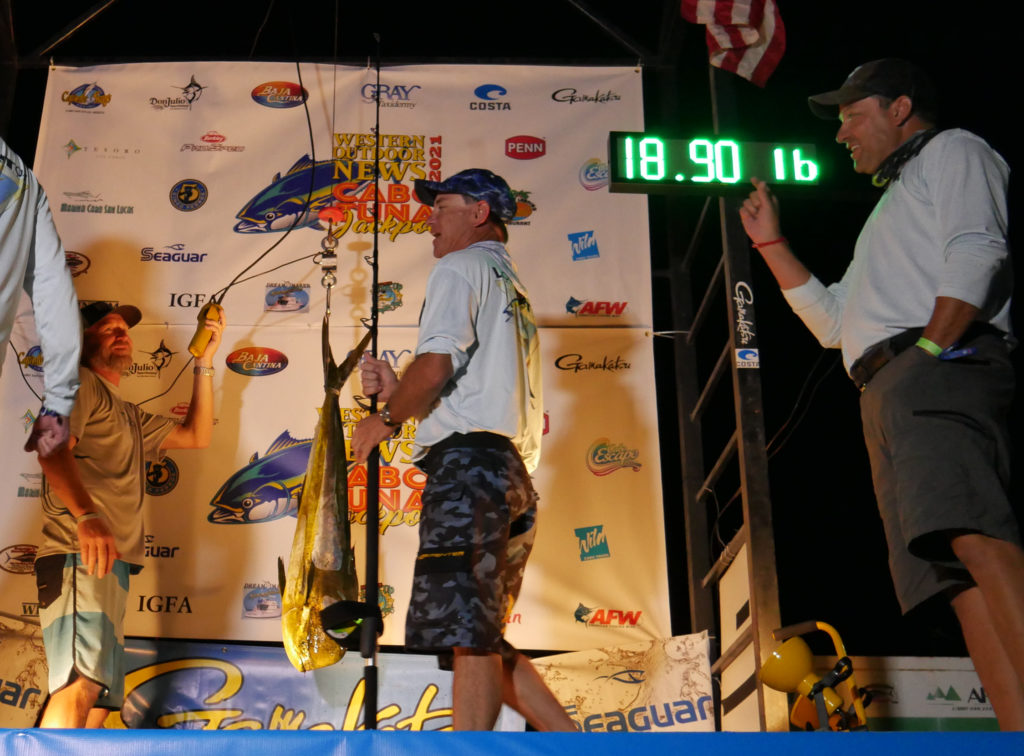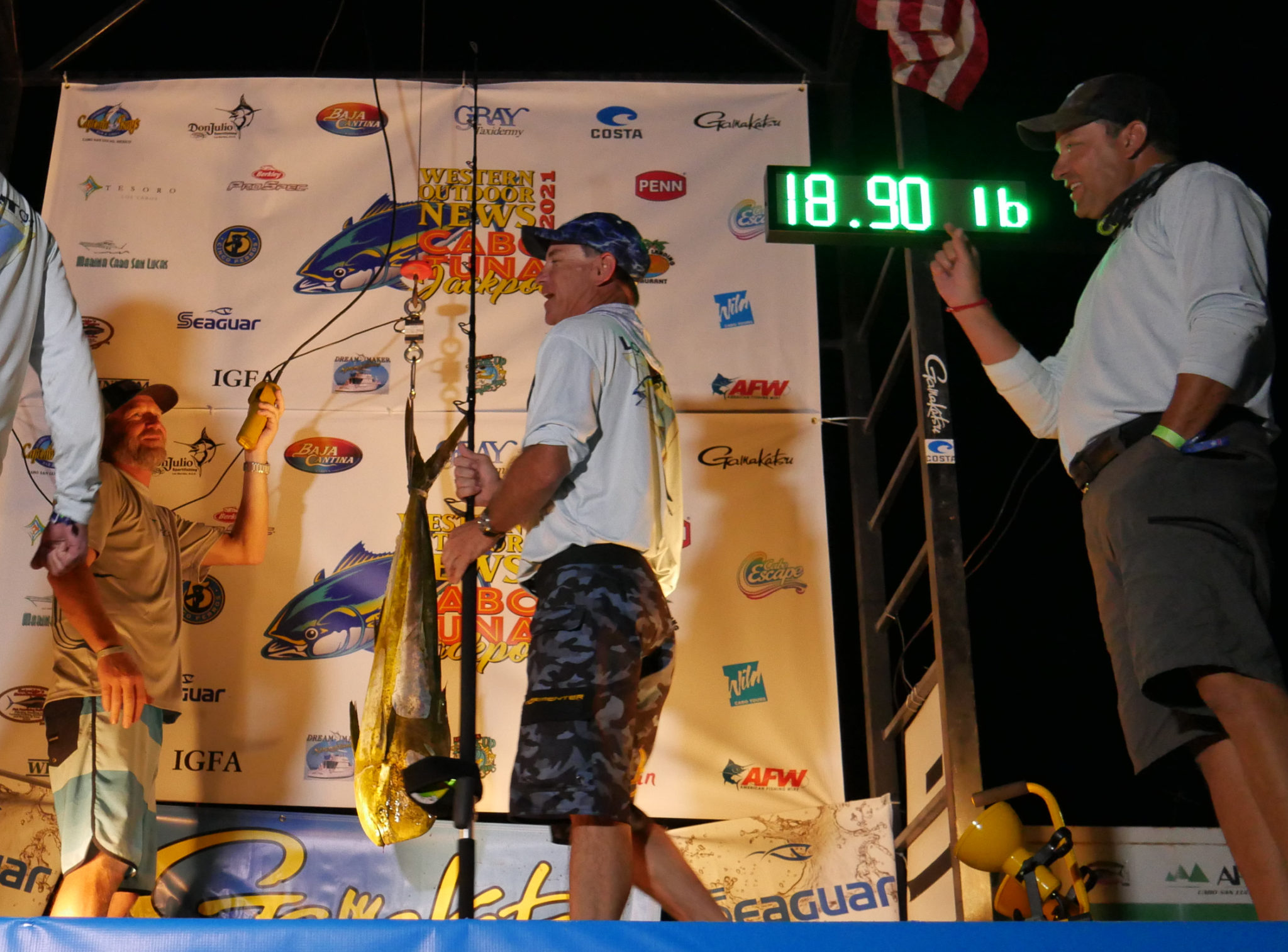 With darkness falling on the waterfront and the huge crowd yet to disperse even a little, word on the radio was there was one boat left en route to weigh in with a big dorado in tow. It came up the ramp, and its tail was hanging half out of the barrel it was being wheeled in. Patrons of waterfront establishments like Baja Cantina, Griselda's Smokehouse and The Lighthouse at Tesoro that had been taking in the action all day stood, cheered and even applauded as a fish that clearly had a shot at the dorado optional approached the stage.
Photographers ranging from professionals covering the CTJ to passers-by looking for wiggle room to take a cell-phone shot surged towards the stage as Mahieu and Egan hung Team Las Novatos' dorado on the scale. Egan took his hand off the final fish of the 2021 CTJ, and the scale came to rest at 18.9 pounds.
Before the 2021 WON Cabo Tuna Jackpot, tournament organizers were already frothing at the mouth to get next year's event up to an even bigger payout with even more teams.
"It's a record-breaking year here in 2021, but we want to blow this up to $2 million next year," said Egan.
For Gerry Mahieu, this was his first year taking over as CTJ Tournament Director after Pat McDonnell stepped away after two decades at the helm. His experience both as a saltwater tournament director and as an accomplished big tuna angler and Captain in his own right shined through both during the CTJ and behind the scenes in the months leading up to it.
"We have some big shoes to fill, but our team is up to the task," said Mahieu.