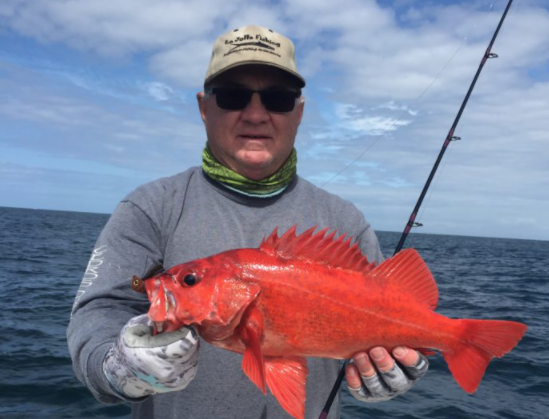 BY CAPTAIN BILL SCHAEFER
SAN DIEGO – It's almost rockfish season again. On March 1 it's on. Other types of fishing also start to take off this time of year, but those tasty rockfish are already hanging off the man-made artificial reefs and natural contours of the bottom off California right now, and the bite should stay strong until the waters warm enough to chase them off.
If out chasing other fish like early yellowtail and they are not cooperating, you can always fall back to rockfishing. Just make sure you have your bass rods along with you and you can fish a lot of the inshore rockpiles and reefs that litter the bottom. You should have a fish finder on board, and if equipped with a mapping unit you can locate drop offs and high spots by following the contour lines. You can also purchase map cards for certain units to enhance those lines. There are a ton of natural spots you can find just off the entire southern California coast.
A good unit, like my Lowrance HDS 12 Live, will show you those spots, but even the middle and lower end units of today have a high resolution and a very detailed picture. And, a lot include mapping so you can mark those spots you find with waypoints. You will be able to return to them year after year to score. If you want to get ahead of the curve, then search the Internet as well. Many of the hot spot local reefs are talked about online in articles, along with giving you the exact GPS numbers to find them. Some of the mapping charts on the newer sonar units even have fishing areas already marked on them.
When searching for your own spots, start just outside the kelp laying on the surface and work a zig-zag pattern moving out towards deeper water. Keep your speed down or the detail on your electronics will be less clear. If you see a cloud of fish, take notice of the bottom. Is the spot a harder bottom than all around it? Is there a rock pile that's maybe man-made, or just a natural bump on the bottom holding the fish? Mark it on your mapping unit and drop on down and try fishing it. Nothing like discovering your own secret spot and catching fish off it.
When setting up for a drift, I usually go up wind and drift over the spot, either long-lining the lure or vertical jigging. Long-lining is dropping your lure on one side of the target and letting you line out until you have passed it and then retrieve your lure over the spot and through the cloud of fish you see down there on your sonar. Vertical jigging is to drop your lure straight down on the spot and reel up through the cloud of fish. If you don't get a bite you free spool your reel and drop into the cloud of fish again. Watch your line coming off your spool as you will be bit on the fall much of the time.
If the wind or swell is pushing you along too quickly, cast to the spot ahead of the boat and by the time you arrive the bait should be on the bottom. In some cases of wind, current, and depth, your sinker or jighead will have to increase in size and weight. If you are lucky enough to have a trolling motor with Anchor or Spot Lock, you can hold yourself right over the area to fish it vertically.
Again, the rockfish season is March 1 through December 31, but the Department of Fish and Wildlife has been known to change regulations on rockfish at a moment's notice and it is smart to go online and read up on the newest rockfish fishing rules every year just to make sure. You don't want to ruin any trip by getting a citation.
At about 90 species of rockfish out there, according to the Department of Fish and Wildlife website, you never know what you may catch. The great white meat that comes from most of them makes for some excellent eating, no matter the recipe. Some of the other fish you may catch are cabezon, California sheephead, lingcod, and the sculpin. Watch out for the spines on the sculpin as it can inflict severe pain if it pokes you with one. Don't panic, it really hurts, but you'll be OK.
Right now the calicos and sand bass are still out on deep structure as well and you can fish for all three with the same tackle. If you prefer using bait, then a simple dropper loop will do with the appropriate size hook and weight for your bait. There is a variety of bait you can fish with such as; squid, anchovy, or sardines, but think about using plastic swimbaits and large grubs, as they will work just as well.
Medium saltwater rods and reels to heavy freshwater trigger sticks are perfect for this type of fishing. You can use the same tackle you use in the kelp for the calicos for this fishing as well, since most of us saltwater bass fishermen run braided line. The braided line let's you feel the bite better at those depths of 80 to 160 feet of water. It makes it easier to reel and set the hook on the fish with no stretch in the line.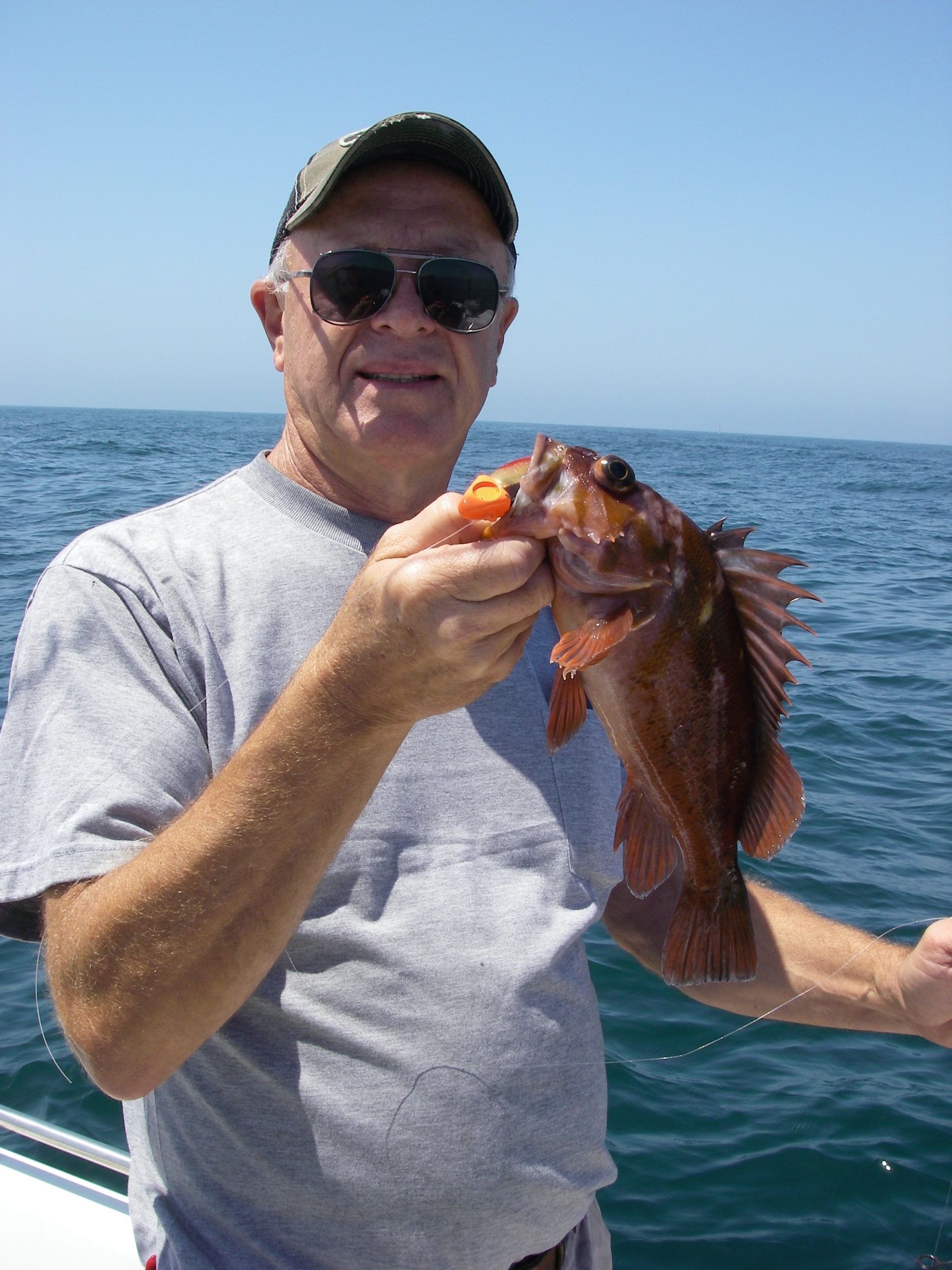 As I mentioned, you can get away with using your bass gear for many areas. Nowadays with everyone stringing up with braided line, and with the no stretch characteristics, you are already set up to fish without going out to buy new tackle. For example I use a Daiwa Proteus WN or DXSB swimbait trigger stick rod with Lexa 300 or 400 reels loaded with 50- to 60-pound Daiwa J Braid 8 and the new Daiwa fluorocarbon leader.
For those baits that will get bit, your favorite swimbaits or extra large curltail grubs, in dark colors, from Big Hammer, Reyes Swimbaits, Reebs Lures, or LK Lures will do. You may need 1- to 3-ounce jigheads to reach bottom, depending on the depth or the current, but I'm talking 80 to 160 feet of water on average. Heavy iron jigs, spoons, and rock cod jigs will also work well as long as they can make the trip to the fish. Tipping any of the above with a squid strip or a coating of Uni-butter can also help attract the fish. Sometimes all it takes is to get one to bite and all the fish go off.
If you're out looking for yellows or fishing bass in deeper water, take a little time to meter around and find some new spots to fish. If you find some, mark them and fish them. If they don't bite, then you can always return to try the spot another day and it may go wide open for you. If you're already a fisherman who fishes shallow rockfish, then you may want to add fishing for bass as well to your repertoire. Bass fishermen, I know you already have incidental catches of rockfish, so take them home for dinner.