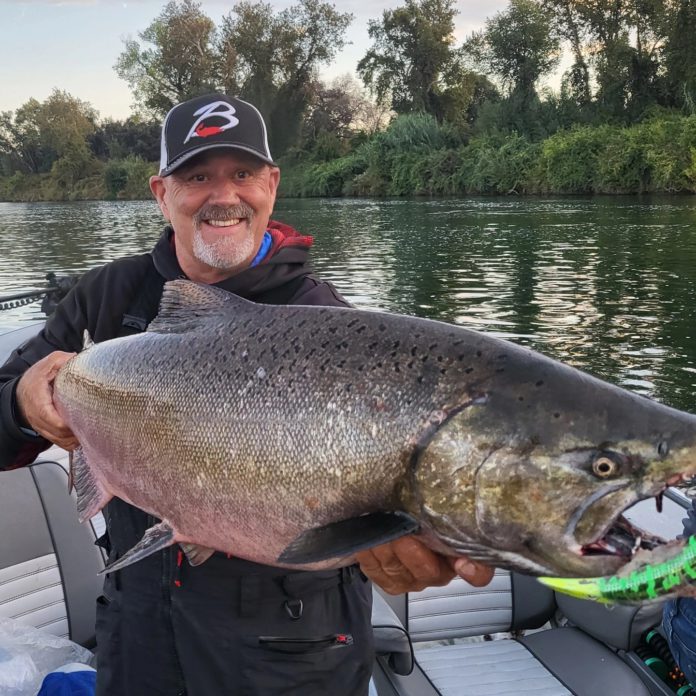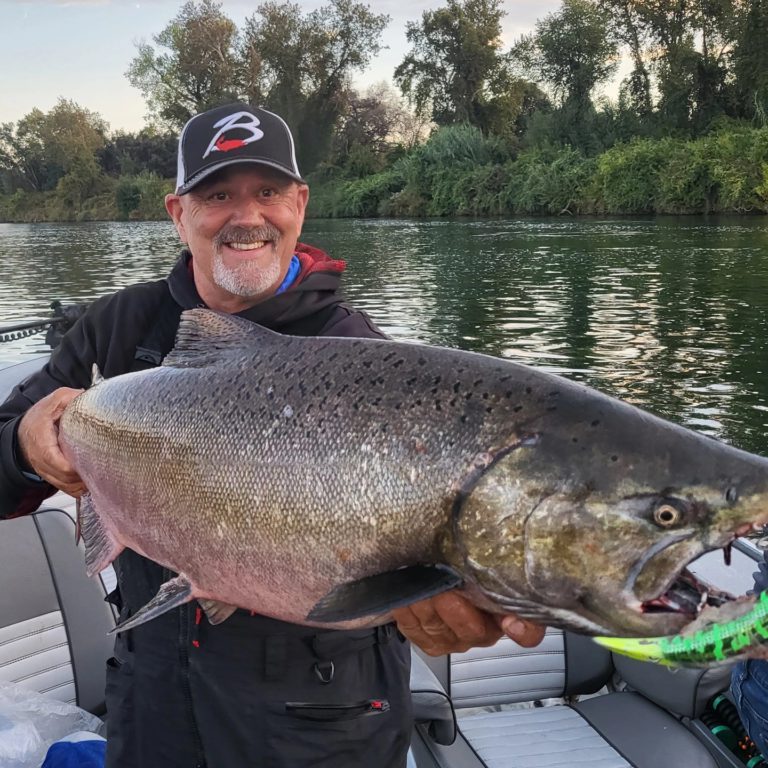 BY DAVE HURLEY
RED BLUFF – The river salmon are on their way, and it will only take colder weather to slow down the fish on their way upstream. The coldest water remains above Red Bluff as the temperature in the Sacramento metropolitan area and in the American River is at least 70 degrees.
Jeff Goodwin of Jeff Goodwin's Fishing Team said, "The Sacramento River from Chico to Anderson seemingly has salmon holding in every hole most days.  The water temps are cooling from their high point of 65 degrees a few weeks back, and they are now ranging from 58 degrees to 63 degrees with the colder water being in the Anderson area.  The salmon run has been pretty good overall, but we're seeing more dark salmon for this time of the season.  The salmon in the Corning areas are still cutting really good in spite of their darker exterior appearance.  The flows have remained steady at 6,800 cfs. at Keswick Dam, and word has it that we'll see another bump in flows in October which will be a welcomed to say the least.  Not because we don't have plenty of water already, but because it should pull the remaining fall salmon up river into the Anderson area where we'll be concentrating our final efforts to catch fall run Kings.  It's still early in the year for our hatchery run of steelhead, but we are seeing a few being caught although we aren't targeting them specifically just yet.  They will start to increase in numbers just before we start our salmon/steelhead combo trips in late October through the end of the late fall salmon season on Jan 1st.  Hanging roe in the Barge Hole has been a favorite technique, but drift fishing and back trolling plugs has also been in play all season again this year.  The salmon have been moving through the Sacramento River all summer and most of them will be staging in the Anderson area before heading 5 miles up Battle Creek to the Coleman national Fish Hatchery where they will be spawned in late October and November.  Last year over 30,000 kings returned to the hatchery, and I suspect this season we'll see many more.  Meeting the fall return quotas at Coleman shouldn't be a problem once again this year."
Rob Reimers of Rustic Rob's Guide Service has been focusing between Butte City and Ord Bend on the Sacramento River, and he has been scoring salmon over 20 pounds on every trip. He said, "We have been backtrolling with Brad's Killer Fish 16's in Gator or Rob's Dragon Glow with sardine wraps. Some of the salmon are chrome while others are darkening up, but the mead remains a bright red. Since I have been finding success on the plugs, we haven't been using roe. The Feather River is holding a few salmon, and I expect it to pick up in the coming weeks."
John Boitano of Phil's Propellers in Redding said, "The salmon bite has really picked up at the Barge Hole with Brad's Killer Fish on a sardine wrap. Bank anglers are using Corkies off of the 'Gravel Bar' below the Barge Hole. We have been selling Corkies like mad."
In the Feather River, Michael Reimann of Johnson's Bait in Yuba City reported slow action for both striped bass and salmon with the low flows as most fishermen are targeting the Sacramento River.
Dennis Phanner of Sacramento Pro Tackle said, "There have been a couple of flurries of salmon when the schools are moving through, but it has been very slow in the metro area. Every once in a while, a few salmon will be picked up at Sand Cove, but with the 70-degree water along with the low flows, I'm not too optimistic about this year's salmon action. Last year was very tough, and this year seems to be even tougher. Historically, we will start to see numbers of salmon by the end of September, and we are here already. A few stripers are taken on blood or pile worms in the barely-legal range at 18/19 inches, but most striper fishermen are heading to the Delta. All of the launch ramps on the American River are closed with the exception of Discovery Park."
In the American River, the flows have dropped to 624 cfs. at Fair Oaks, and there are few, if any salmon above Hazel Avenue. There have been some flossing salmon in the shallow river near the Campus Commons below J Street, but the 71-degree water is a deterrent for the salmon to move into the river."