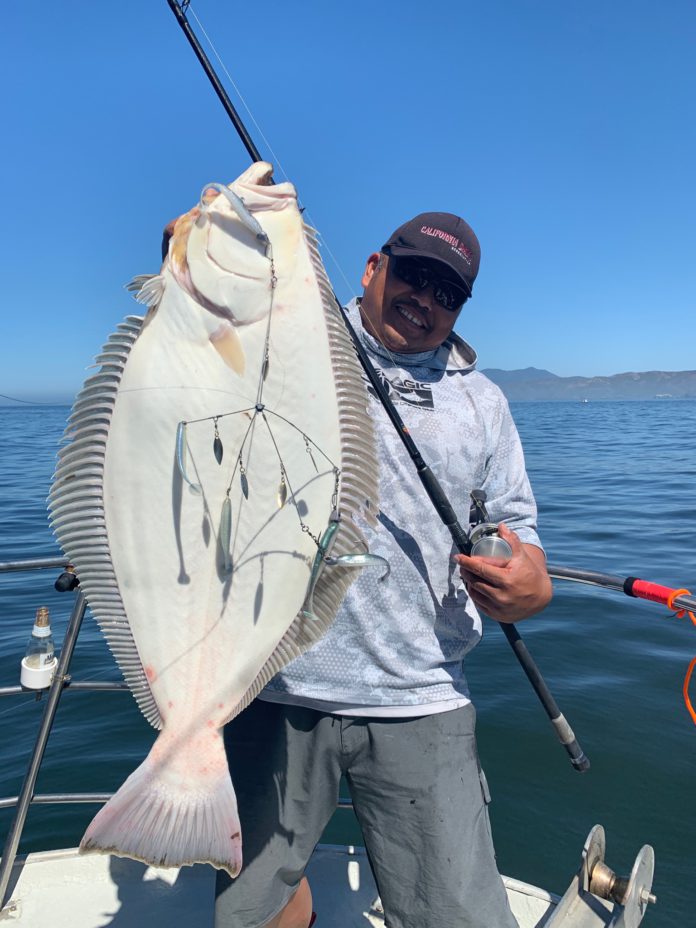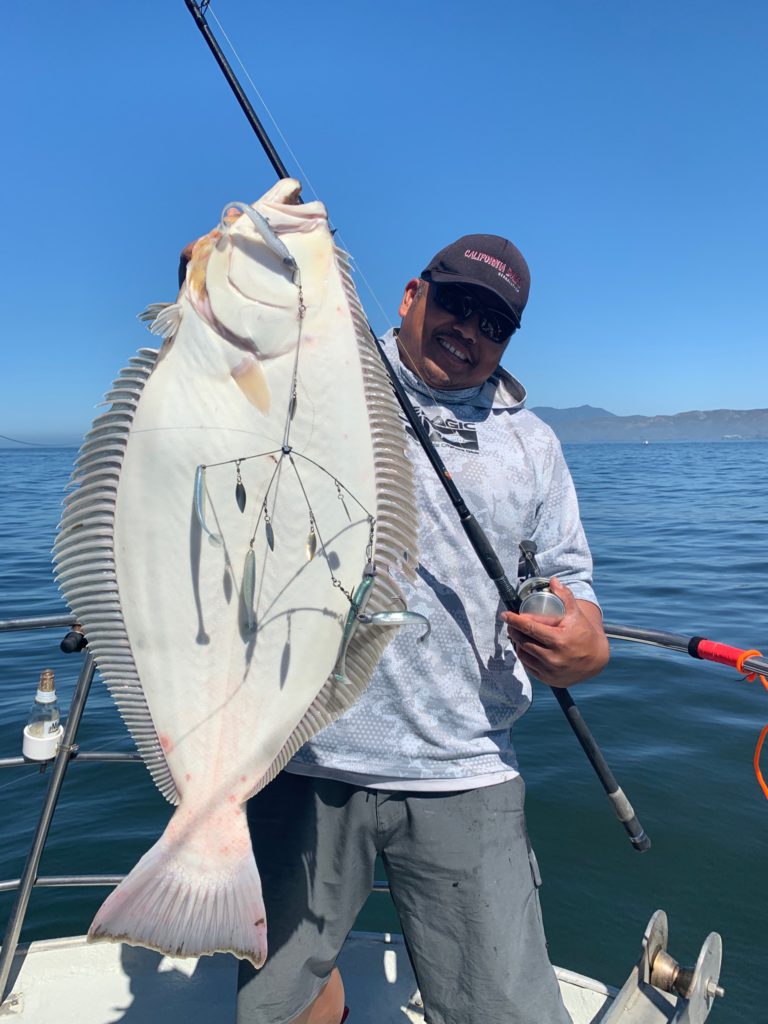 BY CAPT. DAVID BACON
SAN FRANCISCO BAY and SAN PABLO BAY – Salmon trips were popular for San Francisco bay boats. Rockfish action was wide-open. Inside the Bay, potluck trips meant hauling in halibut and bass.
Andy Guiliano at Fish Emeryville said, "Big, bright and beautiful best described the king salmon fishing outside the Golden Gate this week. Although the location varied day to day, anglers returned to the docks with some of the finest seafood the Pacific has to offer." Fish averaged 12 to 18 pounds with a good selection of bigger units into the mid 20-pound range.
Trolling continued to be the preferred technique on Salty Lady, Bass Tub, El Dorado III, El Dorado, New Easy Rider, Pacific Pearl, Tigerfish, New Rayann, Outer Limits, C-Gull II, Blue Runner, Hog Heaven, Lovely Martha and Argo. Scott Sutherland at Berkeley Charter Boats reported limits on some days and 1.5 salmon per rod on other days. Some weighty 25 pounders were caught. Justin Briggs got one on El Dorado off Muir Beach. Manny Ruiz took one on New El Dorado III at North Bar and William Bradford had one on New Easy Rider in the Channel. Capt. Steve Mitchell on Top Gun out of Berkeley reported salmon to 22 pounds.
Rockfishing trips were as automatic as fishing gets scoring daily limits of rockcod, along with lingcod limits many days. On Friday, Sea Wolf kept their perfect record in place scoring 21 limits of lingcod and rockfish along the Marin Coast. Lingcod preferred the meat, with a properly rigged sardine on trap rig proving particularly effective. "Bad week to be a lingcod" added Guiliano. Capt. Aaron Anfinson on Bass Tub referred to the quality of rockfish action as excellent. On California Dawn, Thursday's trip saw 21 limits of lingcod along with limits of rockfish.
Potluck action forged ahead nicely as calm ocean conditions and mild tides allowed the fleet to spread out and look at multiple locations. Kingfish had a banner day, returning with 60 rockfish, 1 lingcod and 19 halibut for 8 anglers fishing the coast and inside San Francisco Bay. Over the weekend, Capt. James Smith on California Dawn reported 20 limits of halibut to 22 pounds. JP Gano from Vacaville trolled up a 20-pound halibut at Seal Rock. Happy Hooker ran live bait coastal trips for halibut and rockfish. Capt. Chris Smith on Pacific Dream said, "Halibut fishing is so excellent along the North and South bars and the grade of halibut is amazing. Lingcod and rockfish are all biting at Point Reyes and Montara." A 41-pound (bled out) halibut was taken aboard Top Gun and the skipper, Capt. Steve Mitchell said anglers have to bring their A-game because the fish are big.
In San Pablo Bay, halibut fishing was very good in the southern region and drifting live baits accounted for many catches of fine flatfish. Stripers were also busy. Keith Fraser at Loch Lomond Bait Shop in San Rafael said, "A local mom and her two boys ages 9 and 7 hooked 6 bass from our bait dock. They landed 3 of them and all were keepers. Two heavy ones were lost under the bait dock and one more just busted off. The mom was going to be quiet and reserved but of course your bait dock guy had to blab all about it!"