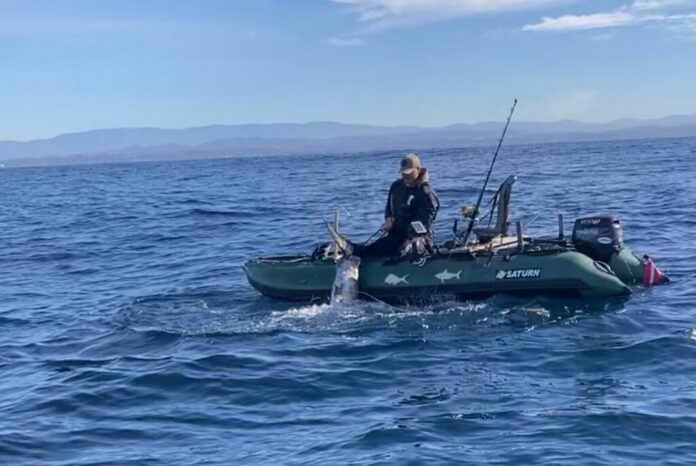 BEN HERVEY–MURRAY
Western Outdoor News staff writ
CALIFORNIA – Active duty Marine Chris Madison had been exploring the canyons and ledges off the SoCal coast in search of swordfish for several sessions without success, but his luck changed at the weekend.
Launching his inflatable 15-foot Saturn 470XL as usual, Chris headed for a moderate slope that showed some signs of life, deploying his deep drop set-up just as he'd done several times before. Except this time it was target acquired for Camp Pendleton-based Chris – he'd hooked his bucket list fish.
"The fight time was about an hour from hook-up to leader, and then another 20 minutes to get her in the boat," explained Chris. "She went 215 pounds on the scale – the stars aligned for me!"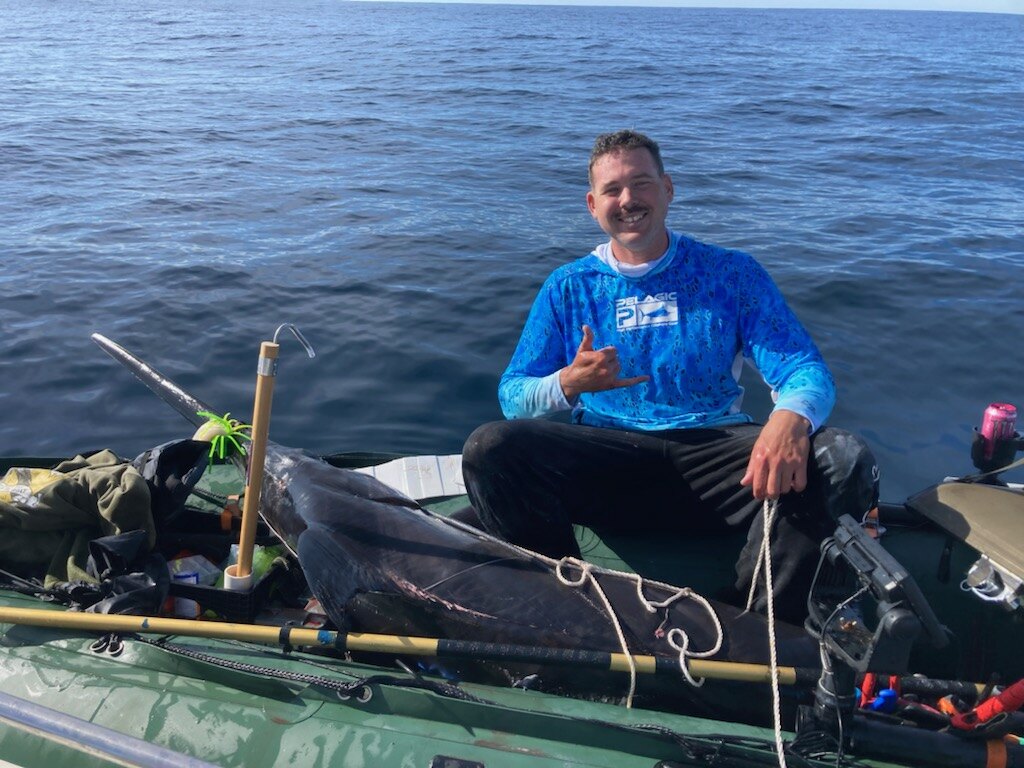 "Gear was a custom 40-80-pound rod I built, a Penn 50VISW reel loaded with 65-pound hollow core braid from Tight Line Braid. Rigging was your average swordfish rig – a couple of small lights and a dead squid with a skirt."
"I couldn't have done it without my friend Phil Richmond, who unfortunately is stationed across the country and couldn't join me. He kept me on course and when I'd ask him if I should go after swords or another fish, he'd remind me that I'll never get one if I'm not fishing for them. So I want to give him a shout out."
"And to Travis Iiyama for coming to my side both for my 115-pound bluefin and the sword to help me get them in the boat, celebrate with me, and, of course, get awesome pictures! I was lucky he was out fishing both those days, listening to his radio."
Chris has also taken mako sharks and, as stated, sizeable bluefin tuna on his inflatable craft this season.