Instead of pitching a fit because you're not catching fish, try pitching a Sea Falcon Z-Slow jig. The Z-Slow jig is the standard Sea Falcon slow-pitch jig shape, and is the most versatile jig in the Sea Falcon lineup. If an angler doesn't know which shape to throw, the Z-Slow jig is a good place to start.
Z-Slow jigs are specifically designed for slow pitch jigging, a specialized form of jigging designed to target predatory reef and wreck species. Z-Slow pitch jigs are center-weighted to produce an enticing action on the swim-up and an irresistible flutter on the fall and are extremely responsive with even the slightest turn of the handle.
Z-Slow jigs are available in a wide variety of enticing colors and are also enhanced with aluminum or holographic applications. Hook eyes are all part of the same one-piece wireframe to ensure superior strength and lure integrity. The rugged hand-painted finish will stand up to repeated attacks from the toothiest predators. Z-Slow jigs are also available in a wide range of sizes from 45 – 400 grams.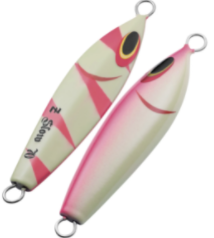 To ensure you can fine-tune your presentation to get the best performance from your jigs, Sea Falcon has developed a specification chart for each jig indicating the correct fall speed, weight balance, pause time, current, pulling resistance and slide width, and maps them out on an easy to understand chart on their website.
Every Sea Falcon lure is based on a hand-carved original created by CEO and Chief Designer Tetsuya Itou, one of Japan's foremost lure designers. Based in Hamamatsu, Japan, they operate under the 'Total Package' concept, combining all processes from planning and development to manufacturing all under one roof. Sea Falcon ensures supreme quality and continues to provide innovative products to the fishing world.
Gamakatsu hooks are specifically designed to compliment Sea Falcon lures and plugs. Gamakatsu hooks are made with the same level of craftsmanship and attention to detail, equally raising the performance of any Sea Falcon lure.
Features:
Slow Pitch standard model​
Slow current​
Erratic falling action​
Fast darting action when jerking​
Multi-species jig
Available in a wide range of sizes from 45 – 400 grams