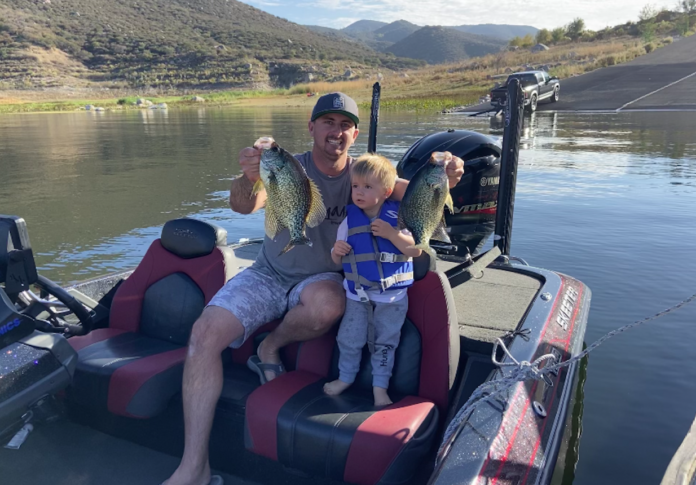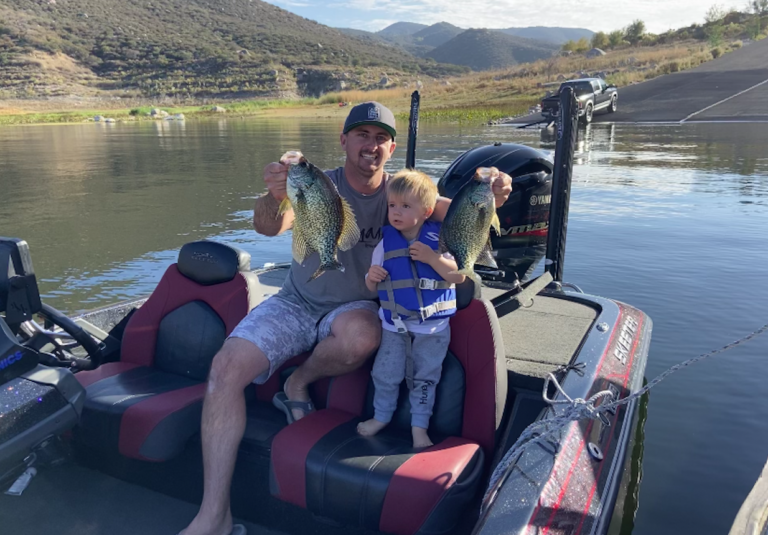 BY MIKE STEVENS
LAKESIDE – El Capitan Reservoir in San Diego County is well known as a largemouth bass fishery, but the panfish fishing can be among the best in the Southern California, and it's always flown under the radar. Kevin Norling of San Diego is a tournament bass angler and an accomplished big tuna hunter working from private boats off the Southern California coast, but he recently dialed it back for some panfish action at El Cap, and he had a great time doing it with his 2-year-old son, Landon.
"My wife let me take Landon out for the first time on the Skeeter," said Norling. "I decided to hit up East County Bait and Tackle and get a few dozen crappie shiners and put them to work. We ended up fishing a tree line in the north end of the lake in 10 to 14 feet of water, and crappie were stacked in the trees!"
Norling added, "They didn't stand a chance with the Garmin Live Scope," after catching 23 slabs between 14 and 17 inches keeping 7 of them for fish tacos. He also gave WON a solid update on the bass fishing at El Cap, too.
"Lots of bass are up and eating shad early in the morning and just before the lake closes," he said. "Smaller (Lucky Craft) Gunfish, Flukes and smaller A-rigs have been working great, and I heard of a decent jig and crank bite happening, too."
SoCal guide Rusty Brown (RustyBassHook.com) connected with WON just before press time with some additional info to round out the bass portion of the El Cap report.
"The fall bite is steady on deep cranks and drop-shotting 6-inch Oxblood and MMIII Roboworms, and the Narrows has been the best area," said Brown.