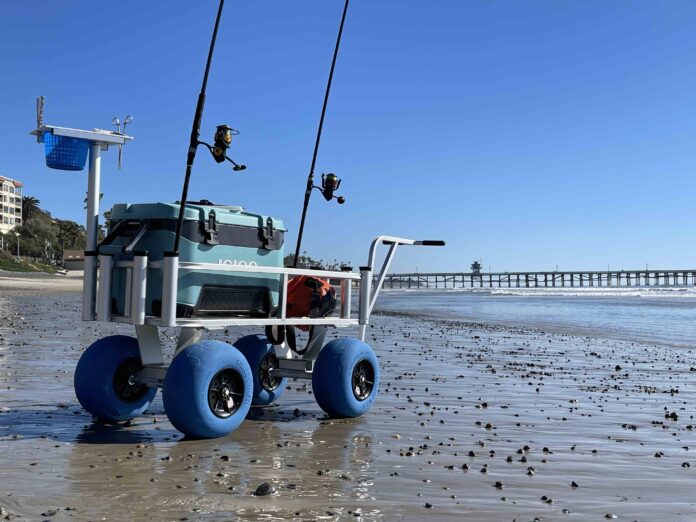 BY BEN HERVEY-MURRAY
WON Staff Writer
Serious beach-goers will be aware of the trials and tribulations of carrying lots of kit on the sand. Loaded up with cooler, chairs, rods plus tackle, and then trekking across sand can feel like a strongman test of endurance; how far can you go without your shoulders burning out and dropping the lot?
Enter the Fish N Mate Four Wheel Beach Cart – my new favorite solution to transporting kit to and from the beach for any sort of fishing session or family day. First impressions are that it's a pretty sizeable cart with the ability to take a large cooler, kit bag, chairs and up to eight rods – more than enough for a large family's needs.
The bait station with a cutting board and basket for storing sand crabs and similar live offerings is really neat, too. No more kneeling or bending over to bait up. This is a nice touch for the surf angler because it allows you to store a handful of sand crabs – probably the most commonly-used bait in the warmer months – close to hand in the basket. Mussels and shrimp, too.
Put the rod in the holder and clear of sand, grab a fresh bait from the basket or cut a fresh piece of cut bait on the built-in board, and you're ready to cast. The cutting board also has handy slots for securing pliers and dehookers, keeping them close by.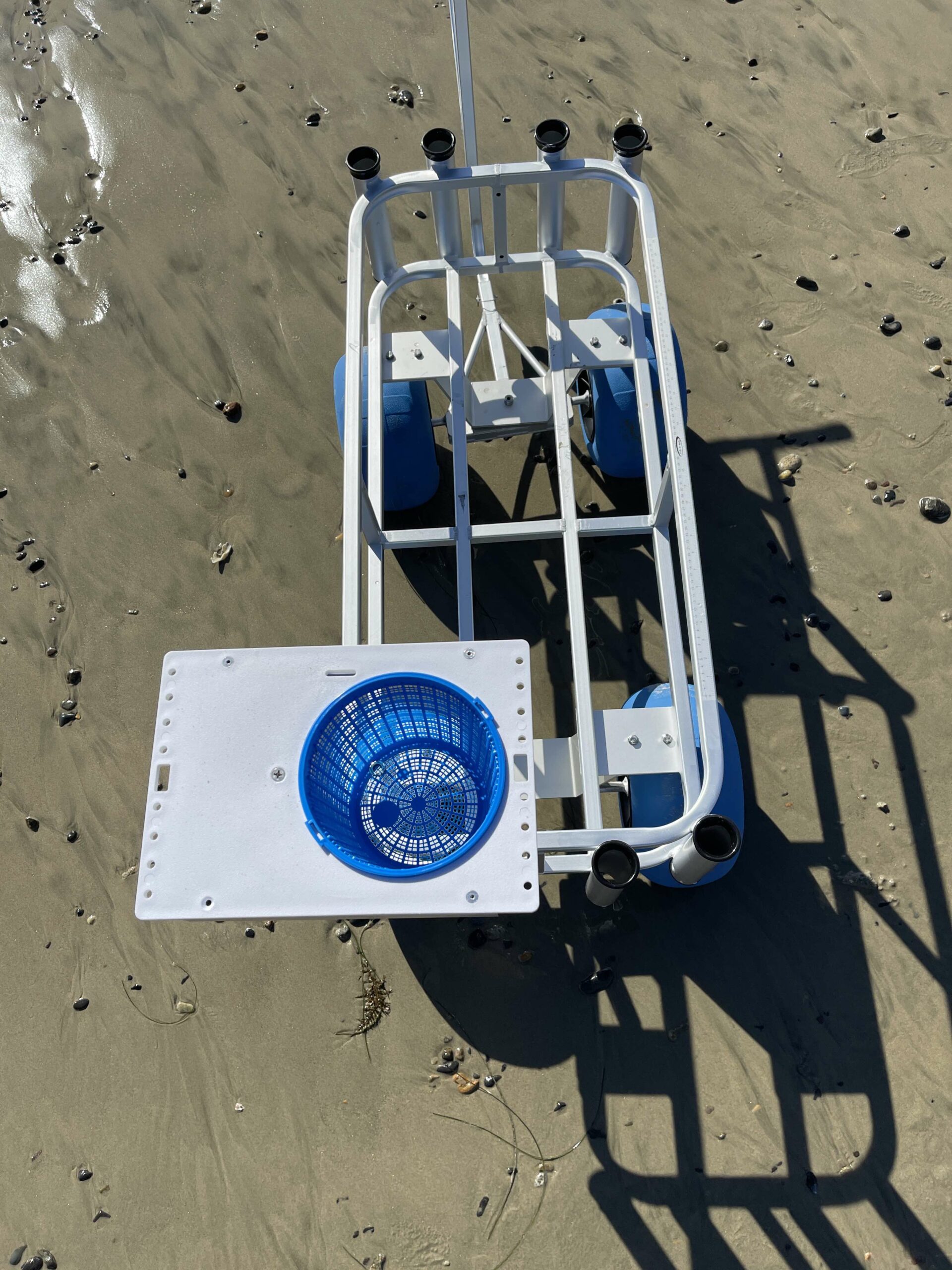 One of the most effective ways I can see this being used is as a sort of mobile fishing platform, hoping between likely-looking holes on a stretch of beach or pier. But instead of packing everything up to move, you just put the rods in the holders and wheel the cart to the next spot, which makes the whole process much easier and less of a test of endurance.
Come summer, it'll be a great platform for drone fishing with its ability to carry the extra equipment needed, keeping it all clear of sand in the process. It'll also come out to play for family beach days and WON tournaments with its ability to carry 250-pound loads. It's a pretty big cart, but in a truck bed or SUV trunk, it'll fit just fine between home and beach.
Look closer and the cart, which weighs in at just under 50 pounds, is well made with neat welds and super-strong aluminum components present throughout. This cart is definitely built to last many, many years, if not decades, unlike the cheap plastic-wheeled models you often see on SoCal beaches.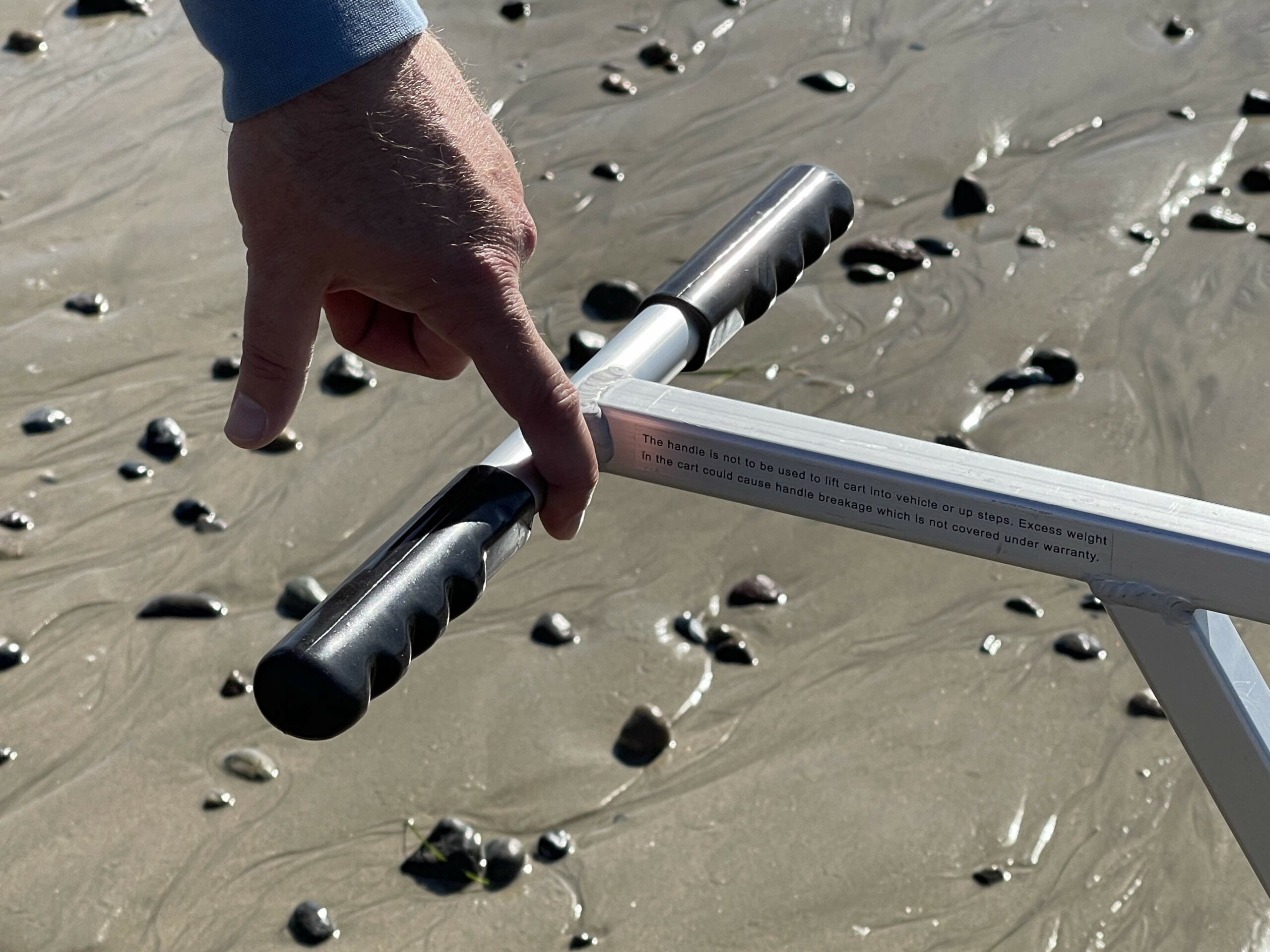 On the beach, one of the first things you notice is how easy it is to push or pull, even when loaded up. On wet sand it glides across the surface, and in dry sand it's very manageable with minimal effort thanks to the balloon tires and well-engineered chasis. Kids will have no problem in pulling this.
If you transport any amount of kit to the beach, pier or marina, the Fish N Mate Four Wheel Beach Cart is a game-changer. Say goodbye to sore shoulders and burning biceps as you lug that cooler across the sand, and hello to gliding across the dunes with all your fishing kit to hand.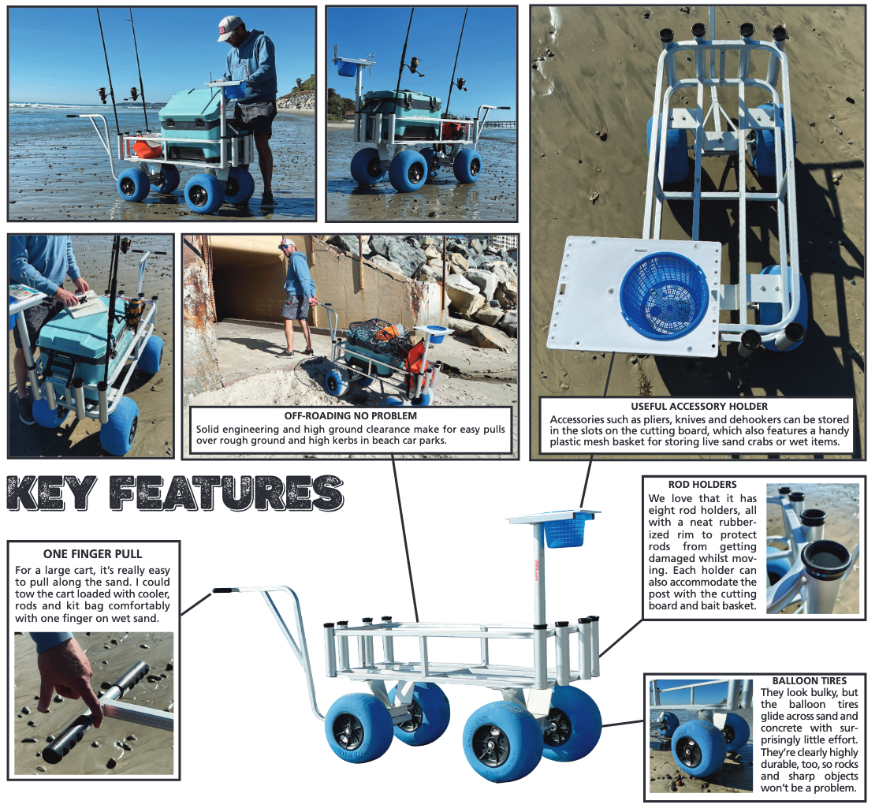 This story appears in the February 17, 2023 print edition of Western Outdoor News. To get early access to every info and feature-packed issue of the West Coast's biggest and best outdoor sporting newspaper, click here.