BY RACHEL VON FLECK
SAN DIEGO – Anglers aboard the WON Tomahawk charter had a choice to make as soon as they stepped onboard. Would it be heading out to the Cortes Bank to try for monster yellowtail, or a trip south to look at bluefin schools the crew had been seeing?
Considering the less than pleasant weather we were experiencing, with winds up to 20 knots and swells up to 4 feet every 8 seconds, it was a unanimous vote to turn south chasing the elusive bluefin.
There were some familiar faces in the charter group, as well as six women who had seen the trip advertised on social media and booked. As I was signing people in on the manifest, Tomahawk Captain Brice Barney came over to check that everyone was set up with the recommended line, hooks, and sinkers to ensure we were best prepared for whatever we ran into the next day. The fleet had been catching anything from smaller-grade 15- to 30-pound bluefin all the way up to cow bluefin.
As everyone was rigging up their gear, WON sale associate Dylan Hartnett and I passed out the giveaways. We had some appropriate items for the windy and wet trip: Frogg Toggs dry bags, spools of HI-SEAS Blue Water fluorocarbon ranging from 20- to 40-pound (perfect for the type of fishing we were planning to do), and a P-Line Laser Minnow jig. We also had large spools of Berkley ProSpec mono and Daiwa J-Braid for anyone who wanted to refresh their reels or change their braid.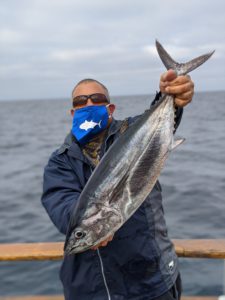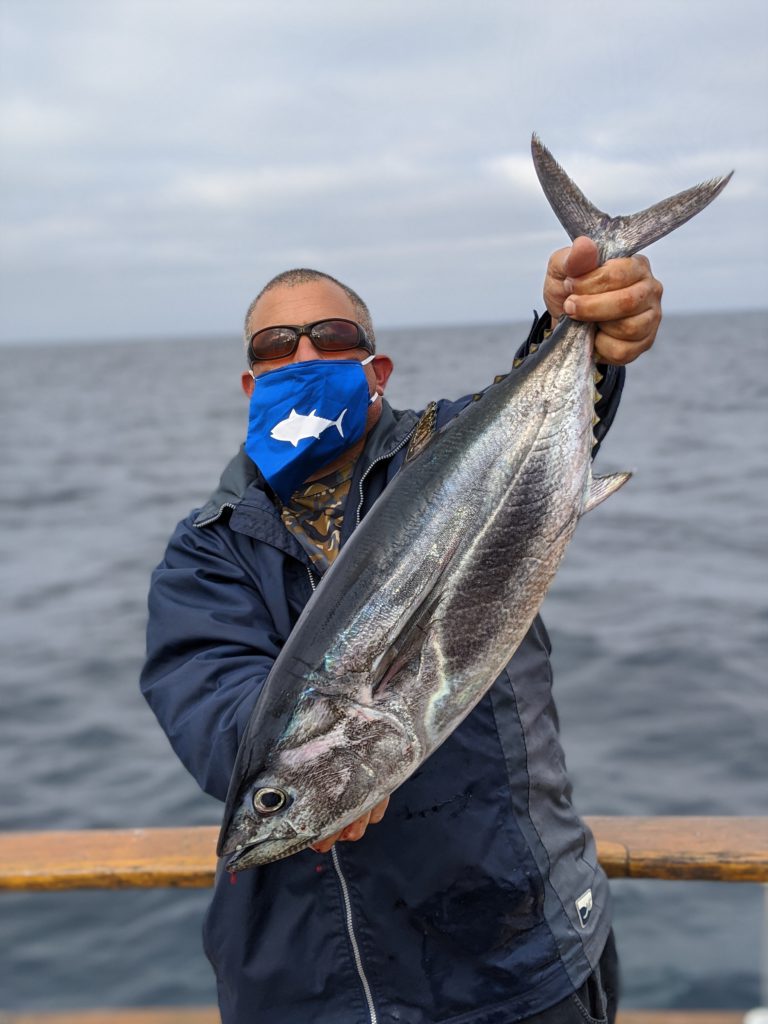 After the captain's run-down in the galley where he talked about safety features and fishing conditions, we announced that the jackpot winner this trip would be going home with a gift bag from Maui Jim, including a certificate for a free pair of sunglasses of their choice! This brought out a little healthy competition and sparked jokes about side bets as well as who would come out on top: the women or the men.­­
Shortly after, people started trickling off to bed. The wonderful thing about the Tomahawk bunks is if you are lucky enough to choose an outer bunk, they are exceptionally large and more comfortable than any boat I've ridden. Even though the ride was a bit rough, we got in a few good hours of sleep before the boat started to slow in the zone around 5 a.m.
After talking amongst ourselves with our coffee and breakfast sandwiches, we hit our first couple of stops with no bites. Our first productive stop of the day was around 7:15 a.m. We boated four of the smaller grade bluefin on that stop, with three of the four being caught by the ladies, adding to the light-hearted competitiveness of the trip.
Our very next stop added another four slightly bigger tuna to our total. The morning continued with a couple fish being landed at each stop. For every fish we landed, we lost at least as many due to pulled hooks or chewed-off line; we were using 20- to 25-pound fluoro for fly-line and 30- to 40-pound fluoro for 4- or 8-ounce rubber band sinkers, as well as small circle hooks. By the end of the day we had to try using 10-ounce sinker rigs and even those weren't getting the bait down in the current.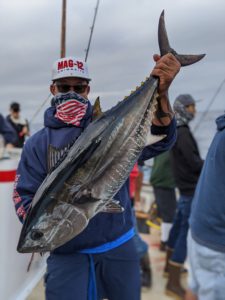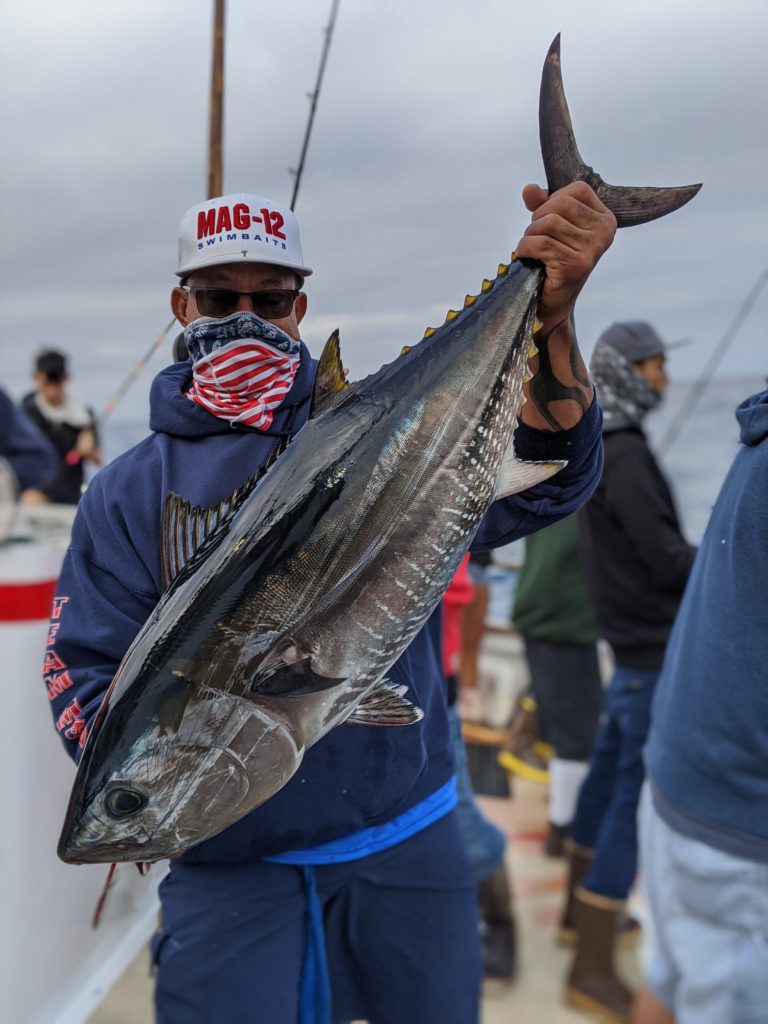 Captain Barney kept us moving throughout the afternoon and kept chasing down the fish. We saw many foamers, a ton of boiling fish, and very large schools on the meter. The largest fish we were able to land were around 45 pounds, although we definitely hooked into some bigger ones that broke us off.
By the end of daylight, we had 21 of the smaller grade bluefin. Captain Brice proposed another set of options to us all: we could drive a few hours to try to find some of the larger grade bluefin, and potentially wake up around midnight to fish, or we could fish in the same area and try to pick off a few more before heading back to the docks for the night. We felt like we had a pretty successful day for the conditions we experienced and voted to try for larger fish. More than half of the passengers eagerly agreed to wake up at midnight to fish if we found them. So, we set off on our path and settled into the galley to finally relax and enjoy a phenomenal dinner of braised short ribs, roasted chicken, mashed potatoes, and mixed veggies.
Unfortunately, we weren't able to go the distance as quickly as necessary with the swells, but the night captain did look all around for larger tuna through the night. This was the first 1.5-day trip I've been on where the crew decided to fish through the second night looking for fish, rather than filet fish, clean the boat, and call it a night. Even though we didn't get a shot at those late-night giants, we were impressed by and appreciated the effort put in to go looking.
Overall, it was a memorable trip with the quite a few highlights. One of the regular WON charter members, Wade, caught three bluefin and missed a few as well. Curtis got his first ever bluefin on a bass setup; he followed tradition and ate the heart. He not only took a bite like most people I've seen, but he ate the heart in entirety with no hesitation!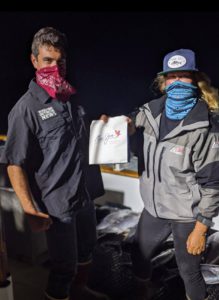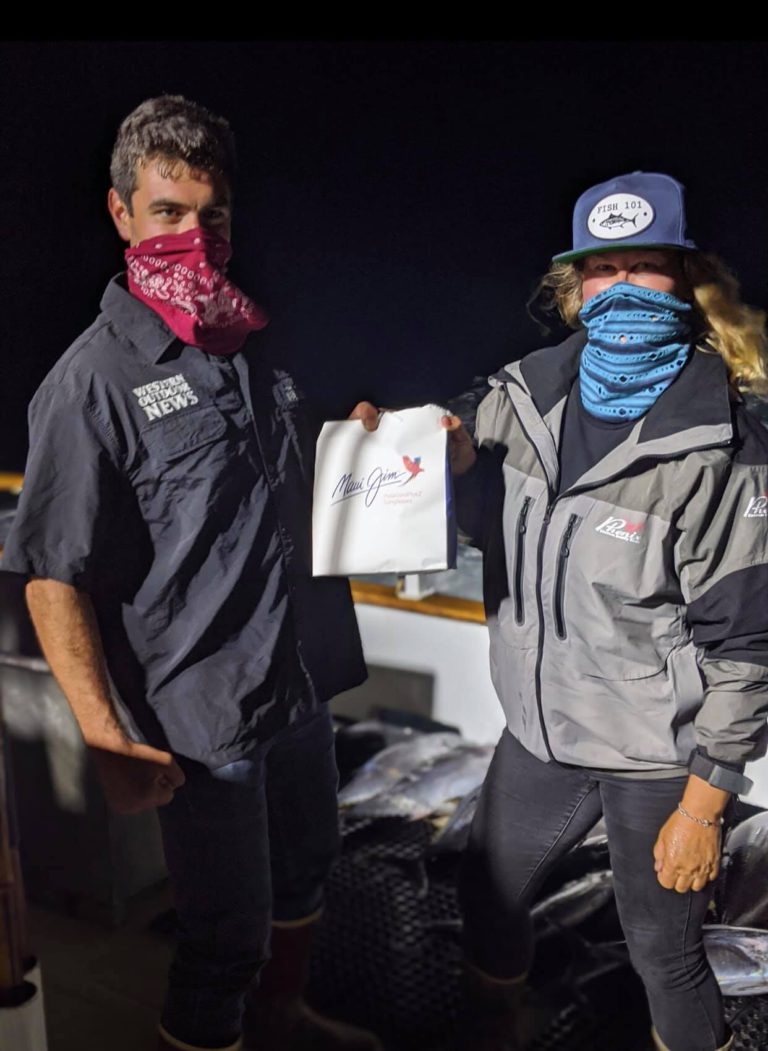 As for the jackpot winner, Tracy Hartman not only caught the most on the boat with four bluefin (and lost quite a few more), but she also caught the largest bluefin for the trip and ended with the Maui Jim prize package!
While the giveaways, the jackpot prizes, and the additional perks were definitely an exciting part of the trip, I think the best part was seeing a large group of people come together to make the trip the best it could possibly be. The weather was rough, we had our fair share of heartbreak over lost fish, and it was tough to get bit, but we enjoyed each other's company and all worked together to get fish on the boat.
To book a charter or for more information on the Tomahawk visit TomahawkSportfishing.net, or for open party trips, FishermansLanding.com.