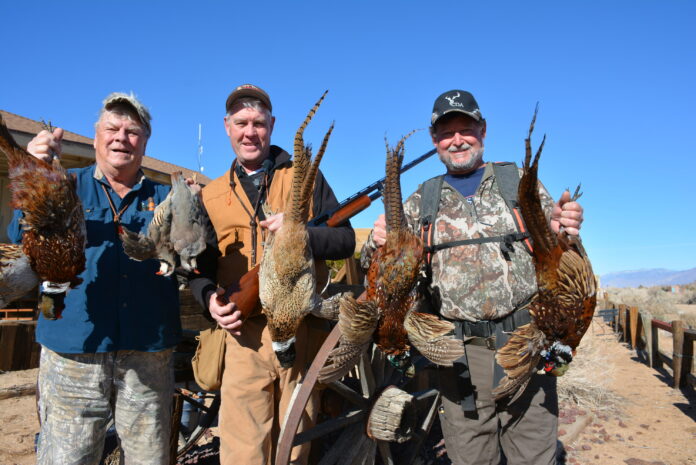 BY JIM NIEMIEC
LONE PINE – It was good to be heading up Hwy. 395 again to the Lone Pine Pheasant Club, which this year is celebrating its 11th year in operation. It had been nearly three years since Western Outdoor News had last hunted this well-established upland game bird hunting club.
Sean Ponso, co-owner of the Lone Pine Pheasant Club, had invited WON to come up to hunt pheasant and chukar. After breakfast at the pet friendly Best Western Frontier Motel, , the drive into the Alabama Hills was very picturesque as the clubs' hunting fields were lit up by the morning sun with the back drop being the majestic High Sierra Mountain range and towering Mt. Whitney. It was a brisk morning with the temperature holding well below freezing, which would make for ideal scenting conditions for gun dogs.
"All five hunting fields have ideal cover for upland game birds, with a mix of wild grass, oats, native sage brush, rose bushes, along with a mixture of old cottonwoods and Tules. There is plenty of water on the ranch to sustain fields and offer up plenty of drinking water for gun dogs. The stock of ringneck pheasant and chukar that we raise in our own holding/flight pens are hard-flushing birds, which makes them ideally suited for this altitude and our high desert terrain," said Ponso.
After checking in at the hunt lodge, where other hunters were gathered, we waited until the bird boys had stocked our field with birds. Heading down into field #1 following a gun dog at this altitude (slightly over 3,700 feet above sea level) makes for a challenging hunt.
Sierra kind of just ran through the calf-high grass and headed for taller stands of sage and rose bushes, recalling from past hunts, where the birds were likely to be. Sierra was a little wound-up and trying to catch up to her didn't quite work out on the first long tailed rooster that exploded from cover just outside of 20 ga. #7 steel shotgun range.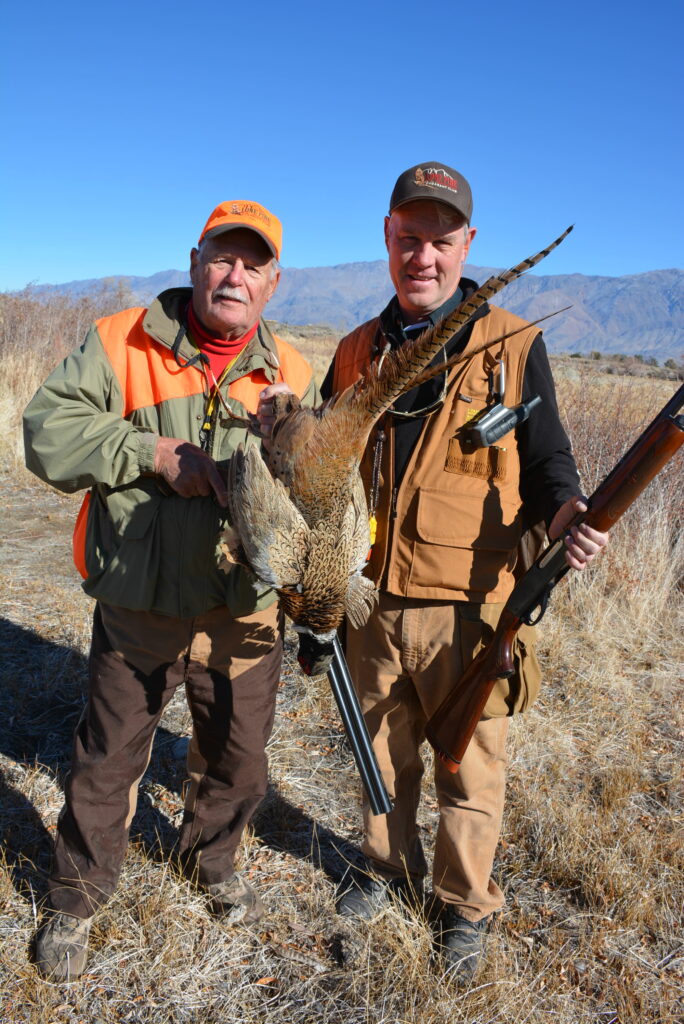 It didn't take long for Sierra to start slowing down as she spent more time on being a semi-trained pointing Labrador Retriever. Ponso had asked his bird boy to put out mixed birds for our hunt and Sierra flushed all the birds, of which, two dusted birds did escape. It was a very good upland game bird hunt once Sierra calmed down and the back ground of the scenic High Sierra Mountains made for a great hunt.
After the morning hunt we returned to the hunt lodge for a hot lunch and time to visit with other hunting guests. Hudson DeCray of Bishop and Scott Wing-Hartlein of Tom's Place joined us at our table and we talked of the olden days at WON. DeCray has been a subscriber since the early 60's, knew Burt Twilegar (Founder) and talked about his fishing trips with past contributors Bill Beebe and Jerry Ruelow.
The club is known for its homemade pheasant pot pies, that are available on the luncheon menu and also can be exchanged/purchased for pheasant shot at the club that morning.
The Lone Pine Pheasant Club is a small hunting club that has been developed exclusively for the hunter who wants to avoid the large commercial operations and enjoy an informal, truly natural hunting experience. According to Ponso, his club hunts on one of the most beautiful working cattle ranches in California, of which, this ranch welcomes hunters and recognizes the importance of good relations between ranching, the community and sportsmen.
New for this hunting season are day hunts (memberships) that include the release for 5 birds in a reserved field and a full sit-down hot lunch.
Normally, the club is open three days a week, Friday thru Sunday. However, the club will open any day of the week for groups of six or more hunters, who can then enjoy the exclusive use of the entire club. All hunts begin at the clubhouse lodge at 8:00AM and the afternoon hunt starts at 1:00PM. There is an RV parking area adjacent to the clubhouse and bird processing and packaging is available for birds taken home.
WON might suggest that those booking a hunt at the Lone Pine Pheasant Club that they check with Ponso on other hunting options in the lower Owens River Valley, where ducks, native Valley quail and fishing are available. Advance reservations are required when hunting this club and Ponso offers assistance with booking a motel or nearby campground arrangements for hunting guests. To find out more about this upland game bird club log on to their web site at lonepinepheasantclub.com.