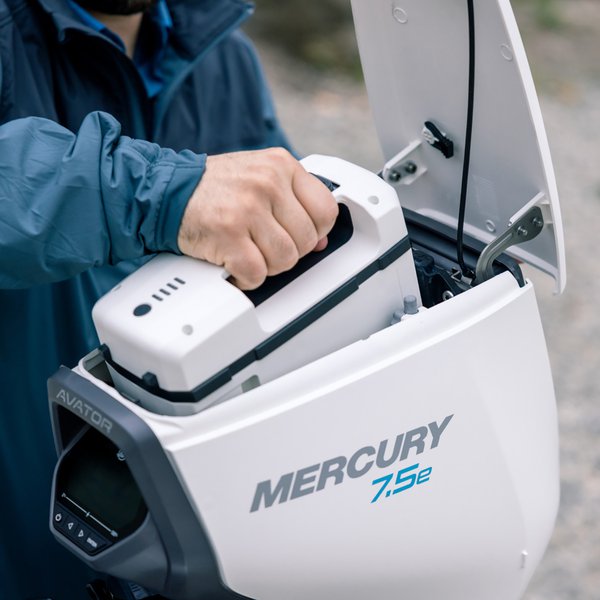 At CES 2023 in Las Vegas, Mercury unveiled its all-new Avator™ 7.5e electric outboard. It's the first electric outboard model from Mercury and the first in a series to be officially unveiled in 2023. More-powerful Avator 20e and 35e outboard concepts, which are currently in development, were also on display at the big tech show.
"What an exciting moment for Mercury," said Jim Hergert, senior category manager for small outboards at Mercury. "We have an incredible history as the leader in outboard technology, and the Avator family builds on our legacy. In fact, the name 'Avator' is both a nod to our past and a look to our future. It's a blend of 'Advanced' and 'Thor.' Thor was the first outboard ever from Mercury. It was a small portable model that kicked off the brand and led to so many exciting innovations. Thor has a lot of parallels with the Avator program. We're creating an entirely new family of electric outboards that will redefine the category."
Advanced Controls, Batteries and Chargers
Slated to be available for purchase later in 2023, the Avator 7.5e electric outboard will be offered with tiller or remote controls. Tiller models are highly portable thanks to clever features like a tiller handle that folds down to become a carrying handle and a quick-connect mounting system that allows the outboard to snap into place on the transom bracket. Remote models pair with one of three control options designed to fit a variety of small boat helms.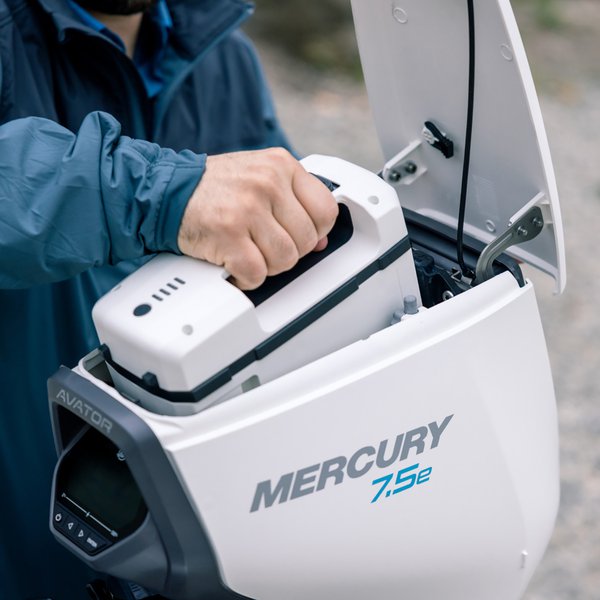 All are powered by an interchangeable lithium-ion battery pack developed in partnership with the battery experts at Mastervolt. "By developing interchangeable batteries, we were able to give boaters the ability to outfit themselves with enough power to enjoy more fun adventures," said Hergert.
"With any electric mobility system, range and runtime are impacted by many factors. In this case, they're dependent on the boat, load, operating speed, water conditions and more. Most anglers and casual boaters who operate at varied speeds and make frequent stops should have plenty of runtime for an exciting trip on the water. Boaters who need to stay out longer or go farther can bring along an extra battery. Swapping batteries literally only takes seconds."
The battery can be recharged overnight using the included charger, while additional higher-speed chargers will be available so boaters can choose their charge time. All chargers are compatible with a standard household outlet.
Power and Efficiency
To convert that battery power into fun, Mercury outfitted the Avator 7.5e outboard with a transverse flux motor. While the type of motor sounds futuristic, transverse flux is proven technology that brings several advantages to the boating experience.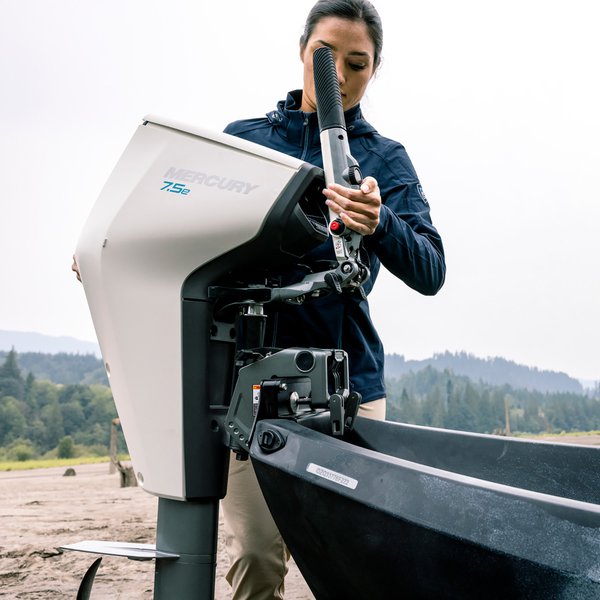 "One of the main reasons we chose to be the first to use transverse flux technology in this application is because of its high torque density," said Andrew Przybyl, the Mercury engineer leading the Avator development team.
"The motor can generate instant torque at low rpm. Because of that, we were able to design a large-diameter three-blade prop that spins slower, which is better for efficiency and overall performance. The result is faster acceleration and higher efficiency than similar competitive products. Efficiency is the name of the game in electrification, and the Avator 7.5e outboard was designed to give you the most out of every electron."
With its advanced motor and efficient performance, the Avator 7.5e outboard produces 750W of power at the prop shaft. It's capable of speed and acceleration similar to that of a Mercury 3.5hp FourStroke outboard.
This makes it a perfect match for many small boats, including micro skiffs, jon boats, small aluminum fishing boats, rigid inflatables, and kayaks and canoes with the appropriate transom. Sailors and owners of large boats will also appreciate the Avator system's fuel-free, minimal-maintenance design for powering a tender boat or storing the outboard aboard a larger vessel.
Connected Technologies
Like other Mercury outboards, the Avator 7.5e model integrates seamlessly into a complete propulsion system. Management and monitoring of the system can be done from the digital display.
Mercury went beyond a typical black-and-white readout and created a vivid full-color display that's been optimized for readability in all light conditions. The most vital information, like battery life, is prominently displayed for quick viewing. Other features are easy to access using the button controls. There's even an internal GPS receiver that enables the display to provide range estimates for confident exploring.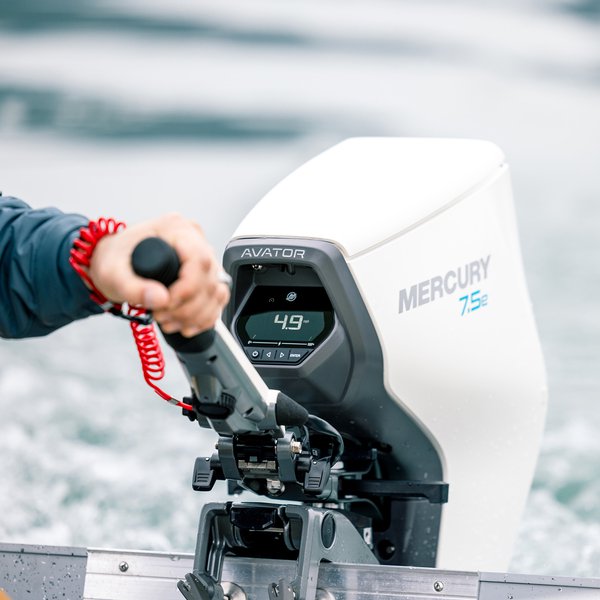 "The controls and the display are the connection points to the Avator system," said Hergert. "That's why we put so much emphasis into creating a simple, intuitive user experience. On tiller models, the display is integrated on the outboard, making it a true portable system with no additional cables to connect. Remote models get paired with dash displays for easy visibility at the helm."
For boaters who want even more access to system information, the Avator outboard family is the first to be compatible with an all-new Mercury Marine app available for iOS and Android systems.
The app is free to download and offers basic functionality for any Avator 7.5e owner. Additional functionality is available by installing a SmartCraft Connect module on the outboard. Boaters can use the app to access digital gauges, a GPS map with visualized range estimates, full-text notifications and tutorials, as well as to connect with a preferred Mercury Authorized Dealer.
Boating Made Effortless
Like all Mercury products, every aspect of the Avator propulsion system was designed with quality in mind. The true beauty of the system, however, is in its simplicity. Easy to maintain, transport and use, Avator makes boating more accessible to people everywhere. With the push of a button, it comes to life and the water becomes anyone's to explore. Pure, effortless boating.