Josh Bertrand Holds Lead on Day Two of 2022 WON Bass U.S. Open
Spencer Shuffield Jumps to Second Place
Complete standings can be found at wonbassevents.com
Laughlin, Nev. – October 11, 2022 – When the second day of the 2022 Bass Cat / Mercury WON BASS U.S. Open presented by Laughlin Tourism Commission and Visit Laughlin began, the setting was nearly identical to the warm, slick conditions that greeted the anglers on day one.
With the temperatures and high skies mirroring day one, the same could be said for the top of the leaderboard as Arizona pro Josh Bertrand held onto his lead with another limit of smallmouth that eclipsed 20 pounds.
Pre-tournament logic said that someone would bring in a 20-pound bag, but many wondered if it would be a feat that was repeatable. Bertrand proved that it was by backing up his 23.45-pounds day one limit with 20.39 pounds to retain his lead on day two with a total of 43.79 pounds.
Bertrand, who revealed that he had been holding some areas for the final day of competition on day one, had to touch those areas today.  "It was a tougher day for me today numbers wise, and I had to expand on my approach a little," said Bertrand.  "I didn't have to lean on the areas I'd been saving, but I did have to add a couple fish later in the day to top 20 pounds."
He added that he feels good about the final day.  "It's no secret that I'm using one of my confidence baits, and I have good areas, so I feel like I have a good chance," he said.  "If I can put my Berkley Flatworm in front a enough smallmouth, I feel like I'll give myself a chance to close it out."
Arkansas Major League Fishing Big 5 Pro Circuit Title Champion Spencer Shuffield from was the final angler to weigh-in, and the Arkansas pro put an exclamation point on day two.  Shuffield brought a 20.73-pound limit to the scales to jump into second place with 39.43 pounds.
Shuffield, fresh off his MLF Tackle Warehouse Pro Circuit Title victory finds comfort in his settings.  "I've always looked forward to fishing the U.S. Open, and Mohave is an amazing smallmouth fishery," he said.  "I have been expanding on my areas every day, and I feel like if I can do it again tomorrow, I'll have a chance."
Hot on his heels in third place is three-time WON Bass U.S. Open champion Clifford Pirch, who posted his second consecutive 19-pound limit to finish third with a total weight of 39.36 pounds heading into championship day.
Patrick Touey, who started the event in second place fell to fourth place with a 17.33-pound limit to push his two-day total to 37.75 pounds, and Todd Kline caught 19.54 pounds to push his total weight to 36.31 pounds to round out the top five in the pro division.
On the AAA side, day one leader Kyle Keegan added 11.48 pounds to keep the day two lead with 34.93 pounds. Jim Vretzos weighed 19.89 pounds to end the day in second place with a total weight of 31.74 pounds.
Third place AAA Nick Lara added 18.98 pounds to bring his total to 31.16 pounds. Brian Tressen added 20.73 pounds to make his total 29.80 pounds to finish fourth and Gary Freeman's 15.32 pounds on day two brought his total to 29.32 to round out the top five in the AAA division.
Complete standings can be found at wonbassevents.com

Spencer Shuffield Jumps to Second Place
– – – DAY ONE STORY – – –
Laughlin, Nev. – October 10, 2022 – For the first time in its history, the Bass Cat / Mercury WON BASS U.S. Open presented by Laughlin Tourism Commission and Visit Laughlin is being held at a fishery other than Lake Mead as a result of historic record low water levels.
With those developments, the City of Laughlin, Nev. was at the ready to host the event and Lake Mohave stood as the new playing field for the 40th Anniversary of the most prestigious bass fishing event in the Western United States.
With the change in scenery, the possibility existed for heavier weights to be presented at the tournament scales at Katherine Landing.  At any desert fishery, there's always the possibility for high winds and big waves, and rarely are slick conditions are the reality.  However, high skies, slight wind and slick water was what greeted the anglers on day one of the event.
But this field always features some of the best anglers in the west, and where there are bass, the field will show out. That is precisely the outcome of the day's competition.
Leading the pack on day one was Arizona Major League Fishing BPT pro Josh Bertrand who brought 23.45 pounds of smallmouth bass to the scales. He and his day one AAA partner Kyle Keegan spent the day running through their areas and culled through a pair of limits to set the pace.
Bertrand declined to state what his exact pattern was, but said he feels comfortable with whatever the conditions present.  "I can fish fast if I need to or slow down depending on the conditions," he said.  "My practice was good, but I wasn't sure exactly what kind of weights to expect, so this is a really good start."
Patrick Touey, who is fishing his first event on Mohave and his AAA partner Chuck Turner spent the day cycling through several areas looking for active fish and found enough smallmouth to bring 20.42 pounds to start the event in second place.  "I started practicing on the bank and didn't like what I found, so I looked deeper and found some deeper grass to target," he said.  "We'd pull up and find them there, catch a few and move on to the next spot; it was a good day."
Three-time U.S. Open Champion Clifford Pirch, a Bassmaster Elite Series pro from Payson, Ariz. and Eric Hammer brought 19.47 pounds to the scales to finish third and give Pirch a very realistic chance of becoming the first angler to claim four U.S. Open championship.
Sean Coffey and Fisher Griffith weighed in 18.97 pounds to put them in fourth place and Dylan Maxon and Dave Phillips posted 18.89 pounds to round out the top five.
Complete standings can be found below.
Day two of the 2022 Bass Cat / Mercury WON BASS U.S. Open presented by Laughlin Tourism Commission and Visit Laughlin will begin Monday, October 10, with a champion being crowned on October 12 at the conclusion of the final weigh-in. Takeoff with nearly 189 pro and AAA anglers will commence at safe light and weigh-ins will occur in the afternoons each day. Takeoff and weigh-ins will be held at Katherine Landing at Lake Mohave Marina located at 2690 Katherine Spur, Bullhead City, AZ 86429.
Join us for an historic event and look to wonbass.com and WONews.com along with WON BASS and Western Outdoor News social media platforms for event details and updates.
The 40th Anniversary 2022 WON BASS U.S. Open is presented by the following sponsors; Bass Cat Boats, Mercury Marine, Costa, Century Marine, Power-Pole, Western Outdoor News, Next Gen Lithium, Daiwa, Berkley, Abu Garcia, Frabill, Plano, Seaguar, Chevron Techron Marine, Lowrance, DD26 Fishing, Phenix Rods, Gamakatsu, Livingston Lures, Roboworm, HydroHoist, Bridgford Foods, Last Chance Performance Marine, Anglers Marine, Katherine Landing, Sure Life, LifeSource Water Systems, Huntington Beach Honda, Anderson Ford, Tuff Bunk, Laughlin Tourism Commission, Visit Laughlin and Edgewater Hotel, Casino & Resort.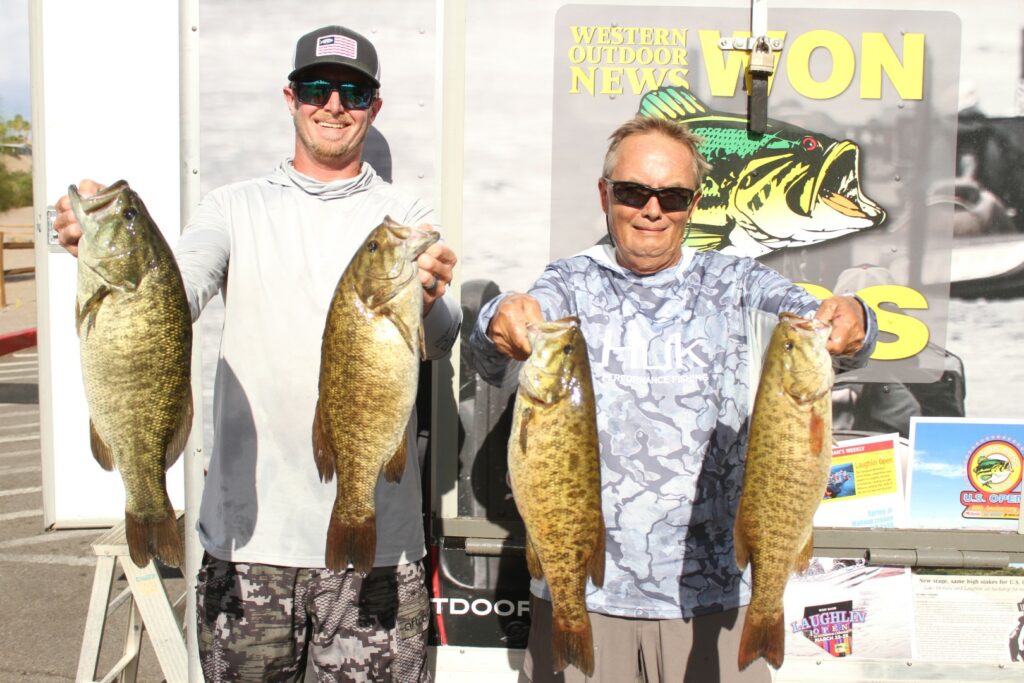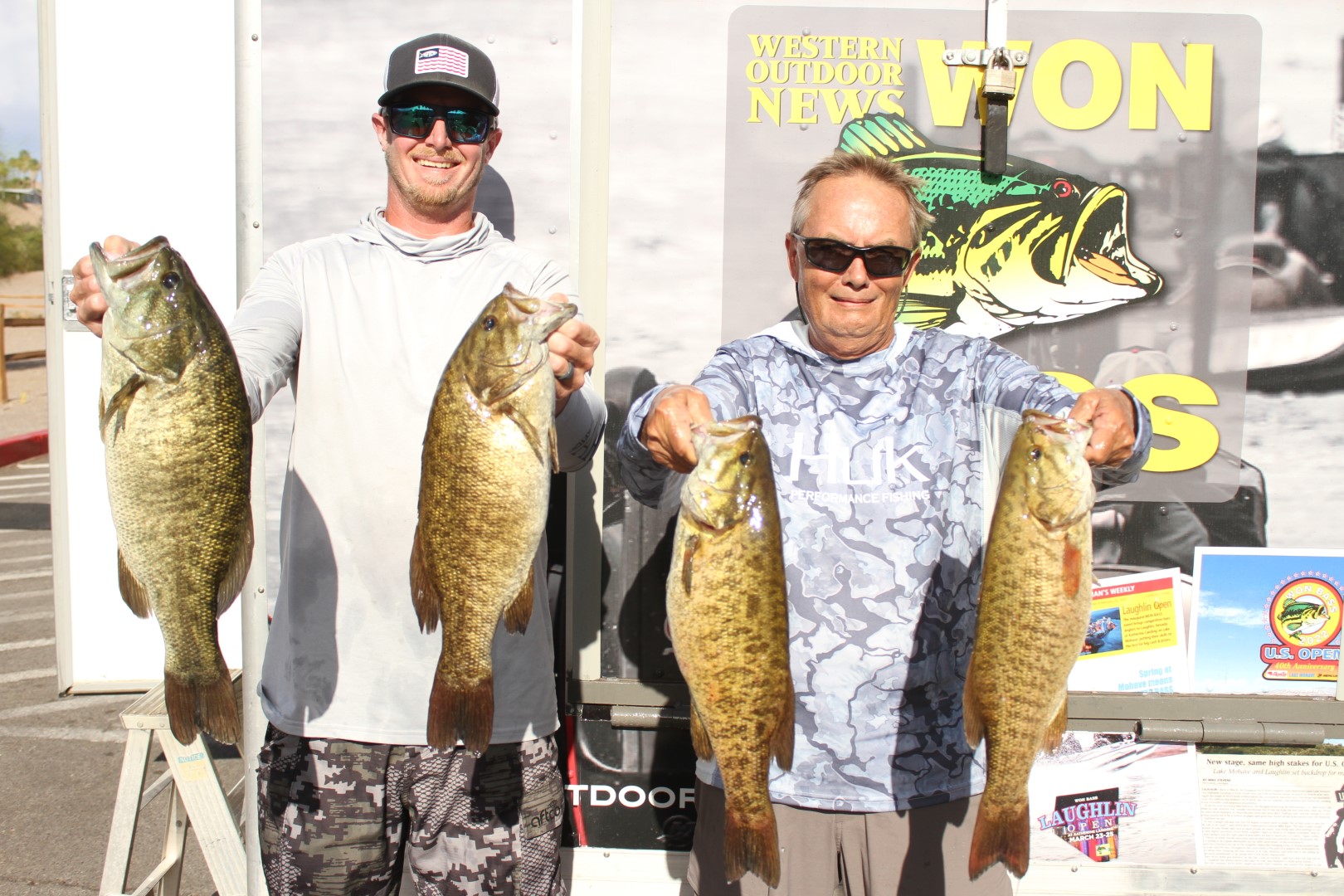 Day One Pro Standings
| | | | | | |
| --- | --- | --- | --- | --- | --- |
| Place | Angler | Hometown | Penalty | Big Fish | Total |
| 1 | Josh Bertrand | San Tan Valley AZ | | | 23.45 |
| 2 | Patrick Touey | Nipomo CA | | 5.36 | 20.42 |
| 3 | Clifford Pirch | Payson AZ | | 4.98 | 19.47 |
| 4 | Sean Coffey | Mesa AZ | 0.20 | | 18.97 |
| 5 |  Dylan Maxon | Pioera AZ | | 5.09 | 18.89 |
| 6 | Spencer Shuffield | Hot Springs AK | | 4.28 | 18.70 |
| 7 | Austin Bonjour | Templeton CA | 0.20 | | 18.37 |
| 8 | Mark Williams | Lake Havasu City AZ | | | 17.75 |
| 9 | John Martinez | Las Vegas NV | 0.40 | | 17.73 |
| 10 | Ben Byrd | Moab UT | | | 17.52 |
| 11 | Tony Lain | Lake Havasu City AZ | | 4.52 | 17.00 |
| 12 | Marty Lawrence | Mesa AZ | | | 16.86 |
| 13 | Zach VerBrugge | Lake Havasu AZ | | 4.19 | 16.78 |
| 14 | Todd Kline | San Clemente CA | 0.20 | | 16.77 |
| 15 | Anthony Salazar | Henderson NV | | | 16.48 |
| 16 | Scott Hellesen | Paso Robles CA | | | 16.37 |
| 17 | Johnny Johnson | Lakeside AZ | | | 15.98 |
| 18 | Clayton Meyer | Henderson NV | 0.40 | 5.52 | 15.97 |
| 19 | Joe Uribe, Jr. | Surprise AZ | | 3.91 | 15.92 |
| 20 | Luke Clausen | Otis Orchards WA | 0.40 | | 15.68 |
| 21 | Justin Kerr | Lake Havasu City AZ | | | 15.62 |
| 22 | Bryan Grier | Hollister CA | | | 15.51 |
| 23 |   Brett Leber | Dixon CA | | 4.67 | 15.26 |
| 24 | Mike Steckel | Las Vegas NV | | | 15.01 |
| 25 | Kyle Grover | RCHO STA MARG CA | | 4.72 | 14.78 |
| 26 | John Morrow | Kingman AZ | | 5.19 | 14.65 |
| 27 |  John Fuqua | Payson AZ | | | 14.55 |
| 28 |  Levi Samz | Green River WY | 0.40 | | 14.18 |
| 29 | John Basmadjian | Fullerton CA | 0.20 | | 14.09 |
| 30 | Kevin Hugo | Canyon Lake CA | 0.20 | 5.35 | 14.00 |
| 31 | Chris Zaldain | Fort Worth TX | | | 13.94 |
| 32 | Jeff Baird | Washington UT | | | 13.73 |
| 33 | Kevin Johnson | Peoria AZ | | | 13.71 |
| 34 |  Jordan Collom | Canyon Lake CA | | | 13.62 |
| 35 | Tom Kilduff | Phoenix AZ | | 3.65 | 13.37 |
| 36 | Louis Fernandes | Santa Maria CA | | | 13.11 |
| 37 | Conrad Demecs | Phoenix AZ | | | 13.00 |
| 38 | Jonathan Schuyler | Henderson NV | | 4.97 | 12.92 |
| 39 | Kyle Richins | Washington UT | | | 12.85 |
| 40 | Eddie Rodriguez | Evergreen CO | | | 12.74 |
| 40 | Jason Reyes | Humble TX | | | 12.74 |
| 42 | Chris Patek | Chula Vista CA | 0.20 | | 12.60 |
| 43 | Dennis Kolender | Santee CA | | | 12.46 |
| 44 | Jamie Shaw | Coolidge AZ | | | 12.40 |
| 45 | Marvin Finley | Peoria AZ | | | 12.38 |
| 45 | Michael Phua | Chino CA | | | 12.38 |
| 45 | Todd Holverson | San Diego CA | | | 12.38 |
| 48 | Aaron Bartelt | Elk City OK | | | 12.36 |
| 48 | Lowell Mickelson | Anahiem CA | | | 12.36 |
| 50 | Steve Lund | Cave Creek AZ | | | 12.32 |
| 51 | Mark Rauenzahn | San Diego CA | | 5.05 | 12.18 |
| 52 | Dan Frazier | Paso Robles CA | 0.20 | | 12.07 |
| 53 | Chris Costello | Gilroy CA | 0.20 | | 12.04 |
| 54 | Jeremy McKay | Eugene OR | | | 12.02 |
| 55 | Roy Hawk | Lake Havasu City AZ | 0.20 | | 11.94 |
| 56 | James Weaver | Lehi UT | | | 11.85 |
| 57 | Frankie Mueller | Kingman AZ | | 4.32 | 11.82 |
| 58 | Robert Sedillo, Jr. | Chino CA | | | 11.76 |
| 59 | Russ Barger | Boise ID | 0.20 | | 11.59 |
| 59 | Travis Pitt | Henderson NV | | | 11.59 |
| 61 | Bill Brown | Grand Junction CO | | | 11.46 |
| 62 | Steve Molinari | Waddell AZ | | 3.64 | 11.42 |
| 63 | Kevin Martin | El Cajon CA | 0.40 | | 11.36 |
| 64 | Kevin Wiggins | Winterheaven CA | 0.20 | | 11.35 |
| 65 | Jon Bell | Campo CA | | | 11.13 |
| 66 | Andrew Napoleon | Mesa AZ | 0.20 | | 10.99 |
| 67 | Max Hernandez | Queen Creek AZ | | 4.11 | 10.95 |
| 68 | Byron Velvick | San Antonio TX | | 4.85 | 10.72 |
| 69 | Rick Clunn | Ava MO | | | 10.64 |
| 70 | Ken Whalen | Lompoc CA | | | 10.62 |
| 71 | Dan Davis | Hurrican UT | | | 10.58 |
| 72 | Cody Kurz | Oxnard CA | | 3.82 | 10.46 |
| 73 | Brent Becker | Boulder City NV | | | 10.34 |
| 73 | Samuel Collins | Peoria AZ | | 4.08 | 10.34 |
| 75 | Mike Folkestad | Villa Park CA | | | 10.19 |
| 76 | Mark Poe | Coolidge AZ | | | 10.18 |
| 77 | Austin Gutzwiller | Mesa AZ | 0.40 | | 10.15 |
| 78 | Adam Cacal | Las Vegas NV | | | 10.09 |
| 79 | Shawn Cooley | Qual Valley CA | 0.40 | | 10.02 |
| 80 | David Valdivia | Riverside CA | | | 10.01 |
| 81 | Ricky Shabazz | La Mesa CA | 0.40 | | 9.98 |
| 82 | Billy Hines | Vacaville CA | | | 9.91 |
| 83 | Brad Szarkowski | Santa Clarita CA | 0.20 | 5.73 | 9.87 |
| 84 | Mike Bird | Tonopah NV | 0.20 | | 9.71 |
| 85 | Scooter Griffith | Mesa AZ | 0.20 | | 9.53 |
| 86 | Phillip Emery | Santa Barbara CA | 0.20 | | 9.51 |
| 87 | Chris Kinley | Lake Havasu City AZ | | | 9.39 |
| 88 | Rodney Reed | Chelan WA | | 4.72 | 9.38 |
| 89 | Kazuki Kodama | Tokyo Japan | | | 9.36 |
| 90 | Mike Williams | Lake Havasu City AZ | | | 9.10 |
| 91 | Christopher Allen | Grand Junction CO | | | 9.07 |
| 92 | Jeff Rutt | Lake Havasu City AZ | | | 9.05 |
| 93 | Jerry Ballesteros | Rancho Cucamonga CA | | | 9.04 |
| 94 | Kalib Lund | Cave Creek AZ | | 4.32 | 8.90 |
| 95 | Mike Bartley | Greenwood Village CO | | | 8.87 |
| 96 | Sunny Hawk | Midvale UT | | | 8.74 |
| 97 | Tim Klinger | Boulder City NV | | | 8.38 |
| 98 | Travis Darrough | Round Mountain NV | | | 8.33 |
| 99 | Ray Arbesu | Henderson NV | 0.40 | | 8.23 |
| 100 | Daniel Uptain | Mesa AZ | 0.20 | | 8.14 |
| 101 | Paul Bailey | Kelseyville CA | | | 8.07 |
| 102 | Gunnar Stanton | Boulder City NV | | | 8.00 |
| 103 | Carl Limbrick, Jr. | Bonita CA | | | 7.98 |
| 103 | Jim Herrero | Kingman AZ | | | 7.98 |
| 105 | CJ Hinkle | Fort Mohave AZ | | | 7.87 |
| 106 | Michael Kuzara | Hemet CA | | | 7.75 |
| 107 | Wayne St. John | Henderson NV | | | 7.62 |
| 108 | Micah Jones | Kingman AZ | | | 7.55 |
| 109 | Allen Clark | Florence AZ | | | 7.32 |
| 110 | Douglas Jones | North Las vegas NV | | | 7.28 |
| 111 | James Hansen | Las Vegas NV | | | 7.26 |
| 112 | Marco Fenelli | San Diego CA | | | 7.24 |
| 113 | Robert Lutes | Los Angeles CA | | | 7.16 |
| 114 | Chris Nickerson | Hemet CA | | | 6.88 |
| 115 | Garrett Howard | Riverside CA | | 4.79 | 6.85 |
| 116 | Andy Manahl | Mesa AZ | | | 6.77 |
| 117 | Joe Cole | Coalville UT | | | 6.74 |
| 117 | Dung Van Vu | Paramount CA | | | 6.74 |
| 119 | Matt Frazier | Denair CA | | | 6.72 |
| 120 | Brandon Morton | San Tan Valley AZ | | | 6.55 |
| 121 | Rob Sanford | San Diego CA | | | 6.48 |
| 122 | Josh Albee | Golden Valley AZ | | | 6.36 |
| 123 | Corey Williams | Boulder City CA | 0.20 | | 6.34 |
| 124 | Donnie Scroggins | Kingman AZ | | | 6.25 |
| 125 | Zachary Elrite | San Jose CA | | | 6.23 |
| 126 | Cody Steckel | Las Vegas NV | | | 6.00 |
| 126 | Matt Shura | Gilbert AZ | | | 6.00 |
| 128 | Jeremy Mann | San Jose CA | | | 5.91 |
| 129 | Shane Spinning | Canyon Lake CA | | | 5.79 |
| 130 | Tom Ormsby | Parowan UT | | | 5.66 |
| 131 | Greg Halliman | Littlerock CA | | | 5.59 |
| 132 | Darius Arberry | Las Vegas NV | | | 5.54 |
| 133 | Mag Gimbel | Las Vegas NV | | | 5.40 |
| 134 | Allen Bratton | Cedar City UT | | | 5.22 |
| 135 | Gil Valadez | Fullerton CA | | | 5.16 |
| 136 | Justin Patti | Peoria AZ | | | 5.10 |
| 137 | Mike Menne | Cottonwood CA | | | 4.85 |
| 138 | Dick Watson | Boulder City NV | | | 4.84 |
| 139 | Victor Azevedo | Filer ID | | | 4.82 |
| 140 | Louis Ulrich | Santee CA | | | 4.81 |
| 141 | Jesse Halstead | Bonney Lake WA | | | 4.51 |
| 142 | Chip Gilbert | Yuma AZ | | | 4.44 |
| 143 | Steven Bowlin | Atlanta TX | | | 4.43 |
| 144 | Ayaaz Ismail | Las Vegas NV | | | 4.41 |
| 145 | Shawn Herring | Las Vegas NV | | | 4.28 |
| 146 | Jiggs Benn | Myrtle Creek OR | | | 4.19 |
| 147 | Kevin Finley | Phoenix AZ | | | 4.18 |
| 148 | Paul Hodges | Glendale AZ | | | 4.12 |
| 149 | Tyler Ivie | West Haven UT | | | 4.00 |
| 150 | David Gliebe | Manteca CA | | | 3.90 |
| 151 | Hermie Romero | Henderson NV | | | 3.89 |
| 152 | Daylon Smith | Frazier Park CA | | | 3.72 |
| 153 | Tom White Jr. | Costa Mesa CA | | | 3.61 |
| 154 | Jesse A. Marquez | Lake Havasu City AZ | | | 3.53 |
| 155 | Mike Huseman | Bullhead City AZ | | 3.34 | 3.34 |
| 155 | Jimmy Reese | Ukiah CA | | | 3.34 |
| 157 | Tom Leedom | Escondido CA | | | 3.18 |
| 158 | Mike Luiere | Henderson NV | | | 3.16 |
| 159 | Patrick Whitaker | Pinetop AZ | | | 3.15 |
| 160 | Dan Merchant | Canyon Lake CA | | | 3.13 |
| 161 | Jim Hawkes | Apache Junction AZ | | | 3.11 |
| 162 | Kevin Duncan | Las Vegas NV | | | 2.52 |
| 163 | John Gayo | Lake Havasu City AZ | | | 2.48 |
| 164 | Scott Davis | Preston ID | | | 2.47 |
| 165 | Lyle Dalby | Apache Junction AZ | | | 2.22 |
| 166 | Ron Hammett | La Mesa CA | | | 2.18 |
| 167 | Shane Noel | California City CA | | | 2.13 |
| 168 | Benjamin Green | Jasper TN | | | 2.11 |
| 169 | Robert Morales | Williams AZ | | | 1.96 |
| 170 | Robert Ostercamp | Chandler AZ | | | 1.70 |
| 171 | Keith Newby | Pine Top AZ | | | 1.67 |
| 171 | Brian Nunn | Bakersfield CA | | | 1.67 |
| 173 | Joshua Glenn | Temecula CA | | | 1.57 |
| 174 | Rusty Brown | Alpine CA | | | 1.56 |
| 175 | Travis Jewell | Tyler TX | | | 1.54 |
| 176 | Jason Bryan | Henderson NV | | | 1.39 |
| 177 | Ryan Yamagata | Las Vegas NV | | | 1.38 |
| 178 | Cameron Karber | Munds Park AZ | 0.20 | | 1.36 |
| 179 | Greg Garcia | Cibola AZ | | | 0.00 |
| 179 | Jeffery Klicka | Brawley CA | | | 0.00 |
| 179 | David Kemper | Tempe AZ | | | 0.00 |
| 179 | Bill O'Shinn | Auburn CA | | | 0.00 |
| 179 | Rusty Salewske | Alpine CA | | | 0.00 |
| 179 | Tony Capparelli | Camarillo CA | | | 0.00 |
| 179 | Matthew Luna | Santee CA | | | 0.00 |
| 179 | Jeff Hudson | Las Vegas NV | | | 0.00 |
| 179 | Sheldon Johnson | Kingman AZ | | | 0.00 |
| 179 | Shannon Perkins | Corona CA | | | 0.00 |
| 179 | Melvin Williams | Chula Vista CA | | | 0.00 |
Day One AAA Standings
Place
Angler
Hometown
Penalty
Big Fish
Total
1
Kyle Keegan
Mesa CA
23.45
2
Chuck Turner
Golden Valley AZ
20.42
3
Eric Hammer
Peoria AZ
4.32
19.47
4
Fisher Griffith
Mesa AZ
0.20
18.97
5
Dave Phillips
Nampa ID
18.89
6
Mike Crothers
Chandler AZ
4.40
18.70
7
Mike Gowey
Snowflake AZ
0.20
18.37
8
Jonathan Jackson
Las Vegas NV
17.75
9
Joe Uribe, Sr.
Lake Havasu City AZ
0.40
4.05
17.73
10
Max Howarth
West Jordan UT
17.52
11
Mike Rasso
Phoenix AZ
17.00
12
Todd Tobiasson
Las Vegas NV
5.07
16.86
13
David Hutto
Escondido CA
16.78
14
Anthony Stanfa
Phoenix AZ
0.20
16.77
15
Tyler Head
Eugene OR
4.48
16.48
16
Creston Carroll
Payson AZ
16.37
17
Joseph Riordan
Bullhead City AZ
15.98
18
Charles Jett
Las Vegas NV
0.40
15.97
19
Nathan Foreman
Queen Creek AZ
3.72
15.92
20
James Pena
Stevensen Ranch CA
0.40
15.68
21
Junior Mora
Fresno CA
15.62
22
Melanie McBride
Searchlight NV
15.51
23
Craig Duvall
Kingman AZ
4.15
15.26
24
Michael Nugent
Surprise AZ
4.25
15.01
25
Mark J. White
Kingman AZ
14.78
26
Mark Chadeayne
Pomona CA
14.65
27
Lyle Valador
Boulder City AZ
14.55
28
Rick Mason
Glendale AZ
0.40
3.52
14.18
29
Trait Zaldain
Fort Worth TX
0.20
14.09
30
Gary Freeman
Las Vegas NV
0.20
14.00
31
Matt Thomas
Scottsdale AZ
13.94
32
Darren Wilson
Las Vegas NV
13.73
33
Dylan Watson
Hayward CA
13.71
34
Michael Gabrielson
Bullhead City AZ
13.62
35
Phillip Dijulio
Glendale AZ
13.37
36
Ron Goldshine
Los Angeles CA
13.11
37
Jay Corbett
Surprise AZ
13.00
38
Zack Willis
Roy WA
12.92
39
Wade Goodwin
Wilton CA
12.85
40
Pete Marino
Moreno Valley CA
3.86
12.74
40
Joe Ahrens
San Diego CA
3.60
12.74
42
Kevin A. Smith
Phoenix AZ
0.20
12.60
43
Brian Kemp
Murrieta CA
12.46
44
Richard Johnson
San Pedro CA
12.40
45
Tim Domingues
San Jose CA
12.38
45
Kurt Hodges
Lakewood CA
3.92
12.38
45
Norman Uptain
Globe AZ
12.38
48
Chris Harvey
Idaho Falls ID
12.36
48
Clif Gallagher
Saint George UT
12.36
50
R. Stephen Gustafson
Santa Monica CA
12.32
51
Nick Lara
Bishop CA
12.18
52
Andrew Packard
Fresno CA
0.20
12.07
53
Hayden Metz
Eastvalle CA
0.20
12.04
54
Geoff Peterson
Huntington Beach CA
12.02
55
David Thies
Upland CA
0.20
11.94
56
Jim Vretzos
El Dorodo Hills CA
4.24
11.85
57
Kaden Argyle
West Bountiful UT
11.82
58
Noah Sanford
San Diego CA
11.76
59
Jeff Giffen
Phoenix AZ
4.64
11.59
59
Tom Creasy
Covina CA
0.20
11.59
61
Bryan Davis
Goleta CA
11.46
62
John Bitting
Kingman AZ
11.42
63
Geoff Pierce
El Cajon CA
0.40
11.36
64
Matthew Matus
Salt Lake City UT
0.20
11.35
65
Andrew Jayne
Coeur Dalene ID
11.13
66
Joe Ramos
Arvada CO
0.20
10.99
67
Tom Warren
Maricopa AZ
3.64
10.95
68
William Penrod
Salome AZ
10.72
69
Jeremie Wraight
Imperial Beach CA
10.64
70
Bryan Ledford
Henderson NV
10.62
71
Jonathan Green
San Pablo CA
4.86
10.58
72
Bill Eastes
Boulder Creek CA
10.46
73
Kenneth Murata
Irvine CA
10.34
73
Adam Arp-Romero
Flagstaff AZ
10.34
75
Michael Reynolds
Overgaard AZ
10.19
76
Kevin Burgess
Kingman AZ
10.18
77
Shawn Carnahan
Gilbert AZ
0.40
10.15
78
Mike Kizis
Belle River ON
10.09
79
Robert Brondyke
Las Vegas NV
0.40
10.02
80
DJ Virzuela
Gilbert AZ
10.01
81
James Scott
Lancaster CA
0.40
9.98
82
David Childress
Bakersfield CA
9.91
83
Greg Stevens
Las Vegas NV
0.20
9.87
84
Bo McNeely
Rancho Cucamunga CA
0.20
9.71
85
Mike Dailey
Overton NV
0.20
9.53
86
Brian Avila
Lenmoore CA
0.20
4.97
9.51
87
Robbie Espinosa
Yorba Linda CA
9.39
88
Gerred Curwick
Kingman AZ
9.38
89
Tom Kruse
Cayucos CA
9.36
90
Nathan Hill
Henderson NV
9.10
91
Brian Tressen
Corona CA
9.07
92
Stacy Teeters
Jasper TN
9.05
93
Josh Buller
San Diego CA
9.04
94
Joey Aliberto
Lomita CA
8.90
95
Sonny Yee
Queen Creek AZ
8.87
96
Steven Cook
Willow AK
8.74
97
Gerald Kimzey
Willcox AZ
8.38
98
Steve W. Clark
Fresno CA
8.33
99
Joseph Weber
Albuquerque NM
0.40
8.23
100
Shawn Byrne
Scottsdale AZ
0.20
8.14
101
Anthony Romano
New River AZ
8.07
102
John D. Helm
Tempe AZ
8.00
103
Len Scinto
Santa Clarita CA
7.98
103
Steve Larsen
Henderson NV
7.98
105
Alf Penland
Tucson AZ
7.87
106
Colin Harrell
Rock Springs WY
7.75
107
J.D. Madden
Morgan Hill CA
3.12
7.62
108
Steve Rice
Ashland OR
7.55
109
Ty Crofts
Cedar City UT
7.32
110
Roger Nelson
Henderson NV
7.28
111
Todd Belzner
Cave Creek AZ
7.26
112
Ray Kawabata
Bothel WA
7.24
113
Joel Chin
Rosemead CA
7.16
114
Mark Sheldahl
Baltimore MD
6.88
115
John Younce
Castaic CA
6.85
116
Colton
Underwood-Garside
Riverside CA
6.77
117
Bridger Richins
Washington UT
6.74
117
Trevor Love
Poncha Springs CO
6.74
119
Makoto Otani
Japan
6.72
120
Tim Demecs
Pheonix AZ
6.55
121
Tony Witt
Orange CA
6.48
122
Brandon Smith
Indio CA
6.36
123
Bret Felter
Malad ID
0.20
6.34
124
Tim Roden
Gilbert AZ
6.25
125
Rick Correa
Wilsonville OR
4.31
6.23
126
Jeff Stuart
Las Vegas NV
6.00
126
Dean Yamagata
Las Vegas NV
4.17
6.00
128
Gary Wasson
Visalia CA
5.91
129
Douglas Bullard
Anaheim CA
5.79
130
Mick Karshner
Meridian ID
5.66
131
William McAninch
Palos Verde Estates CA
3.90
5.59
132
Brandon Diamond
Los Altos CA
5.54
133
Dylan Moore
Bakersfield CA
5.40
134
Patrick S. Donoho
Las Vegas NV
5.22
135
Michael Grisham
Glendale AZ
5.16
136
David Shearrer
Trabuco Canyon CA
5.10
137
Stephen Byrum
Avondale AZ
4.85
138
Logan Walker
Winterhaven CA
4.84
139
Vincent Alcantara
Phoenix AZ
4.82
140
Willie Waller
Temecula CA
4.81
141
Chris Thatcher
Tuscon AZ
4.51
142
Kevin Holmgreen
Lake Havasu City AZ
4.44
143
Kelly Burns
Avondale AZ
4.43
144
Ralph Wells
Lake Havasu City AZ
4.41
145
Rod Livermore
Fort Mohave AZ
4.28
146
Brian P. Day
San Diego CA
4.19
147
Ray Gauerke
Porterville CA
4.18
148
Darin Folkestad
Huntington Beach CA
4.12
149
Daymond Allen
Murrieta CA
4.00
150
Lonnie Foster
Kneeland CA
3.90
151
Darin Guglielmo
Santa Barbara CA
3.89
152
Ellison Hubbard
LAS VEGAS NV
3.72
153
Mike Hawkins
Boulder City NV
3.61
154
Jordan Werner
Hurricane UT
3.53
155
Rick Moore
Salinas CA
3.34
155
Chris Beverly
Queen Creek AZ
3.34
157
David Zrebiec
North Las Vegas NV
3.18
158
Adam Glasscock
Payson AZ
3.16
159
Fred Buelna
Chandler AZ
3.15
160
Scott Holman
Orange CA
3.13
161
Blake Rose
Tucson AZ
3.11
162
David Stanberry
Wasilla AK
2.52
163
Thor Dusenberry
Pheonix CA
2.48
164
Rick Cofield
Las Vegas NV
2.47
165
Randy Ricafort
Clearlake CA
2.22
166
Jamie Johnson
Kingman AZ
2.18
167
Anthony Souza
Rio Vista CA
2.13
168
Ken Hromada
Gilbert AZ
2.11
169
Chris Ricci
Ignacio CO
1.96
170
Wayne Larsen
Round Mountain NV
1.70
171
Brayden Weaver
Lehi UT
1.67
171
David Meza
Westlake Village CA
1.67
1.67
173
Melvin Cromwell
Idaho Falls ID
1.57
174
Kenny Johnson
Eager AZ
1.56
175
Joe Leonard
Windsor CA
1.54
176
Brian Reaves
Bullhead City AZ
1.39
177
Scott Robertson
Norco CA
1.38
178
Ethan Hammer
Peoria AZ
0.20
1.36
179
Steve Baker
Canyon Lake CA
0.00
179
Kevin McBean
Shafter CA
0.00
179
Ron Smith
Apache Junction AZ
0.00
179
Gary Volpe
Payson AZ
0.00
179
Rick Melead
Yorba Linda CA
0.00
179
David King
Compton CA
0.00
179
Zach Gines
Stansberry Park UT
0.00
179
Larry Ballesteros
Canyon Country CA
0.00
179
William Hill Sr
Carmichael CA
0.00
179
Kirk Beardsley
Canyon Lake CA
0.00
179
Adam Gragg
Acton CA
0.00