Fishing up a Storm after Hurricane Kay
BY RACHEL VON FLECK
A week before the five-day Western Outdoor News adventure to Bahia de Los Angeles, Hurricane Kay ravaged Baja California and did a lot of damage to smaller cities and heavily affected the roads. We watched on with sadness and anticipation, hoping everyone was safe and that our trip would still be a "go." We received word that power and water had been restored and the roads were passable, so we all met at 3:00 a.m. on Sunday morning to start the long journey south.
This trip was booked through Orchid Martinez of Baja Fishing Convoys which offers all-inclusive trips for fishing and hunting in Baja. This particular adventure included transportation, lodging, food and fishing. All we had to do was show up with our gear.
The excitement was palpable. After introductions, we began to compare gear. I concluded most of us brought the entire arsenal—just in case. Most of us had never been to Bahia de Los Angeles (BOLA), so we only knew what to expect from others' stories and fishing reports.
After Baja Fishing Convoys showed up with the vans and trailers, we spent 45 minutes loading. There was no need to worry if we had overpacked; everything fit with more than enough room and was very secure for our drive down.
We had little insight to what we might find as we trekked across Highway 1 to BOLA after the hurricane, but as hoped, there were sufficient detours for every washed-out road. Along the way, we saw many large bodies of water collecting after the storm. Numerous wild horses, cows and donkeys were feeding on the lush green landscapes and drinking from the pools.
After arriving at Daggett's in BOLA, we unloaded our gear and found our rooms. We were booked three to a room, and the accommodations were pleasant. There was a lot of space, comfortable queen-sized beds, clean towels, cold AC, and plenty of ice available.
Our first day of fishing began at 5:00 a.m. Splitting into groups of three, we found our captains and loaded the pangas. Being the WON representative for the trip, I switched boats every day to take photos and include reports from different anglers. On this day, I fished one of Igor Galvans' boats with one of his sons, Captain Isaac.
We were prepared with Sabikis rigged with a size 6 hook, 30-pound main line and green beads, followed by an 8-ounce torpedo sinker. Most mornings we were on the water by 6:00 am and had a full tank of threadfin shad within an hour. On our first day, other pangas in our fleet were lucky enough to stumble upon a couple of feeding whale sharks where they made bait.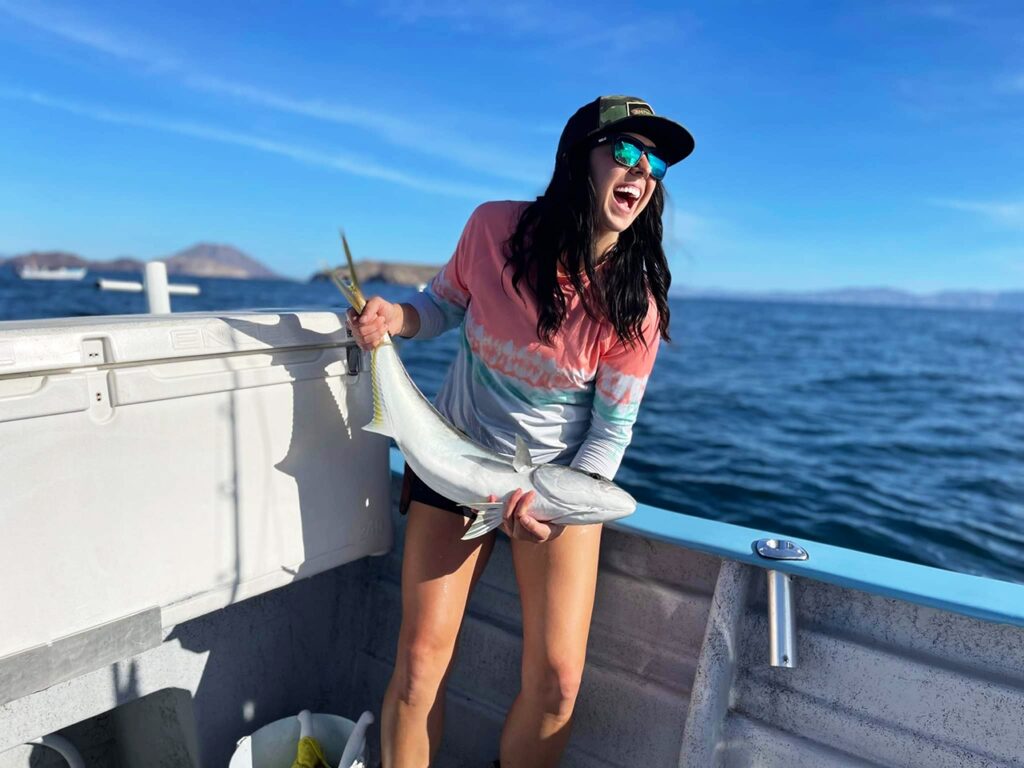 Armed with plenty of bait, we headed a short distance away to a depth of about 240 feet. The water temp was 81.4-degrees, and it was a beautiful, calm day with little to no wind. We set up long dropper loops using 80-pound mono leaders, size 4/0 or 5/0 hooks and 16-ounce torpedo sinkers. I immediately hooked up as I hit bottom but found the wrong kind with a smaller bonito. I was quick to drop again, and swiftly hooked another fish with a lot more fight. It had the head shakes of a yellowtail and felt like it had some weight to it. Imagine my shock when I pulled up a smaller 7-pound yellowtail! I had heard these fish fight harder than the ones I was used to but wasn't expecting the extreme contrast.
We ended our morning with a cooler full of yellowtail, golden spotted bass (cabrilla) and a grouper. We also found a solo dorado, and I ended up hooking it on fly-lined bait but lost it during one of its aerial acrobatics. The dodos were sparse on the trip, and we only ran into a few lone fish and didn't have much success bringing them to the boat.
On Joel Sr.'s panga, the group of three worked together as they were nailing the yellows on every drop. During the hot bite, Karen Heaviside of Fort Bragg exclaimed, "Oh, no! Another triple hookup," as she, her husband (Patrick), and Rob Whittaker of Chino each reeled in another. It was one of those days where it seemed like the whole boat was hooked up the entire time.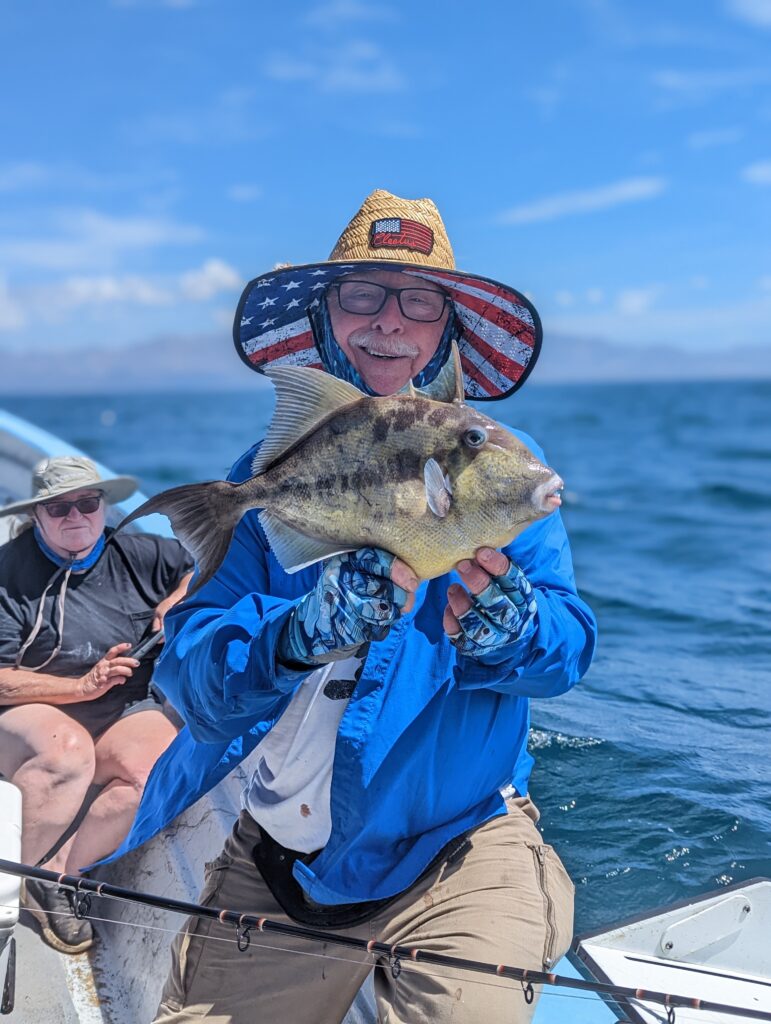 As morning passed, the wind picked up and most boats headed into calmer coves so the captains could filet the fish. Our cove was typically great for clamming, but the tide was high, so we snorkeled and relaxed in the water to avoid the heat instead. We found a ton of sea life along the rocky shoreline including pufferfish and blue crabs.
After we finished swimming, it was back to camp for some yellowtail ceviche, chips and guacamole before a couple of us headed out to fish the shoreline. We walked a little more than a mile-and-a-half before finding a deeper spot and casting various lures. We had success on the Krocodile in mackerel pattern, and I hooked a couple of larger spotted bay bass while Steven Hsiao of San Diego hooked jumbo-sized triggers, pufferfish and needlefish. Soft swimbaits didn't last more than one cast before being destroyed by triggerfish.
We ended the day with a beautiful sunset, more fresh yellowtail for dinner accompanied by beans, rice, tortillas and flan before settling in for the night.
On our second morning, I hopped on one of Mario's pangas as Captain Onasis filled in for Mario Jr. Our group opted to head up the coast to search for grouper.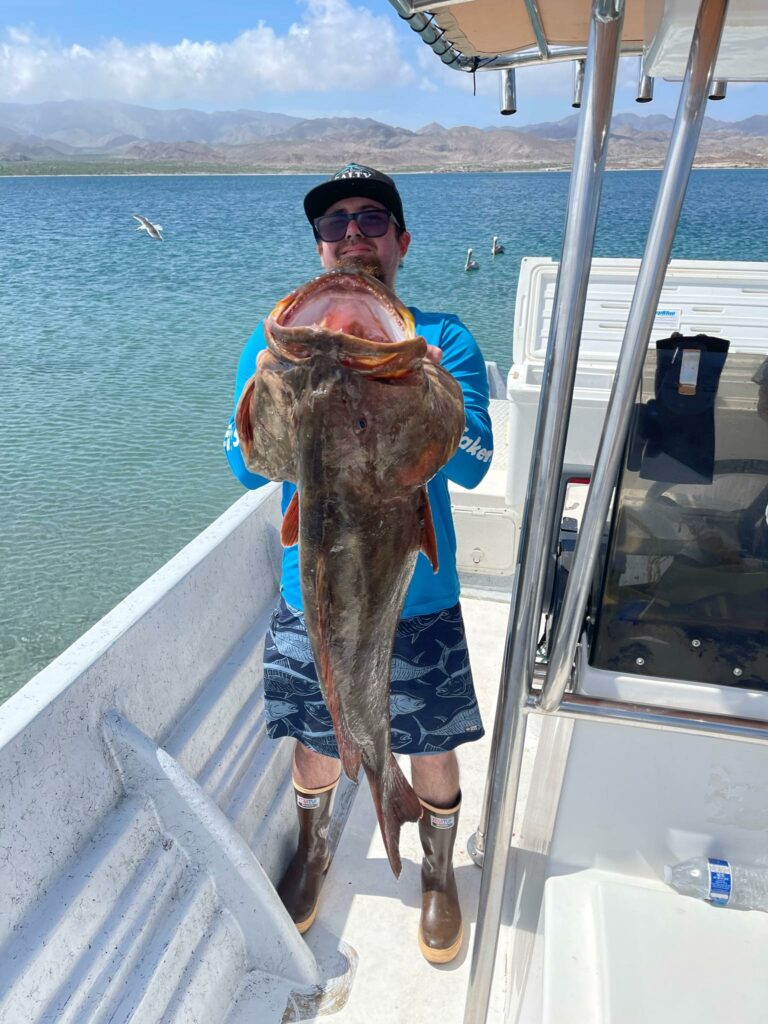 We used similar setups as with the yellowtail but slightly larger hooks. The grouper eluded us, but we picked up a few decent yellows. Another WON panga was nearby, and Brandon Dufault of Fawnskin hooked something massive, that, in his words, "hit like a freight train." He relived the fight later that night, sharing the details with us over a cold drink. "My rod was pinned to the rail the entire time. I would gain 75 to 100 feet of line, and then it would take about 50 feet back. I did that dance for about 10 minutes before seeing color. When I saw the size of the grouper, I was truly amazed and in awe of its beauty." Captain Mario weighed it on his digital scale, and it came in at just under 44-pounds.
Pete Barajas of Buellton was on another panga, and he picked up a grouper as well. As for our boat, we continued hooking primarily yellowtail at our spot until the wind picked up. We ended with four yellows and a couple of bonito released. We were drifting a too quickly to continue bottom fishing, so we headed into the shallows and a couple of anglers fly-lined baits in the stern, while I casted artificials from the bow.
While I was tossing a Nomad Madscad 150, I got one bite that popped the lure about 10 feet out of the water, but no fish was hooked. Meanwhile, Ciro Sapetto of La Quinta hooked into what appeared to be a large grouper that ripped a bunch of line straight to the rocks before breaking off. His son, Eddie Sapetto of Los Angeles, also got a little taste of the excitement. As he was winding in a massive, dark shadow came up from the bottom and stole his bait.
As the weather came up, we headed back, stopping by Punta La Gringa for another cool snorkeling session before hitting the launch ramp. This beach was completely different than the previous day, with seashells littering the sandy bottom.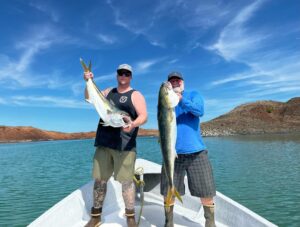 Upon our return, we were treated to some fresh hamachi sashimi while a bit of surprise rain brought about a gorgeous rainbow over the ocean. After another swim, we dined on fried fish tacos and tres leches with fruit.
Our final day of fishing began with a gorgeous sunrise over the ocean, the pinks reflecting on the dark clouds in the distance. I switched boats again to fish with another group on Joel Sr.'s panga. We voted to head back up to the grouper spot to try to hook one of these coveted fish.
By 10:00 a.m. we had four yellowtail and a large sheephead, but no grouper on deck. I had hooked into a yellowtail that felt much larger than the others I experienced. Unfortunately, my reel malfunctioned and spit out about two feet of line during the fight, allowing the fish to shake the hook. We had a few potential grouper bites that either short bit or broke off, but our highlight of the day was the yellows.
Another one of our pangas hooked into the yellows nearly every drop. There were multiple times when they each had a fish on, and much to their surprise, they ended up pulling up four yellowtail at one time between the three of them. Ciro Sapetto of La Quinta had managed to hook a yellow with his single hook and tail wrap another, keeping the tension and landing both of them! On the same panga, Frank Sawyer of Chino was delighted when he nabbed an 18-pound halibut he pulled off the bottom.
Since the captains allowed us to decide what we wanted to target each day, we split off into different fishing areas. Steven Hsiao of San Diego and his group headed off to fish a different shoreline to try for the impressive golden grouper. After landing 15 or more cabrilla, he was finally able to connect with his golden trophy, "La Reina!" Steven was the only angler to fish exclusively artificial baits the entire trip and was rewarded with several yellowtail on Shimano Butterfly jigs, a variety of species using Krocodiles, and the cabrilla he landed on stickbaits.
With more afternoon wind than in previous days, we headed back down the coast for a bumpy ride. We pulled into Guadalupe Bay for a gorgeous swim on white sandy beaches with teal blue water. This beach didn't have the rocky shores with variety of sea life or seashells, but instead had small rocks scattered over the sandy bottom with schools of small, colorful fish.
It was an hour back in extremely choppy water and hot wind. As we neared the launch ramp, you could look behind to see clear blue skies with puffy white clouds, while ahead there was nothing but dark thunderclouds, rain, and lightning. Once the panga was trailered, we felt the thunderous roar after a crack of lightning and knew we made it back just in time.
Our last day of fishing concluded with breaking down our gear over drinks on the patio. Our entire group joined, cheering each other's successes, sharing anguish over near misses, and discussing our next adventures and plans to come back to BOLA.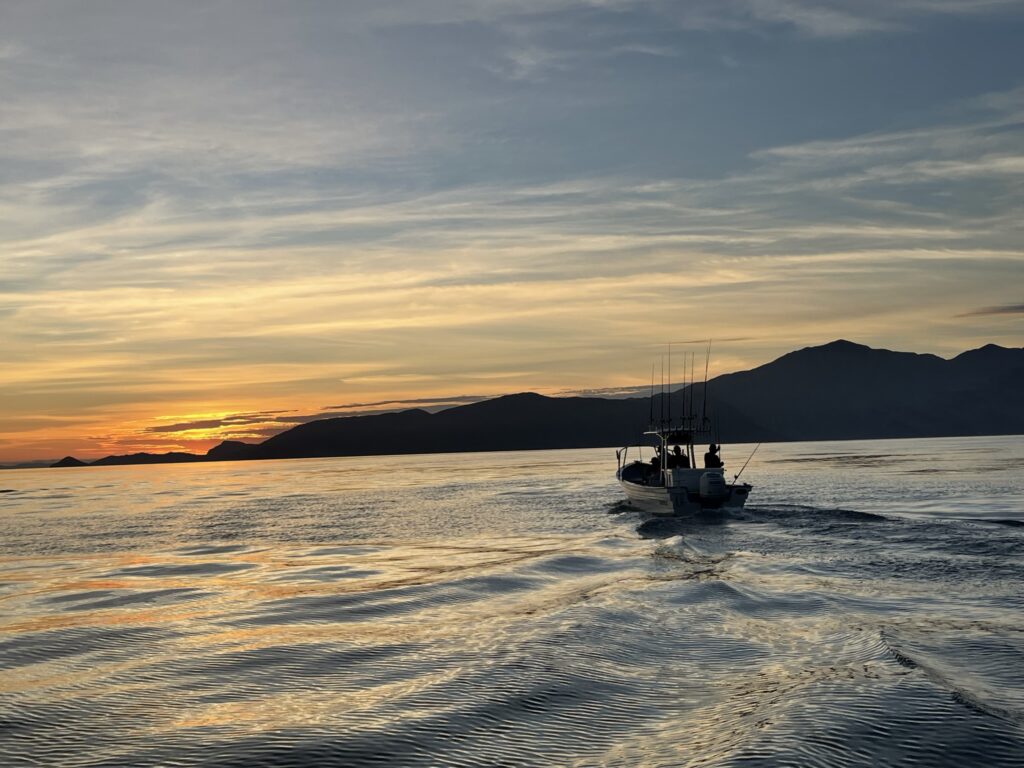 On our last morning, we slept in a bit before sitting down for a pancake breakfast. We watched our last stunning sunrise over the Sea of Cortez and left Daggett's shortly after 8:00 a.m. before swinging by Brisa's Fish Processing to collect our filets. Her operation has multiple commercial-grade vacuum sealers, chest freezers, high-quality bags and clear labels. Her team did a fantastic job of cleaning and packaging our fish.
As we made our way back to California, most of our group slept on the long ride home. In addition to delays due to the damaged roads, we also ran into traffic near Ensenada. We arrived at El Trailero to devour some authentic tacos before piling back in toward the border. By the time we pulled up to our vehicles, everyone was ready for a well-deserved night of rest.
As Frank Sawyer said, "we all had different goals and expectations, and this trip was a total success in meeting those. I personally caught my P.B. halibut, but the best part was meeting folks who share my love of adventure, fellowship and fishing."
From the incredible sunrises, afternoon thunderstorms, and the brightest stars I've ever seen, to the outstanding food, unique fishing, and knowledgeable captains, this was the trip of a lifetime!