Building on the brand's tradition of leadership and innovation, PENN raises the bar higher with its new Fathom II Lever Drag series, adding new models, sizes, and features that make this reel a must-have for every serious offshore fisherman.
The Fathom series has long been an offshore angler's go-to reel for its immense cranking power and intuitive design. As featured in the first generation of Fathom's Lever Drag, its stainless steel main and pinion, five shielded ball-bearings, and its tried-and-true gearing and dura drag systems remain the same.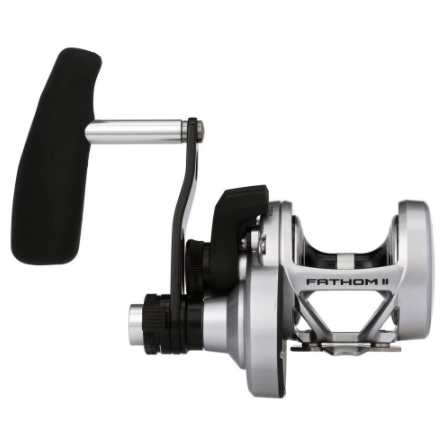 The new Fathom II Lever Drag and Lever Drag 2-Speed reels both feature a one-piece frame and palm side plate, eliminating screws on the palm side of the reel creating a more comfortable in-hand feel, as well as reduced frame weight and increased strength. On the cranking side of the reel, adding some of the best features of the PENN International series, the Fathom II Lever Drag 2-Speed features a new lever system with a Quick Shift II mechanism allowing an easy-to-use center shift button for low speed and a button on the side for high speed. The new system makes shifting more accessible, reduces corrosion, and improves user maintenance. The Fathom Lever Drag series also features a new pull-to-turn preset knob that, once adjusted, locks in place, which allows anglers to set it and forget it without worrying about hiccups during high stake moments.
The reels now come in new sizes, making them versatile for any fishing application. There are four single-speed models (10-30 sizes), seven 2-speed models (10-80 sizes), including the new 80 size, two high-speed models (40 and 60) built for billfish tournament pros, and four left-handed models.
For anglers who fish at the highest levels of the tournament scene, the Fathom II series high-speed models in the 40 and 60 sizes are specialized to meet the demands of billfish tournaments. The Fathom II 40NLDHS and 60LDHS provide anglers with an ultra-high-speed retrieve of 60 inches per turn, allowing anglers to keep up with the speed of the boat while fishing and a drag that is optimized between 4-7 pounds at strike.
Leaving no detail behind, the PENN Fathom II Lever Drag series handle knobs are now entirely interchangeable. The single and high speeds models come with a football-style knob for quick grab-and-turn action. The 2-speed models come with the banana handle made for torque and power when pulling on big fish. The Fathom's upgraded cosmetics bring eye appeal to these reels that will truly match any rod or boat.
The Fathom II Lever Drag series is now available in retail ranging from $229.95 to $349.95. For more information, visit www.PennFishing.com.