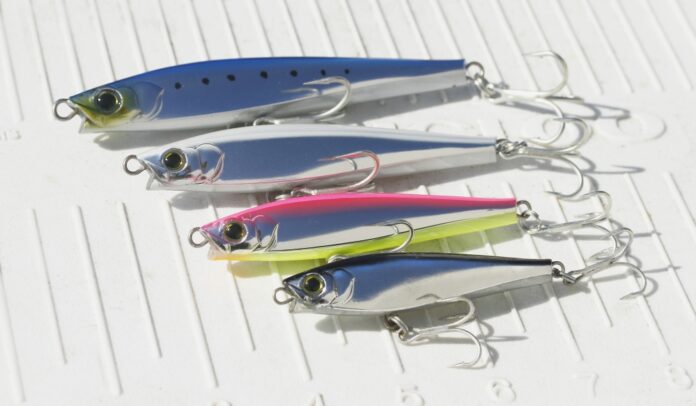 A decent halibut or game fish caught from the surf or inshore on an artificial bait is a trophy to be proud of. Here are our 12 selections for killer baits that you should be using in the coming months to score that PB.
HARDBAITS: Sinking, long-casting twitch baits
Daiwa Salt Pro Minnow Bullet
Ideal for: Long-casts and deep water. Line-through design and size makes it perfect for when big fish (and stripers) are also on the menu. Big bait for trophy fish.

Color shown: Green mackerel | Sizes available: 6" | Price (MSRP): $16.99 daiwa.us
Yo-Zuri Hydro Monster Shot
Ideal for: Tight action works even at speed, making this smartly-finished bait one to use when versatility and distance are key. Twitch across the bottom, rip mid-water or burn across the surface.

Color shown: White silver (3–3/4") | Sizes available: 3-1/8" – 5" | Price (MSRP): $12.99 www.yo-zuri.com
Nomad Madscad 95 SNK
Ideal for: Tough Aussie-designed bait great for long-casting and slow retrieves with an erratic action. Deeper belly design and exotic shades make this is a great change-bait. It'll work great offshore, too.


Color shown: Spanish mackerel | Sizes available: 3–3/4" | Price (MSRP): $15.99 www.nomadtackle.com
DIVING JERKBAITS: Floating or suspending lipped baits
Lucky Craft SW Flash Minnow 110
Ideal for: Halibut close to shore and on the troll. Awesome action and proven color for any time of day or situation. Great for close-range and light tackle.



Color shown: Super glow cherry berry | Sizes available: 4.5" | Price (MSRP): $17.99 luckycraft.com
Calissa Surf Jerkbait
Ideal for: Surf casting for halibut in shallow water or low light conditions with fish close to the beach. Unique surf perch pattern great for perch spawning time in spring.


Color shown: Barred surf perch | Sizes available: 4.5" | Price (MSRP): $15.99 calissafishing.com
Rapala X-Rap Saltwater
Ideal for: Can be trolled or cast a long way and either twitched along the bottom, or ripped near the surface. Highly versatile bait for targeting bigger halibut when a longer cast is required.


Color shown: Blue Sardine | Sizes available: 3-1/8" – 5-1/4" | Price (MSRP): $11.99 www.rapala.com
SWIMBAITS: Baitfish-imitating soft plastics
Keitech FAT Swing Impact
Ideal for: All-round swimbait for rigging on a jig head or weedless-style. Awesome go-to halibut bait in white shades and smaller sizes



Color shown: French Pearl (4.8") | Sizes available: 2.8" – 7.8" | Price (MSRP): $7.99
Z-Man Diezel Minnowz
Ideal for: Rigging weedless-style with the hook slotting neatly into the slot on the dorsal fin. Durable and proven track-record of catching lots of fish around rocky areas. Easy to rig and use. A firm favorite amongst soft bait fans.



Color shown: Slam shady (4") | Sizes available: 4", 5", & 7" | Price (MSRP): $4.99 (5) zmanfishing.com
Big Hammer Hammer
Ideal for: Fishing deeper water or heavy currents with the Hammer's ability to take a heavier jig head. Also takes a big weedless-style hook.


Color shown: Sexy smelt (4") | Sizes available: 2" – 7" | Price (MSRP): $8.99 (4) swimbait.com
DROPSHOT: Finesse-orientated plastics
Zoom Super Fluke Jr
Ideal for: When finesse is needed in the surf or inshore, these are proven baits for dropshot or small weedless set-ups. A SoCal classic for halibut.


Color shown: Watermelon seed (4") | Sizes available: 4 – 7" | Price (MSRP): $5.29 https://zoombait.com
Berkley PowerBait Minnow
Ideal for: Awesome scented drop-shot baits that are firm favorites for halibut of all sizes. Bright white shades work well in low light or when doubled up for a high-low dropshot rig. All-time-great finesse bait


Color shown: Pearl white (4") | Sizes available: 2", 3" and 4" | Price (MSRP): $5.99 (6) www.berkley-fishing.com
Fishbites Fight Club Dirty Boxer Curly Tail
Ideal for: A versatile soft bait, the attractor-infused Dirty Boxer can be rigged on as an in-your-face dropshot bait, or used as a trailer on spinnerbaits or similar. Fantastic when water clarity isn't ideal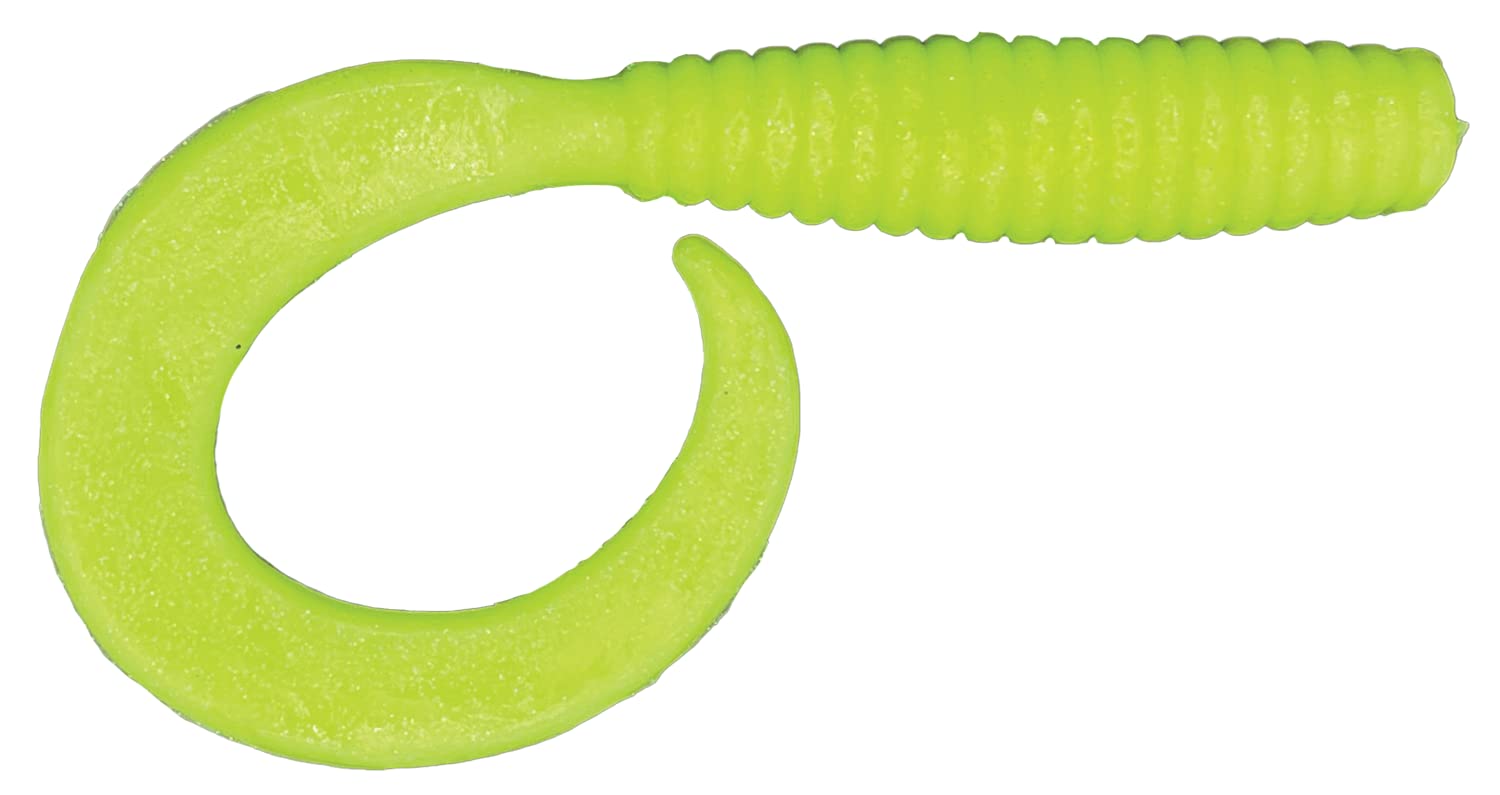 Color shown: Counter punch (chartreuse) | Sizes available: 5" | Price (MSRP): $5.99 fishbites.com
OTHERS: Website-only bonus selection

Warbaits War / Rig
Ideal for: A-rigs have a great track record of producing really, really big halibut from the surf and inshore, and the War / Rig is the king of these unwieldy-looking baits. Built with super-strong, stainless steel components, it'll take three rigged baits on the free snap swivels (be sure to follow local two-hook regulations, though) in addition to the willow blade attractors. A chunk of change for a lure, and one that'll need some heavy gear to cast, but you only need to catch one trophy on this and it looks like a smart purchase. Go big or go home.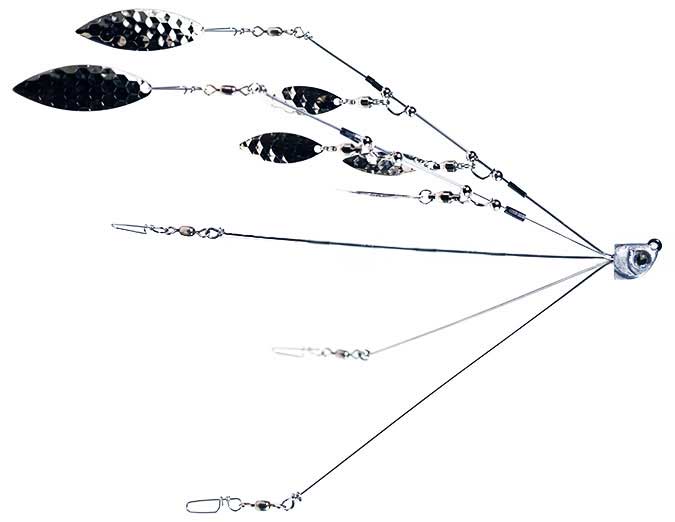 Color shown: Premium blade version | Sizes available: N/A | Price (MSRP): $32.99 www.warbaits.com
Savage Gear Glass Minnow
Ideal for: A neat casting lure, the Glass Minnow is a solid metal bait that imitates small baitfish like smelt, anchovy, herring and sardine. We like the small size that matches those tiny early-season baitfish, and the versatility. Fish it from a boat or kayak vertically, cast in the surf or launch at game species feeding on small baits. Tough hardware and finish means it'll last for many sessions. A versatile bait.



Color shown: Herring | Sizes available: 2.5″ – 4.25″, 3/8oz – 1.25oz | Price (MSRP): $7.99 – $10.99 savagegear-americas.com
Live Target Croaker Swimbait
Ideal for: Matches perfectly one of the most common bait fish in the surf – the yellowfin croaker – making it ideal for targeting any sort of predatory species on the West Coast. Two useful sizes and the option of installing an extra hook on the loop below the head section is a bonus. Fish close to the bottom near halibut ambush points for trophy-grade flatties. A unique offering.


Color shown: Yellowfin croaker | Sizes available: 4″ & 5″, 1oz & 1.75oz | Price (MSRP): $10.99 livetargetlures.com