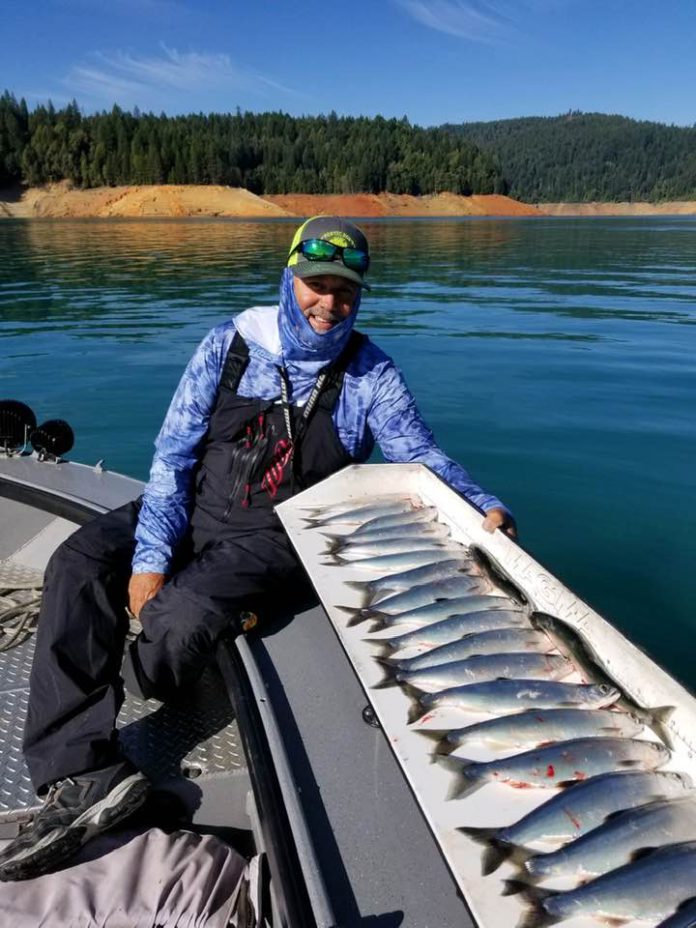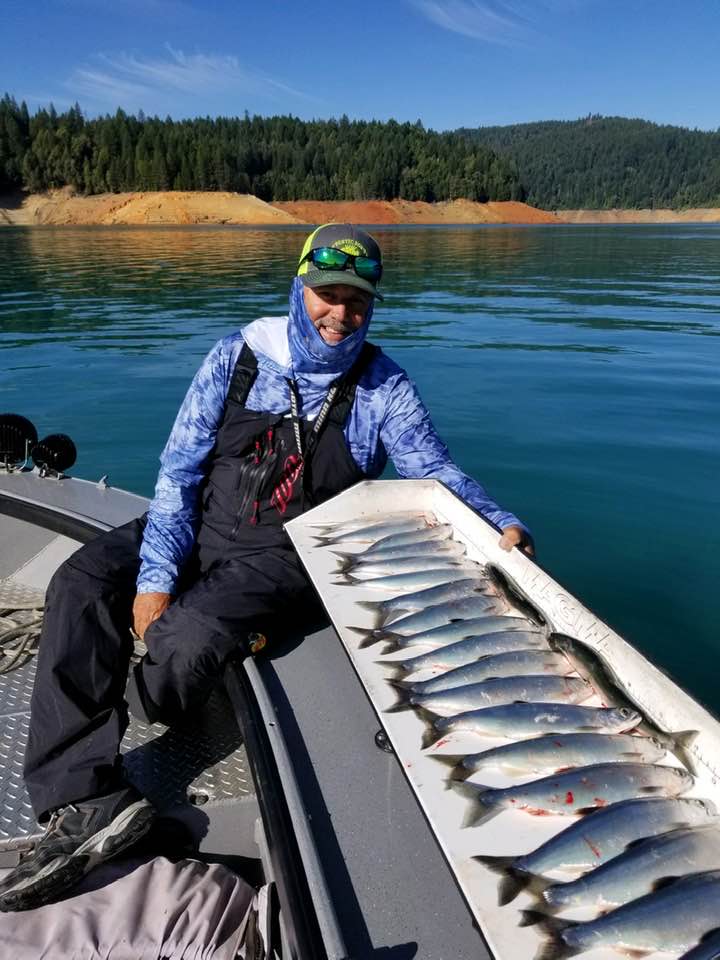 DOBBINS – If you are looking to hone your skills at kokanee trolling, the lakes of Bullard's Bar, Boca, and Stampede are good options as the numbers of small fish are abundant with a variety of tackle and techniques.
Bullard's Bar has been the most consistent producer with easy limits of kokanee from 11 to 13 inches being the rule for most trollers. Rob Reimers of Rustic Rob's Guide Service was on the lake twice this past week, and he said, "We limited with 20 fish by 8:30 a.m. the first day, and followed this up with another 40 kokanee the next day by 9:30 a.m. running Brad's KCP's in pink at depths from 45 to 58 feet throughout the lake." Craig Newton of Will Fish and Tackle in Auburn confirmed the solid bite at Bullard's, saying, "The kokanee seem to have moved into the middle of the lake instead of the river arm, and they are plentiful." The kokanee limit at Bullard's Bar is 10 per day.
Boca Reservoir near Truckee recently came into play, and since it has the largest kokanee in the area, the pressure will be high despite the low water conditions. Shaun Rainsbarger of Shaun's Guide Service scored easy limits working kokanee gear at 40 to 45 feet in 80 feet of water in the deepest part of the lake. He said, "We picked up five limits averaging 12 inches in quick order circling around one spot. You have to launch off of the bank as the launch ramp is 40 feet out of the water."
James Netzel of Tight Lines Guide Service has wrapped up his operation on the Delta, and he will focus on the high-country lakes of Boca, Stampede, and Jackson Meadows for kokanee and trout in the coming months. He said, "I am really interested in Jackson Meadows as it is very good through June before slowing down in July and August."
Stampede Reservoir near Truckee in normally a viable option during the summer months for kokanee, but with the low water and small kokanee, many trollers are opting for Boca or other locations. The kokanee are plentiful, and kayakers are scoring easy limits of small fish as they are stacked throughout the water column." Kokanee Power moved their annual Stampede Derby to Bullard's Bar this year on August 14th due to low water conditions, and it will be interesting to see if the kokanee have grown sizable throughout the next two months.
Despite the small kokanee present in the above-listed reservoirs, Bullard's Bar will be receiving 60,000 fingerlings this year along with 50,002 at Stampede and 25,000 at Boca. Anglers are requested to complete the kokanee survey at https://bit.ly/kokesandkings upon the completion of every trip to provide accurate information to the Department of Fish and Wildlife.