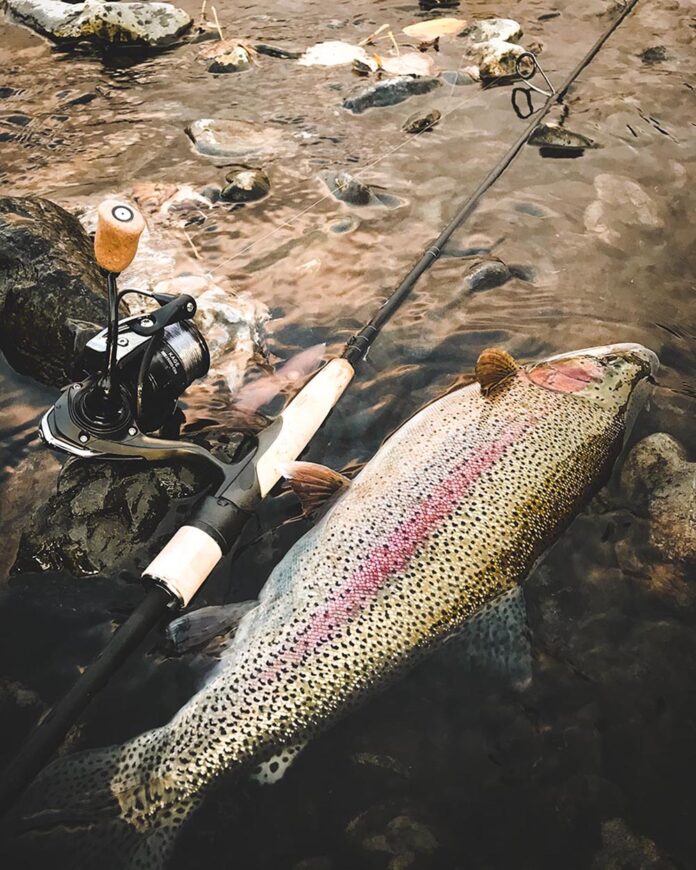 BY MIKE STEVENS           
Unmatched sensitivity that delivers when trout are uncooperative
JULIAN – Back in 2019, I was lucky enough to get my hands on several Daiwa Kage prototypes for some field testing before the rods hit the market. Truth be told, I'm in that position relatively often, but I can't remember the last time I was this impressed with the performance of a trout rod. I probably never was.
My initial top-to-bottom tour of these sticks was highlighted by the tip action. There are a lot of high-end trout rods out there with fast actions, but the Kages are on a whole other level. The tips are so "barely there" and so sensitive, they reminded me the wire tip-tops ice fishing guys add to their rods (trust me, it's a thing) in order to detect the slightest taps from tiny perch or panfish in frigid water.

Now that I mention it, the first time I actually fished Kage rods was the especially cold Eastern Sierra trout opener after I got the sticks. On Fishmas Eve, I found myself creek hopping in the Owens Valley and focusing on the countless "sand traps" that tend to produce in the off-season. The water was frigid and stained, and fishing was tough but I ended up getting the job done either crawling or dead-sticking jigs on the bottom.
The bites were minuscule (I was convinced each bite was just me hitting a sluggish trout in the face with the jig and the fish reaction), but I set hook after hook swinging on these taps. Along with the sand traps, this was the case on a swollen Convict Creek, in Convict Lake and at while targeting snow-melt inlets on South Lake.
That trip made me a believer, and I have since employed the lighter Kage rods during early-season runoff at Virginia Lakes (again with the "dead jigging"), and for everything from slinging metal and dunking Mice Tails in the heart of the season.
Also, every October, I use one of the longer, heavier-model Kage rods for slinging bulkier stuff like Thomas Buoyants, Rapalas, Tasmanian Devils, Berkley Flicker Shads and anything else 1/6-ounce and up on 6-pound line at Crowley Lake. Daiwa Kage rods are performers when performance really matters, and I can say first-hand that they have saved trips due to that sensitivity factor alone, when conditions were less than ideal.
All the specifics on the construction of these rods are available at Daiwa.com
This story appears in the March 3, 2023 print edition of Western Outdoor News. To get early access to every info and feature-packed issue of the West Coast's biggest and best outdoor sporting newspaper, click here.